Category: Main News Published on Monday, 22 April 2013 04:45 Written by CNN
Page 2 of 8
The Pacers Play with an Edge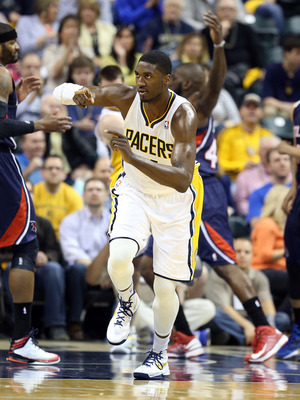 Andy Lyons/Getty Images
A quick run down the stat sheet might give the impression that the Indiana Pacers and Atlanta Hawks played an evenly matched contest on Sunday.
In fact, based on Atlanta's advantage in field-goal shooting (50 percent to Indiana's 45) and three-point accuracy (41 percent to Indiana's 37), you might even come away thinking that the Pacers were lucky to win.
But the Pacers totally dominated the Hawks by winning loose-ball battles, relentlessly attacking the rim and generally outworking Atlanta at every turn. In short, Indy played "angry."
Two key stats illustrate the thoroughness of Indiana's advantage in the intensity department: They shot 34 free throws to Atlanta's 14 and won the rebounding battle by a margin of plus-16.
As the Hawks settled for the path of least resistance by firing up jumpers in the mid-range area, the Pacers pounded the paint, never letting Atlanta rest on defense.
Paul George scored 17 of his game-high 23 points at the foul line because he refused to settle for perimeter looks when his shot wasn't falling. Instead, he put his head down and drove the lane.
Roy Hibbert threw his weight around on both ends, and David West played with his typical grit as the Hawks simply appeared to lack the desire to compete on Indiana's level.
The Pacers played with a clear edge, and it made the difference in Game 1.
If the Hawks can't match the Pacers' urgent and focused approach, they aren't going to be around for much longer.
Digital Daily Signup
Sign up now for the Michigan Chronicle Digital Daily newsletter!