Category: Main News Published on Monday, 22 April 2013 04:45 Written by CNN
Page 3 of 8
Paul George Has Arrived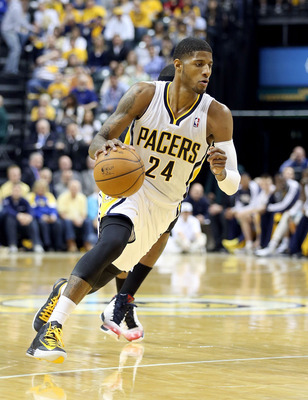 Andy Lyons/Getty Images
After earning his first All-Star nod and taking over the role of alpha-dog from the injured Danny Granger during the regular season, Paul George showed postseason viewers that he was ready to shine on an even bigger stage on Sunday.
Despite making just three shots in 13 attempts from the field, George was unequivocally the best player on the floor in Indiana's Game 1 victory over Atlanta.
He notched a triple-double with 23 points, 12 assists and 11 rebounds, but the numbers weren't the only proof of George's ascension to stardom. His dogged defense on the perimeter, made things difficult for every Hawk from Jeff Teague to Josh Smith and his ultra-aggressive offensive mindset was the tone-setter for an inspired Pacers effort.
Plus, he had a vicious chase-down block on a Shelvin Mack layup attempt, showing incredible desire long after the game's result was all but certain.
At just 22 years old, George still has plenty of room to grow. That should be a very scary thought for the rest of the Eastern Conference.
Digital Daily Signup
Sign up now for the Michigan Chronicle Digital Daily newsletter!