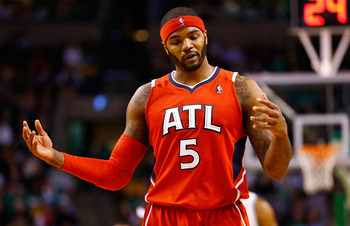 Jared Wickerham/Getty Images
You'd think that Josh Smith would have learned by now that he needs to shelve his jumper. For years, Atlanta Hawks fans have been groaning audibly whenever J-Smoove gets the ball on the perimeter, well aware that he's about to hoist up yet another ill-fated attempt.
Smith is a ball-stopper on the wing, typically killing whatever offensive flow the Hawks might have generated when he gets his touches 20 feet from the hoop. That'd be a bad enough tendency on its own, but he compounds the issue by taking some of the lowest-percentage looks imaginable.
Smith made just 30 percent (per HOOPDATA) of his 3.8 attempts per game from 16-23 feet in 2012-13. No player who tried that many jumpers from the area on the floor known as the offensive "dead zone" made a lower percentage than Smith did.
In Game 1, the Pacers were more than happy to concede Smith's pet shot, knowing that his heaves from that distance were tantamount to turnovers. The strategy worked well, as Smith made just one of his four attempts from that distance (and stopped the ball whenever he got it on the perimeter).
It's a strange thing that the veteran forward still takes such a high number of shots from an area that has yielded so little success throughout his career. And it's stranger still when you consider how effective Smith can be when he gets into the lane. Against Indiana, he made five of his six attempts in the paint.
After nine years of chucking, it appears as though Smith will never scrap his errant jumper. But with the Hawks showing no signs of wanting to re-sign their franchise free agent, I guess the good news is that Smith's atrocious shot selection won't be the Hawks' problem for very much longer.
Digital Daily Signup
Sign up now for the Michigan Chronicle Digital Daily newsletter!