Category: Main News Published on Monday, 22 April 2013 04:45 Written by CNN
Page 6 of 8
Game 1Not a Total Loss for Lakers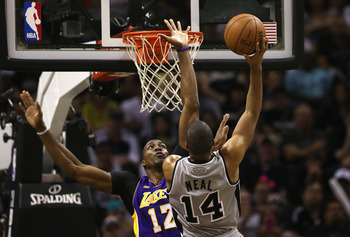 Ronald Martinez/Getty Images
It's hard to take any positives away from a 12-point loss in the postseason, but the Lakers can look back on their Game 1 defeat with some optimism for the future. And no, it's not because there's some reason to believe that their perimeter shooters will suddenly start knocking down their shots.
The Lakers should be encouraged by its defense.
Throughout the regular season, the Lakers looked totally disorganized on the defensive end. Dwight Howard was slow to rotate, the guards couldn't stay in front of anyone and Kobe Bryant showed absolutely no interest in helping his teammates. As a result, they finished in a tie for 18th in regular-season defensive efficiency.
But against the San Antonio Spurs, Los Angeles actually looked like a pretty good defensive club. San Antonio had to work for its shots on the perimeter, and the Lakers' size made things difficult in the paint.
Perhaps even more impressively, the Lakers showed a consistent plan in their pick-and-roll defense against Tony Parker, forcing him to give up the ball to shooters in the mid-range area for low-percentage shots. Tim Duncan, in particular, struggled to do damage from the top of the key.
In addition, the decision to defend Tiago Splitter with Howard allowed the Lakers' shot-blocking center to patrol the middle and help on Duncan in the post when necessary.
Ultimately, the Lakers' defensive improvements weren't enough to offset their inability to score. But considering how bad they looked during the regular season, it's truly remarkable that the Lakers are exhibiting a cohesive, well-executed plan all of a sudden.
It may not be enough to win the series, but at least LA's defense has finally come out of hibernation.
Digital Daily Signup
Sign up now for the Michigan Chronicle Digital Daily newsletter!