Tuesday, 18 September 2012 09:11
After attending the Kilpatrick jury selection last week I can't get affirmative action out of my head. I can't get the racially geared questions out of my head, either. Last week I must have heard the same question asked 50 different ways: "Do you know what affirmative action is? Based on historical events do you understand why African American people would speak in an angry, frustrated way about white people?
If that's in my head, I can only imagine how these questions have been branded into those who have been sitting in that courtroom for the past two weeks.
But I can't help but ask myself those questions, over and over. Of course, I understand why black people are frustrated. Of course, I understand what affirmative action is.
But somehow it seems as though there have been so many tidy, sterile ways language has formed around race. Words like affirmative action, African American.
We go about our days and don't talk about it's. It's a taboo topic, an emotional one. But race relations are still strained. Detroit in 2012 is certainly not Jackson Mississippi in the sixties, but it's not exactly Sesame Street, either.
The worst part is that it seems impossible to pin down exactly what's wrong. Race-based Discrimination is elusive, hidden and if you talk about it, you're playing some sort of "race card."
The fact is, there is no updated language to communicate about race. We're stuck with terms from a civil rights movement long past.
Activist Jesse Jackson was on to something when he spoke in Detroit last week:
"This is the early morning of a new phase of our struggle. Freedom without equality is freedom to starve. In the business world, we are not playing on an even playing field," he said.
Jackson is right, in the business world and outside of it, minorities are not playing on an even playing field. But today it's not as obvious, there's no easy way to describe what exactly tilts this proverbial playing field. It's tangled in years of history, in culture, woven discretely into the fabric of society, in laws and knee-jerk thought patters.
The first step to changing is for people of all backgrounds be willing to talk about race first without emotions getting out of hand. There has to be some avenue to disscus race openly and often, and not in an accusitory way, but in one that seeks to truly understand what we mean when we say we aren't on a level playing field. Books have been written about this, great books, but it will have to be through everyday that change comes about.
"This is a very different dimension of our struggle," Jackson said at a press conference last Thursday. He's right.
Wednesday, 13 June 2012 00:30
When Dr. Earlexia Norwood was 28 years old, she went to a dermatologist with her husband after experiencing post partum hair loss.
The skin doctor had one question for her: "Is this your pimp?" He asked, nodding toward her husband and donning gloves before using pencils to examine her scalp without touching it.
It didn't occur to that doctor, a white male, that a black woman could be anything but a prostitute, let alone a Doctor. But at the time Norwood was a doctor herself, constantly fighting stereotypes and blazing trails for blacks in healthcare.
Today, Norwood is the physician in charge at the Troy Medical Center and President of OPAL—an organization dedicated in supporting African America leaders in health and sciences for Ford Health Systems.
Norwood shared this chilling experience of discrimination in healthcare at the unveiling of Real Times Media's inaugural publication of Vital Signs: A tribute to African Americans in the Healthcare Industry last night.
Sadly, she said her story is far from unique, even today. "Most people that this kind of thing happens to are not doctors, they don't have the letters PH.D behind their names," she said. That's why most people who face similar discrimination, especially when it comes to something as personal as healthcare, shrink into the shadows of embarrassment after such an encounter instead of fighting it, she added.
"We need culturally sensitive care and to make sure we never stereotype patients," Norwood said. "We need people who understand our community, our people."
The Vital Signs book unveiling party was appropriately held at the Charles H. Wright Museum of African History and served as a call to action among leading African Americans in the healthcare field.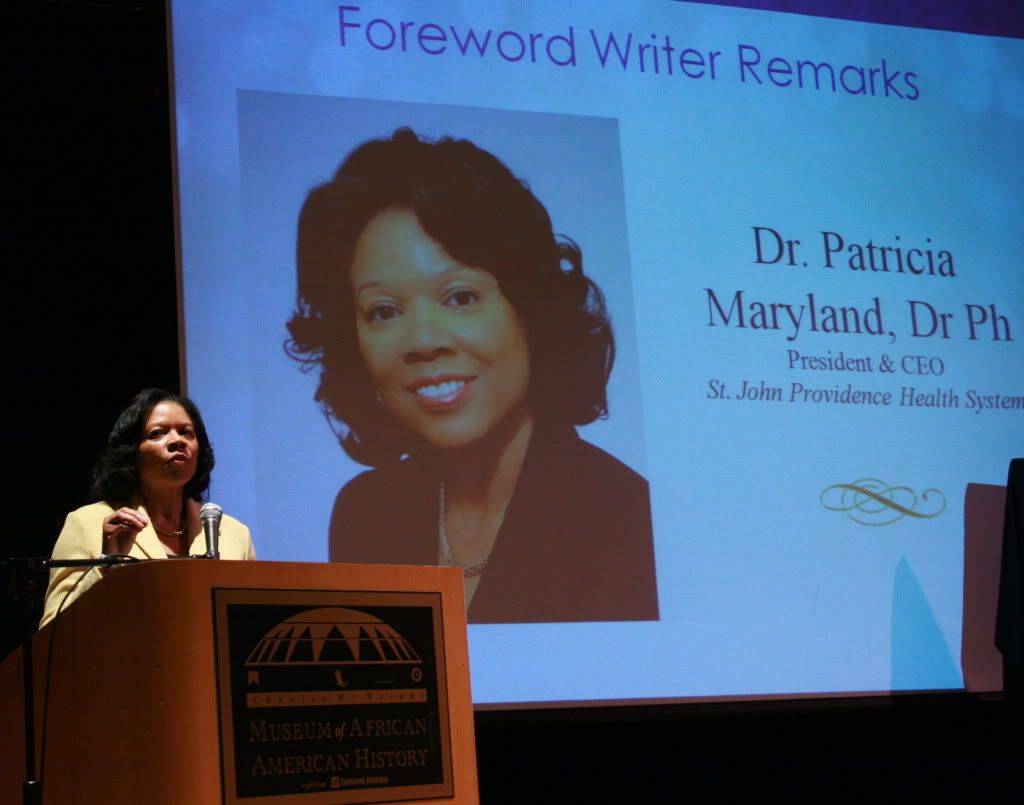 Dr. Patricia Maryland, President and CEO of the St. John Providence Healthcare System, in an impassioned speech, told the crowd that the Vital Signs book is a crucial tool to organize black healthcare leaders. It also brings fresh diverse minds into the field of medicine and can be used to treat the "vital signs" of a stuggling community. She listed some grave statistics on the state of black health in Michigan, calling the health disparity between whites and blacks "startling".
"We've got to bring more African Americans into the medical field. Cultural competence to deal with patients who are of African America heritage," she said:
The Mortality rate is 27 percent higher in African Americans than in Caucasian Americans

African Americans are twice as likely to get diabetes than their Caucasian counterparts.

The infant mortality rate in African Americans in Michigan is three times (3x!) as high as Caucasian Americans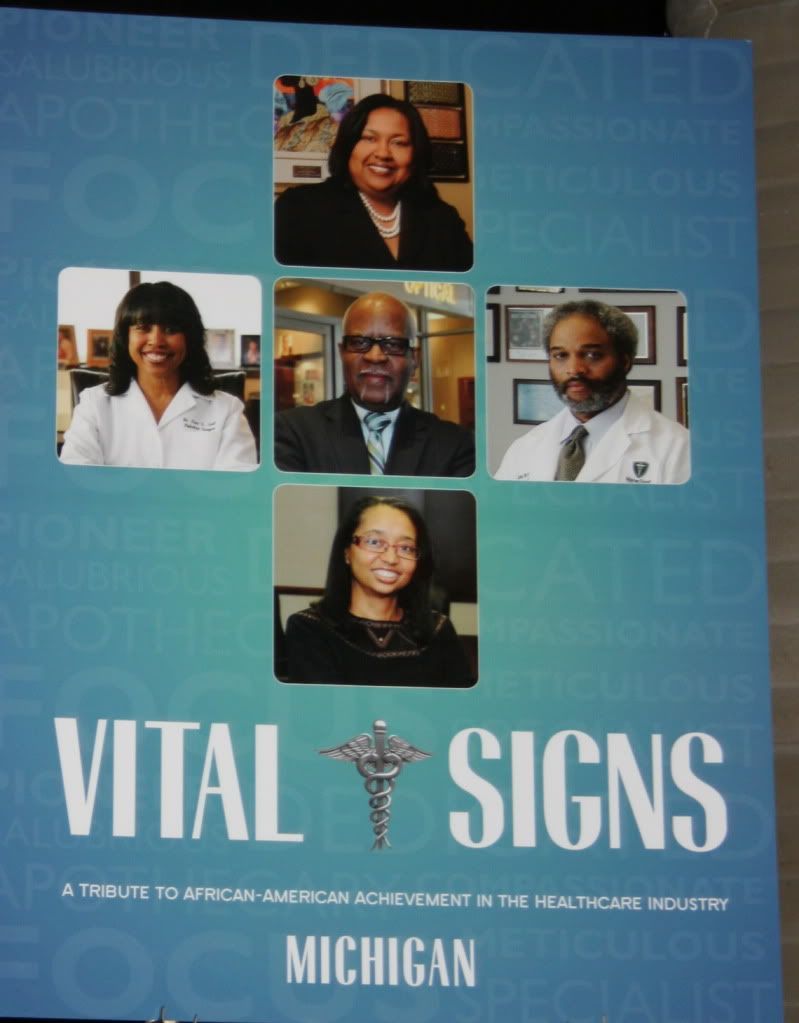 "Take this book and use it," Maryland urged, noting that the Vital Signs publication identifies the key black leaders in the field between its covers and in doing so makes these faces more accessible to black youth as mentors. The book also makes black healthcare leaders aware of their network so it's much easier to collaborate for a healthier community.
"This book has the power of bringing us all together and identifying us. Now we have to figure out how to work together on changing some of these numbers," Maryland said in her speech. She called for a "strategic forum" to organize around bringing more blacks into the field and collaborating to fight the health crisis. "How can we work together? That's the call to action," Maryland said.
Maryland ended her speech with a reference to Dr. Martin Luther King's vision: "If you don't feel good you can't accomplish much," she said. "His dream for our nation cannot be realized without healthy people and a healthy community."
Digital Daily Signup
Sign up now for the Michigan Chronicle Digital Daily newsletter!
RSS
Feed Entries