Category: Entertainment Written by Jonathan Hailey, Assistant Editor/ Urban Daily
Everyone has their own way of honoring those who have lost their lives. Some ways are deemed classier than others, but who are we to judge. Rapper Plies honored slain teen Trayvon Martin by getting a gold chain and pendant made of the young teen's face cloaked in a hoodie. According to the video Plies posted on YouTube, he's been working on the piece for a few weeks. Plies commissioned the jewelry piece because the slaying of Martin truly affected him.
Check the video out below. What do you think of the piece and the reason behind its purchase?
Last Updated on Wednesday, 11 September 2013 11:14
Hits: 922
Category: Entertainment Written by NewsOne Staff
The veteran rapper and actor, who has recently been in the news more for drugs, arrests and cursing out rapper Drake than for movies or records, just felt like going for a naked run — ankle bracelet and all.
TMZ has more:
The footage begins with DMX walking around a hotel hallway in just his boxer shorts, socks and house arrest ankle bracelet ... while a hotel employee removes room service from one of the rooms on the floor. All of the sudden, X ducks behind a corner with a mischievous grin on his face — drops his shorts — and launches into a full ass naked, dong-out sprint. Eventually, X returns to the starting line and grabs his drawers ... and then casually walks back toward his room as if nothing ever happened. It's pretty hilarious. We reached out to X ... who said he just "felt like" doing a nudie run that day ... adding, "Imnotashamedofanythingigot" (read: "I'm not ashamed of anything I got.").
Last Updated on Wednesday, 11 September 2013 10:31
Hits: 695
Category: Entertainment Written by Alan Duke
updated 12:23 AM EDT, Thu September 5, 2013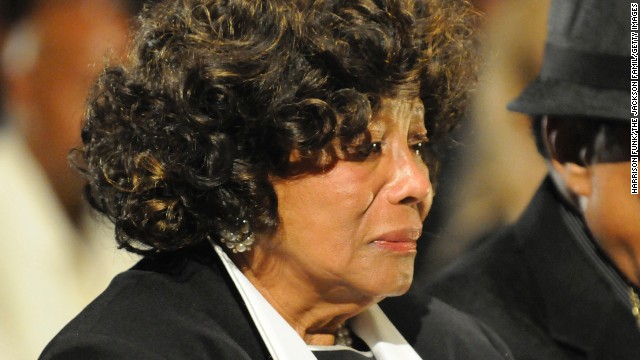 Katherine Jackson:
Michael's mother, 82, was deposed for nine hours over three days by AEG Live lawyers. As the guardian of her son's three children, she is a plaintiff in the wrongful death lawsuit against the company that promoted Michael Jackson's comeback concerts.
Key players in Jackson wrongful death trial
Los Angeles (CNN) -- The co-author of a study on propofol addiction funded by AEG Live and used in their defense in the Michael Jackson wrongful death trial lost his medical license for writing illegal drug prescriptions, according to testimony.
Dr. Torin Finver was hired to help with the AEG Live study after he lost his job at a pizza parlor and took a job driving a Goodwill truck, said Dr. Paul Earley, who testified Wednesday as an expert witness for the concert promoter.
Finver was "destitute, dead broke, and I wanted to help him," Earley, himself a recovering heroin addict, testified.
The revelation was a bizarre twist in the trial of the billion-dollar lawsuit filed by Jackson's mother and three children, which is being heard by a Los Angeles jury. The four-month-long trial is nearing a conclusion.
AEG Live lawyers will announce if they have any more witnesses to call before playing the video depositions of three more doctors on Friday. Jackson lawyers would then take several days to call rebuttal witnesses before closing arguments are heard, which is likely to happened around September 23.
Earley testified that he never disclosed to AEG Live lawyers that his co-author had lost his medical license. Ironically, the company is being accused of the negligent hiring of Dr. Conrad Murray, convicted in Jackson's death because it allegedly failed to check Murray's background before hiring him.
Jackson lawyer Kevin Boyle also grilled Earley over his nondisclosure that he was working as a paid consultant in AEG Live's defense when he submitted the study for publication in a medical journal.
He said the concert promoter did not try to influence his findings, which were published in March in the Journal of Addiction Medicine.
Nurse details Michael Jackson's fatal search for sleep
Jackson lawyers are hoping the controversy over Earley's work for AEG Live will distract jurors from his conclusion that Michael Jackson was a drug addict with a "grave prognosis" that would have shortened his life had he not died of an overdose of the surgical anesthetic propofol on June 25, 2009.
Each dose of an anesthetic his doctor gave him to help him sleep was like playing "Russian roulette," Earley said.
Murray told investigators he gave Jackson infusions of propofol for 60 nights to treat his insomnia as the entertainer prepared for his comeback concerts.
Lawyers for the concert promoter hired Earley in their effort to downplay damages the company might have to pay if found liable in the pop icon's death. How much longer Jackson might have lived -- and earned money touring -- will be important if the jury decides AEG Live is liable for damages in Jackson's death. Jackson lawyers contend he would have earned more than $1.5 billion touring the world over the next several years.
Katherine Jackson and her three grandchildren sued Michael Jackson's last concert promoter, contending the company is liable in his death because it hired, retained or supervised the doctor convicted of involuntary manslaughter.
AEG Live lawyers contend it was Jackson, not the promoter, who chose and controlled Murray, and say AEG executives had no way of knowing about the dangerous treatments the doctor was giving Jackson in the privacy of his bedroom.
Last Updated on Thursday, 05 September 2013 06:00
Hits: 22969
Category: Entertainment Written by News One
Arsenio Hall is coming back to late-night television tonight, Monday, Sept. 9, after 19-years away and the Dog Pound is ready to welcome him back with open arms.
As previously reported by NewsOne, Hall partnered with CBS Television Distribution, previously named Paramount Domestic Television, for the new talk show. CBSTD is the same company behind Hall's 1989-94 hit show, "The Arsenio Hall Show."
In an interview with USA Today, the veteran actor and comedian said that he had to take time away to be with his family, but that he's ready to re-enter the fray — with his son's permission:
"I have no regrets. I've had an incredible time away. I was able to raise my son in a way that my parents were't able to be in my life," because they were so busy working, he says. "When I sat and talked to my son, I was like, 'I love being a father. There's nothing I love more than that. But as you need me a little less, I'm g
...
Category: Entertainment Written by AJ Williams, Chronicle Web Editor
If anyone deserves to have a movie made about them it is the legendary and iconic James Brown.
Considering the fact that his personal life was as tumultuous as his career was amazing, the Godfather of Soul story would be perfect for the big screen.
That is, if it is as well done as "Ray" (the Ray Charles biopic featuring an amazing performance by Jamie Foxx) and "What's Love Got To Do With It?" (the Tina Turner story as memorably played by Angela Bassett).
But since such a project has been talked about for about a decade, the question is, will a James Brown movie actually get made? According to Universal Pictures, yes.
Chosen to play the lead role is Chadwick Boseman, who looks enough the part and has appeared in a number of films, including "42" (the Jackie Robinson story) plus numerous TV shows, among them "CSI: NY" and "Law & Order."
Let's hope this movie comes to fruition because so many do not. We are still, for example, waiting for the long-talked-about Marvin Gaye biopic to be made.
PRESIDENT Barack Obama has made it clear that he is no supporter of Kanye West. Among other things, he believes that the public — especially impressionable young people — being intrigued by everything celebrities like West and Kim Kardashian do, no matter how sensationalistic, if not seedy, contributes to the gradual moral decline of American society in general.
But Kanye "Where's The Camera" West has said sarcastically that he appreciates the president giving him so much free publicity.
Last week, Maxine Powell, who conducted Motown Record Corporation's finishing school in the '60s, which played such a key role in the young Motown artists learning how to present themselves in a polished, professional manner on stage and off, was honored at the Motown Museum.
One of Mrs. Powell's philosophies was, "With me it doesn't matter where you came from, it's where you're going." The finishing school was a part of Motown's famous Artist Development Department.
Prince's former band, the New Power Generation, was playing at a small club in New York and much to the audience's delight, was joined onstage by Prince. He performed three songs with them.
Speaking of performances, did you happen to see former Disney star Miley Cyrus on the Video Music Awards? That slutty, over-the-top performance did nothing to enhance her already tarnished image.
FANS OF THE two artists are looking forward to Dec. 3 because that is when the duets album by Kenneth "Babyface" Edmonds and Toni Braxton is scheduled to be released.
The album is intriguingly titled "Love, Marriage & Divorce." You may have already heard the first single, "Hurt You." But Edmonds and Braxton have recorded together before. They had a hit in 1992 with "Give U My Heart."
In addition, Babyface wrote a number of Braxton's hits.
Tina Turner, the iconic legend who first came to the public's attention in 1960 and is known for her fiery, high-energy shows, says she is now "becoming tired of singing and dancing," and that her last tour, in 2009, was a challenge physically.
Well, that's understandable, and if anyone has the right to greatly slow down the pace, it is Tina Turner.
Michael Houston, the second of Whitney Houston's older brothers, will never recover from the hurt, pain and guilt from having been the one who introduced his sister to drugs. He says he is now "living but not alive."
It's a cliché but it's true: Time flies! The legendary Little Richard, one of the founders of rock and roll, is now 80 years old, soon to be 81. He is dealing with a number of health challenges, but is hanging in there.
Drake and Rihanna were seen together at the Video Music Awards after-party. If they are a couple again, or will be, that will surely annoy another of Rihanna's ex-boyfriends, Chris Brown, whose clash with Drake made headlines last year.
John Legend is the youngest looking 34-year-old many people have ever seen.
BETCHA DIDN'T KNOW…that in 1963 Motown recorded a song on the Supremes written by Smokey Robinson titled, "A Breath Taking, First Sight Soul Shaking, One Night Love Making, Next Day Heart Breaking Guy." The wise decision was made to shorten it to "A Breath Taking Guy."
MEMORIES: "It's Your Thing" (the Isley Brothers), "Rock With You" (Michael Jackson), "Somebody Else's Guy" (Jocelyn Brown), "The First Time Ever I Saw Your Face" (Roberta Flack), "You're Not My Kind of Girl" (New Edition), "Finally" (Ce Ce Peniston), "I Can Make It Better" (Luther Vandross), "Lately" (Stevie Wonder), "Just Because" (Anita Baker).
BLESSINGS to Mario Morrow, Amyre Makupson, Ronnie McNeir, Mike Jemison, Bretlon Smith, Claudreen Jackson, Dennis Archer, Carlya Rhone, Mark Morrison and Billy Robinson.
WORDS OF THE WEEK, from Sidney Poitier: "I chose to use my work as a reflection of my values, and I always had the ability to say no. That's how I called my own shots."
Let the music play!
Steve Holsey can be reached at This email address is being protected from spambots. You need JavaScript enabled to view it. and PO Box 02843, Detroit, MI 48202.
Last Updated on Wednesday, 04 September 2013 10:37
Hits: 1004
Digital Daily Signup
Sign up now for the Michigan Chronicle Digital Daily newsletter!
RSS
Feed Entries