Category: Community Written by Cathy Nedd

The Michigan Vets Foundation and the 313 Project, each a monthly winner in The Home Depot Foundation's year-long Facebook voting program called Aprons in Action, are competing this month against eight other finalists for the $250,000 grand prize. Voting begins May 1 and runs through May 31 at www.facebook.com/homedepotfoundation. The organization with the most votes at the end of the month will win the top prize of $250,000. Organizations with the second and third most votes will receive $150,000 and $100,000 from The Home Depot Foundation, respectively.

Each month since the Aprons in Actions contest began in June 2012, The Home Depot Foundation's Facebook fans helped one of the 11 finalists win $25,000 to better the communities they serve. This month, the Michigan Vets Foundation and the 313 Project are competing against the following nonprofit organizations from across the country:

· June 2012 Winner: Volunteers of America Greater Ohio (Columbus, OH)
· July 2012 Winner: Stiggy's Dogs (Howell, MI)
· September 2012 Winner: AMVETS Post 44 (Struthers, OH)
· November 2012 Winner: Low Income Housing Institute (Seattle, WA)
· December 2012 Winner: VFW Post 2777 (Burton, MI)
· February 2013 Winner: Grand Rapids Home for Veterans (Grand Rapids, MI)
· March 2013 Winner: Active Heroes (Louisville, KY)
· April 2013 Winner: Saratoga County RPC-VETHELP (Ballston Spa, NY)

"We are excited about this final round of competition to win $250,000," said Tyrone Chatman, executive director of the Michigan Veterans Foundation. "We need all boots on the ground to win the grand prize to help us strengthen our service for veterans. So we encourage everyone to go on Facebook and vote for us!"

Since receiving the $25,000 grant from winning the October competition, the Michigan Veterans Foundation revamped its resident dining hall and bought equipment, including power and lawn tools, for building and janitorial maintenance.

"The Aprons in Action grant has not only made our work in support of veterans and underserved communities possible, it has connected us to an invaluable array of volunteers and supportive organizations," said Aisa Villarosa Berg, co-founder and director of the 313 Project. "Winning the $250,000 grant would tremendously aid us in our goal to establish a legal aid and resource center for these underserved groups. So we encourage everyone to go on Facebook and vote for us!"

Using the $25,000 grant it received from winning the January competition, the 313 Project is currently restoring buildings and removing blight on Detroit's east side to create transitional housing opportunities as well as providing skills training and classroom and legal aid space. The organization is also building a memorial mural and garden honoring U.S. veterans.

How To Vote
Voting runs from May 1 at 9 a.m. ET through May 31 at 11:59 p.m. ET. Find Aprons in Action on The Home Depot Foundation's Facebook page at www.facebook.com/homedepotfoundation. Voting is available on computers and mobile device web browsers.

The final percentages of votes for each nonprofit will be posted on The Home Depot and The Home Depot Foundation's Facebook pages on June 1 at 9 a.m. ET.

For more information and to view the program rules, visit The Home Depot on Facebook or go towww.homedepotfoundation.org.

Across the country, The Home Depot Associates give back to their communities by volunteering their time and talents with local nonprofit organizations that support our nation's veterans, like the Michigan Vets Foundation and the 313 Project. Volunteers from Team Depot offer additional hours and supplies to each of the featured nonprofits for extra work in their communities through the Aprons in Action Program.

"During Aprons in Action, we have the privilege of working with veterans organizations to elevate awareness of the work they do and award them with funds to continue their efforts," said Kelly Caffarelli, president of The Home Depot Foundation. "When the May contest finale concludes, The Home Depot Foundation will complete its goal of donating $1 million to 44 deserving nonprofits to help them continue their service to support our country's veterans."
Last Updated on Monday, 20 May 2013 20:32
Hits: 555
Category: Community Written by Cathy Nedd
The Department of Licensing and Regulatory Affairs' Bureau of Construction Codes offers important information on disaster safety and mitigation to protect you and your property from water and wind damage due to flooding, tornadoes and severe storms.
Just a few inches of water from flooding can cause tens of thousands of dollars in damage to your home and contents. During times of heavy rainfall, the most common catastrophe in many Michigan homes is sump pump failure causing basements to flood. First, know the different types of sump pumps and purchase a pump that is best for protecting your home. Primary sump pumps, standard in most homes, pump up to several thousand gallons an hour of seepage water out of basements to prevent flooding. The two types of primary sump pumps are submersible pumps (put under water in the sump pump basin or pit); and pedestal pumps that are not submerged but rather sit above the sump pit.
Battery backup pumps and generators provide added insurance. In the case of a power outage; sump pumps will be useless as they are electric powered. If the power goes out, the backup system or generator will take over to rid the sump basin of water and keep your basement dry.
Water-powered backup sump pump systems that do not rely on electrical power to operate are also available.
Homeowners can do regular maintenance to help avoid future sump pump problems or failure. The average lifespan of a sump pump is about 10 years and they eventually wear out. Here are a few maintenance tips:
· Unplug any electrical power leading to the unit before doing any sump pump maintenance.
· Clean out the sump pit and keep it free of any debris or stray items in the pit that may hinder the float mechanism causing it to fail. Test the float itself as they can burn out over time. Fill the pit up with water to make sure it starts and stops the sump pump as designed.
· Inspect the "check" valve to ensure it is properly installed. Check valves are set up so that when the sump pump shuts off, no water will go back into the sump pump. The check valve's arrow should not be pointing toward the sump pump.
· Eliminate typical odors in the sump pit from standing water by cleansing the basin with one part bleach to five parts water; fill the pit with water to engage the sump pump to run the water out.
The Michigan Residential Code has minimal reference to building homes to withstand high winds because, unlike some parts of the country, Michigan is not considered to be in a high wind area. However, there is regular maintenance that homeowners can do to help reduce the amount of wind damage to their home in the event of a severe storm or tornado.
The weather resistance features of your home should be checked regularly. Preventive maintenance can minimize damage and keep a minor repair from becoming a major repair due to wind damage. Here are some things to look for:
· Nails can loosen over time. Check eaves, fascia, siding, and shingles to be sure they are nailed securely.
· Missing shingles and siding should be replaced and fastened securely.
· Check trees and shrubs for dead or decaying limbs and remove those near your home or power lines.
· Remove debris or other items from around your home that could become a projectile if picked up by the wind.
· Prefabricated sheds should be firmly anchored to the ground. These sheds have been known to take flight in high winds.
· Make sure that all downspouts are diverting water away from your home's foundation.
LARA's Bureau of Construction Codes works to ensure that the built environment and the systems within are sound, safe, and sanitary; the public's health, safety, and welfare is protected; and that, through a coordinated program of code compliance, investigation and training, there is consistent application of standards. For more information, go to the Bureau of Construction Codes website atwww.michigan.gov/bcc. For more information about LARA, please visit www.michigan.gov/lara. Follow us on Twitterwww.twitter.com/michiganLARA, "Like" us on Facebook or find us on YouTube www.youtube.com/michiganLARA.
Last Updated on Monday, 20 May 2013 19:27
Hits: 474
Category: Community Written by Mlive
Update: According to Detroit Police, Stacey Anderson, the child's father, released 3-year-old Alonna Anderson to her relatives. She is safe and was not harmed. Both suspects are still wanted for kidnapping.
DETROIT — The Detroit Police Department has issued an Amber Alert for a missing 3-year-old girl who reportedly was last seen Sunday.
Alonna Anderson is described as a 3-year-old black female, 3 feet tall and 48 pounds. She has brown eyes and black hair. She was last seen in the area of Northfield Avenue and I-96 in Detroit wearing a floral shirt and skirt with white, pink, green, yellow and orange flowers on the shirt. For Full Story Click Here.
Last Updated on Monday, 20 May 2013 09:24
Hits: 533
Category: Community Written by Cathy Nedd

On

Friday, June 21, 2013

Sisters Acquiring Financial Empowerment (SAFE) will celebrate seven years of assisting victims of domestic violence become self sufficient. Tracey McCaskill, News Director/On Air Host - FM 98 WJLB & WMXD Mix 92.3 will emcee the event.
"I am so honored --and just sheer excited to take part in SAFE's Annual Appreciation Event. In spearheading this organization -- Kalyn Risker has been a staunch agent for CHANGE within this community --and beyond." - Tracey McCaskill, News Director/On Air Host - FM 98 WJLB & WMXD Mix 92.3
SAFE is dedicated to the financial empowerment of victims of domestic violence by providing training, workshops and resources to equip program participants with the tools necessary to become self-sufficient. The organization's success is a direct result of the hard work and commitment of its volunteers and supporters. Since its inception SAFE has assisted over 730 victims of domestic violence and this event will serve as an opportunity to celebrate the growth of the organization and the strides it has made in the community.
"I am so proud of SAFE and that within six years developed into an organization that is being recognized on a national and now global level for its track record of effectively helping survivors of domestic violence to be free from abuse while obtaining the skills and resources they need to obtain a new job, return to school and become entrepreneurs." – Kalyn Risker, Founder and Executive Director, Sisters Acquiring Financial Empowerment (SAFE)
SAFE's 7
th
Annual Appreciation Event Fundraiser will be held on Friday, June 21, 2013 from 5:30 p.m. to 9:00
p.m. at
the beautiful Detroit Historical Museum with a special Afterglow Event immediately following. Tickets are $45 which includes a tour of the Detroit Historical Museum, hor d'oeuvres, live entertainment, Awards Ceremony and admission into the Afterglow.
Last Updated on Monday, 20 May 2013 18:01
Hits: 784
Category: Community Written by Roz Edward, National Content Director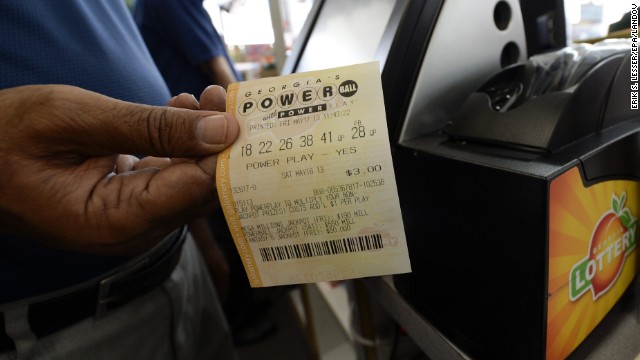 A retailer holds a Powerball lottery ticket at a store in Decatur, Georgia, on Friday, May 17. The multistate Powerball jackpot was $590.5 million, with a cash value of $376.9 million, according to the Multi-State Lottery Association.
Eyeing the Powerball jackpot
STORY HIGHLIGHTS
NEW: Saturday's jackpot was a record $590.5 million
Powerball is played in 43 states and the District of Columbia
Largest jackpot was $656 million in Mega Millions game in 2012
(CNN) -- The winning numbers for the largest multistate Powerball jackpot are: 22, 10,13,14, 52 and the Powerball number is 11.
Saturday's jackpot was a record $590.5 million. It marks the second largest in Powerball history, surpassing a $587.6 million jackpot split by winners in Arizona and Missouri in November.
The jackpot has a cash value of $376.9 million.
The largest lottery jackpot in U.S. history was $656 million in the Mega Millions game in March 2012. That was split by three tickets sold in Illinois, Kansas and Maryland.
That mark will be dwarfed if no one wins the Powerball jackpot Saturday. With no winner, the jackpot will be about $925 million for Wednesday's drawing, according to Kelly Cripe, spokeswoman for the Texas Lottery, which is part of the multistate lotteries.
The Powerball game is played in 43 states, the District of Columbia and the U.S. Virgin Islands. A single ticket costs $2, and the odds of winning the jackpot are 1 in 175,223,510.
Why you keep playing the lottery
But before you start dreaming of that mansion in Barbados, allow us to pour an icy bucket of mathematical reality over your head: You almost certainly aren't going to win.
You stand a better chance of walking onto the golf course and hitting two consecutive holes in one than winning that jackpot.
But that didn't stop hundreds from driving to the Trex Mart in Dearborn, Missouri, store where one of two winning tickets sold in last year's $587 million Powerball drawing.
About 100 people an hour were buying tickets at the store.
Last Updated on Monday, 20 May 2013 10:50
Hits: 1221
Digital Daily Signup
Sign up now for the Michigan Chronicle Digital Daily newsletter!
RSS
Feed Entries