Category: Prime Politics Written by Minehaha Forman
It's Friday, time to reflect, (and laugh) at the weeks events. This week's biggest events in news had people saying some, ironic, informative and downright funny things. In case you missed it, here are some tasty nuggets of what people were saying this week at the Kilparick Trial, and at the Detroit city council's first public hearing on the Belle Isle proposed lease to the State.
KILPATRICK TRIAL QUOTES: Mike Fountain, police officer who dealt defendant Bobby Ferguson trash tickets in 2001: "I felt threatened. Not just for myself but it's weird when your family is involved."
Mahlon Clift, collage pal of Kwame Kilpatrick's who put $90,000 in cash down his pants to get on a plane: "I felt the bulge, but it wasn't visible" Mahlon Clift while testifying against Kwame Kilpatrick "He's a friend, someone that I love."
Mahlon Clift on whether or not he thought the $90,000 cash delivery was a secret: "If they're using me, they probably don't want anyone to know."
Clift on recieveing $90,000 in cash stacks from Bobby Ferguson: "I didn't ask why he was asking me to hold $90,000."
Clift on what he did with the cash to get it to Chicago by plane: "I put the stacks in the pockets on my gym shorts."
Mike Rataj, Bobby Ferguson's defense attorney: "That's a lot of dough to stick down our pants."
Clift on what he did with the 9 stacks of $10,000 once he got home to Chicago: "I probably stuck it in a vacuum cleaner, or something like that."
Rataj on Clift's testimony of the cash delivery: "This all seems so weird to me."
THE BELLE ISLE HEARING: Eight city council members asked state and city officials to elaborate on Belle Isle Lease. In doing so, the conversation got interesting with sassy comments, as well as informative ones. Here goes:
Charles Pugh, City Council President: "Belle Isle is not going to sink into the Detroit River if we do not approve this lease."
George Jackson, President of the Detroit Economic Growth Corporation: "The commitment was to manage Belle Isle to state park standard. That's a very high standard and certainly one that we [Detroit] can't afford."
George Jackson: "We can terminate the lease for cause if the state is not meeting those standards. Not in 30 years, not in two years, but immediately."
Rodney Stokes, advisor to Gov. Rick Snyder on urban affairs: "We recommend picnic shelter rentals be made online or maybe a 1-800 reservation system."
Keith Creagh, director of the Michigan Department of Natural Resources on why he didn't have dollar amounts to commit to Belle Isle: "DNR does parks and we do it well. I'm a DNR guy, not a finance guy."
Rodney Stokes on Belle Isle Lease Documents that took 9 days for city officials to receive: "I apologize for not getting these to you in a timely fashion. I take full responsibility for that. I was out of town."
Ken Cockrel, Jr, City Council Member: "We're shifting the focus from bigger economic issues in the city to Belle Isle."
Andre Spivey, City Council member: "I have a challenge with doing things after the lease is signed. To me it's like I'm buying a car and signing the lease without knowing the payment."
Gary Brown, City Council member: "My concern is that there is not a dollar amount tied to the lease. I'm not a finance guy either, but I know that there has to be some financial commitment from the State."
Saunteel Jenkins, City Council Member on her issues with the lease: "The lease says the state 'Intends' to hold Belle Isle to state park standards, not that it 'will.'"
Saunteel Jenkins: If you can't give an exact amount, a least give a list of improvements you will make." Kirk Lewis, deputy mayor: "I'm not aware of any other plans [for Belle Isle]. We felt the state park was the best way to get resources to the island."
Brenda Jones, City council member: "Why is the City paying to remove equipment that the State does not want?"
JoAnn Watson, City Council Member: "This lease is an insult to the city of Detroit. It is an offense to talk about giving something away because you say we can't keep it clean."
Rodney Stokes: "There is no mechanism in place for a daily entry fee [to the island]. You would have to go to the DMV for a state park passport."
Ken Cockrel: If I buy a car, I want to test drive it. I want to kick the tires. Not, 'We'll show it to you later and e-mail you a picture.' That's not the way you do business."
Sauntel Jenkins on the fact that after 30 years the Belle Isle lease can only be terminated "for cause": "For all practical purposes, this is a 90-year lease. In 30 years we can only terminate it 'for cause.'"
Chuck Smith, president of MSU Black Alumni Association and Detroit resident who attended the meeting: "Anyone with commons sense can see this is a punk deal. If we're not talking money, then what are we talking about?"
Last Updated on Friday, 28 September 2012 13:23
Hits: 1307
Category: Prime Politics Written by Bankole Thompson, Chronicle Senior Editor
I posted on my Facebook page Saturday afternoon that it's time for moderate Muslims to call out those extremists in Islam who are using the religion to call for violence and death.

One of the reactions to my call was swift: there is no such thing as a moderate Muslim. You are either a full time Muslim or not. That was how one of the postings on my page put it and the individual went on to evoke the war on terrorism, foreign policy etc.

It was almost as if the person was waiting for the opportunity to unload anti-American rants or his views about the United States' political stance across the globe. Nonetheless I always welcome healthy debates that force us to think critically of the world around us and not to think and act like zombies.

This individual's reaction to my call for moderate Muslims to step up and not let fundamentalists hold Islam hostage is a sentiment deeply buried in the hearts of some who are looking at the current violence across the Middle East as America's fault.

The anti-Islamic film created by a California convicted bank criminal is said to be widely responsible for the the violence that has been brought to the doorsteps of some American embassies in the Middle East. And in Libya, where it began, the mob-style violence tragically engulfed the life of an American ambassador and some of his staff.

Like a wild fire it is spreading rapidly across the Middle East.

What can be done about it?

One of the answers lie with Muslim moderates - those who believe that violence is not the answer to advancing the cause of human dignity- and addressing inherent socioeconomic ills.

Just as we condemn the actions of Christian extremists who push against religious tolerance by calling for the Muslim holy book, the Koran, to be burned, moderate Muslims must also do the same. They should not let extremists define Islam as a violent religion and exploit the religion to advance their own pathological views.

If you are a Muslim who does not believe that crusading for violence and death is the appropriate response to the anti-Islamic film, then speak out. Tell the world that Islam is more than the way extremists are portraying it on television screens across the world.

Certainly the anti-Islamic film poses several challenging questions for us about absolute individual liberty.

I'm a big proponent of individual liberty and the right to express one's views.

But individual liberty becomes a burden sometimes when people use it as a vehicle to convey their prejudice and denounce other people's existence or belief system. That is what happened in the case of the bank criminal in California who engineered his own crusade against Islam by creating a film that was condescending toward Islam and the Prophet Muhammad.

Therefore when individual liberty becomes a premise for both Islamic and Christian extremists to launder their ill-conceived notions and hatred toward religious tolerance we have to speak out. Men and women of goodwill including Imams and pastors cannot keep silent when dishonest men and women want to rule over religions that have at their core human respect and tolerance.

Thus, what is the ultimate human goal as we watch the doorsteps of U.S. embassies in the Middle East come under attack?
Last Updated on Monday, 17 September 2012 10:49
Hits: 1497
Category: Prime Politics Written by Minehaha Forman
Vice President Joe Biden has become known for his fiery language on the campaign trail. In a visit to Detroit on Wednesday, the VP kept the fire going. Read More:
At a town hall rally in Detroit this week, Vice President Joe Biden outlined the "stark contrast" between Republican presidential candidate Mitt Romney and incumbent President Barack Obama.
In doing so, he threw a few sharp zingers at the GOP camp.
Biden said the two candidates have the most differences than any presidential race in his memory, namely on tax policy and healthcare reform.
Then he blasted Romney for accusing him of not knowing the difference between off shoring and outsourcing. Biden told the crowd of more than 300 at Renaissance High School that Romney has promised tax breaks to U.S. companies operating overseas.
Biden said:
"If two workers were talking and one says, 'My job has been outsourced' and the other says 'my job has been off-shored' … What's the difference? You don't have a job."
He didn't stop there. Biden went on to tout a crafty slogan for a sticker:
"I've got a bumper sticker for you: Osama Bind Laden is dead and General Motors is alive."
After listing off reasons why Romney is not the pick for middle class people, he said fate of the middle class hangs in the 2012 presidential decision.
He added to cheers from the crowd:
"Romney calls my friend Barack 'out of touch'…. Uhhh, [who has a] Swiss bank account?"
While he called Romney's VP pick, Rep. Paul Ryan, a "good, family man" he also was clear that their agenda was very different than Obama's. He said their budgeting would "kick 19 million Americans off of Medicaid."
He also said it would slice a half trillion dollars from the budget in tax cuts for 120,000 of the wealthiest families in the country.
He quoted a line he said his father liked to use: "Don't tell me what your values are. Show me your budget and I'll tell you what your values are."
The day before he came to Detroit, Biden got some criticism for his hotly aimed comments towards GOP legislators at a rally in Minnesota on Tuesday.
"Over the objections — where they sound like squealing pigs — over the objections of Romney and all of his allies, we passed some of the toughest Wall Street regulations in history," Biden said Tuesday, referring to the Dodd-Frank Wall Street reform legislation passed in 2010."
Back in 2008 when Obama tapped Biden for his running mate, pundits declared the Delaware senator Obama's "fight dog" based on his record of making bold statements.
As the campaign in the Midwest heats up, Romney and Ryan will visit Michigan today.
Last Updated on Monday, 27 August 2012 02:04
Hits: 1757
Category: Prime Politics Written by Minehaha Forman
It was a historic moment Thursday morning when The Michigan Black Chamber of Commerce (MBCC) and the National Association of Black Suppliers (NABS) announced the merger of the two organizations to become the biggest concentration of black entrepreneurial wealth in the nation.
The merger makes the MBCC one of the most powerful supporters of black businesses in the world, with a collective annual revenue of more than 3.6 billion dollars and employing 7,500 people nationwide.
Ken Harris, President and CEO of the MBCC, said the merger is an example of African Americans coming together to find solutions to tough economic circumstances.
"This is a proud day," Harris said. "In less than two years we formed the first statewide chamber of commerce. Some people thought that couldn't be done—that black people can't come together—but we did and we're here."
The MBCC now holds 21 of the 26 Michigan black companies listed in Black Enterprise magazine's top 100 and 23 of 25 top black businesses listed in Crain's Detroit magazine. The merger comes as a reward to the 16 businesses that "hung in there" with the NABS after the economic fallout of 2008, according to NABS President Leon Richardson. "We were becoming less relevant," Richardson said. "This is an example of what black businesses can do when we work together."
Rev. Jessie Jackson, political activist and founder of the Rainbow PUSH organization, said the merger marks a new level in the fight for racial equality in America. "This is the early morning of a new phase of our struggle," Jackson said. "Freedom without equality is freedom to starve. In the business world, we are not playing on an even playing field." Jackson said the merger marked the dawn of the fourth phase of the struggle for African Americans equality, the first being emancipation from slavery, the second being the end of Jim Crow laws, and the third being the right to vote.
"This is a very different dimension of our struggle," Jackson said. "I wish Dr. Martin Luther King were here today to see what the 1963 Detroit March has born." Michael Finney, President of the Michigan Economic Growth Corporation (MDEC) pledged to be a supportive arm for business providing needed resources to startups and growing companies through access to credit and talent. "I want to welcome black entrepreneurs to work with the MDEC," Finney said. "The state is a resource for businesses."
Barbara Whittaker, President of BW Limited, LLC, facilitated speakers at Thursday's press conference including Michael and Carlton Guthrie, owners of auto manufacturer Detroit Chassis, LLC, and Charles Beckham, Chairman of the Michigan Black Chamber of Commerce. The merger will not only boost black business owners, but Michigan's economic recovery and beyond, according to Harris.
"This isn't a local thing. This isn't a statewide thing," Harris told Michronicle.com. "This is a national movement. Black people are coming together."
Last Updated on Monday, 17 September 2012 10:52
Hits: 1529
Category: Prime Politics Written by Minehaha Forman
Hansen Clarke says he has "no regrets" about his primary campaign. But he has some "grave concerns" after Election Day. Read more: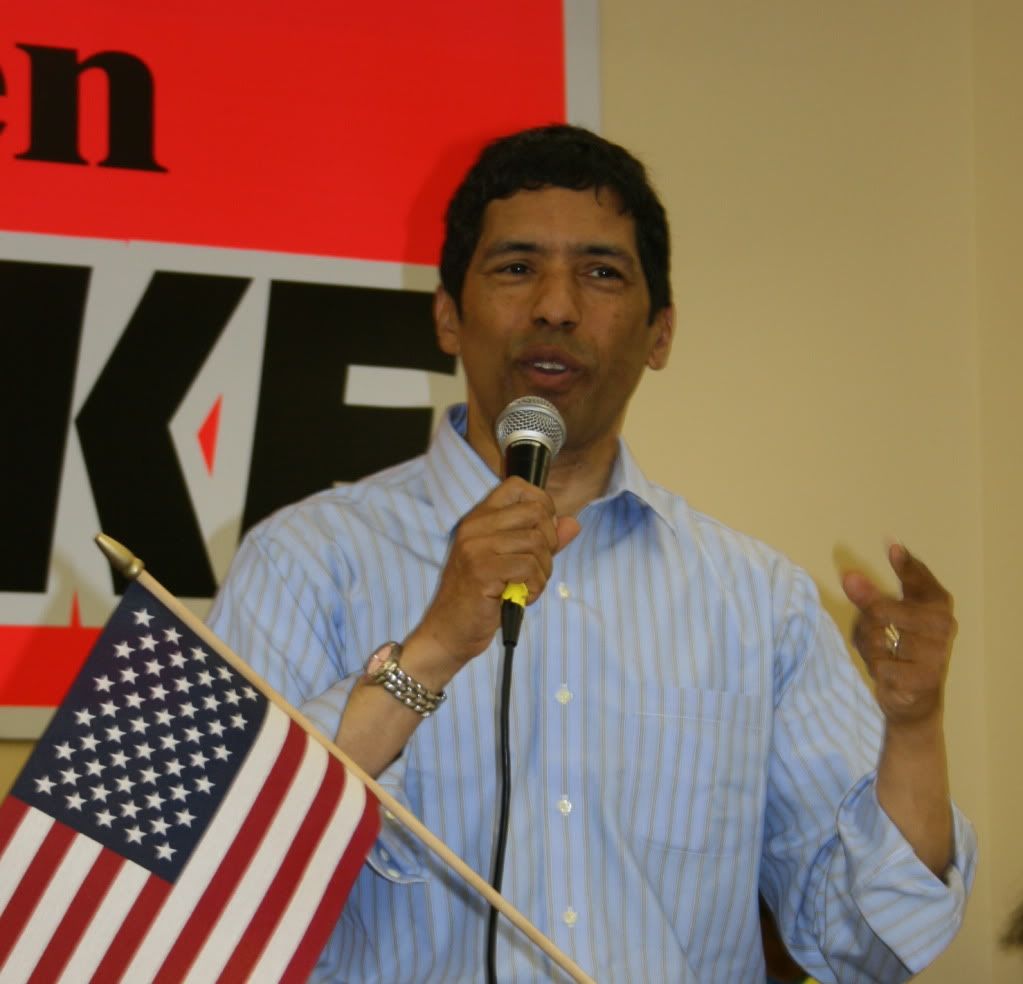 Congressman Hansen Clarke (D-13) may have lost the battle to represent the new 14th congressional district to colleague-turn-rival Congressman Gary Peters (D-9), but there's one thing he want make clear: He hasn't given up hope.
While Clarke has not publically announced his career plans after his term is up in January, he says he's not worried about finding a new job next year.
"I have several options available to me," Clarke told the Michigan Chronicle in an interview regarding his future plans. "That's why I can continue to devote my time to working on getting more grant dollars to bring jobs back to the region."
With his congressional seat taken, will Clarke run for Mayor of Detroit again? "People ask me about that all the time, I mean, constantly," Clarke said. "I get that question so often, sometimes I wonder if my opponent put out that rumor to discourage people from voting for me for Congress."
As of now Clarke says he has "no thoughts" about a mayoral run, and that his current focus is on moving his legislation through the House.
Moving forward after a slim margin defeat, Clarke says he wouldn't change a thing about his campaign efforts.
"I have no regrets about putting services over politics," Clarke said, noting that his job as a representative at times superseded his campaign agenda. "I worked to stop evictions up to the last day to the campaign," he said. But there is something that has Clark concerned: after the primary election, a number of voters called Clarke's campaign hotline with a peculiar complaint: that the congressman's name was not on the ballot.
"There were reports of some election irregularities in Oakland County," Clarke said. "That causes me grave concerns."
Clarke said he heard from more than one source that his name was not on ballots issued in his constituency. He said his campaign team believed these concerns to be legitimate.
"We sensed that there was something odd going on, but it was only when we heard about these possible irregularities that we grew concerned," Clarke said.
Trellis Mercer, a Clarke for Congress volunteer said he spoke to two people making these claims of ballot defects.
"I was working on the campaign hotline and I got a couple calls on Election Day," Mercer told The Chronicle. "They said that they went to vote for [Clarke] but his name wasn't on the ballot." Mercer said his colleagues working the hotline that day reported other callers with the same complaint. "It was about four calls altogether," Mercer said.
Despite his concerns, Clarke says he will not launch an investigation into the reports.
"I've moved on now," Clarke said. "I but I want to make sure that all candidates have a fair chance."
While Clarke's supporters anxiously await his announcement of future plans, the Congressman has a busy schedule ahead of him.
He is working up support for his recently proposed bill that would make it easier for ex-offenders to find employment. The bill, HR6220 or, Ban The Box legislation, would make employers wait until they offered an applicant a job before they could run a criminal background check on that applicant (with some exceptions).
"We've had several states adopt this sort of legislation. Now it's important to us to have this be national policy," Clarke said. "A lot of times a person won't have a chance to be interviewed because of a background check."
Ban the Box legislation has passed in four states including Minnesota, Massachusetts, New Mexico, Connecticut and Hawaii. This law is also in place in the cities of New York City and Philadelphia.But whatever the future holds for Clarke, he says he will not stop his mission to inspire.
"I want to provide people with the hope that they can make a difference," he said.
Clarke may or may not run for mayor of Detroit, but if he follows his own advice, he'll run for something. "I remember how bad things looked for me when I was 23. There were opportunities for me but I don't see them because I lost hope," he said. "Don't give up."
Last Updated on Friday, 17 August 2012 07:56
Hits: 3997
Subcategories
Digital Daily Signup
Sign up now for the Michigan Chronicle Digital Daily newsletter!
RSS
Feed Entries