Category: Prime Politics Written by George Curry
Since the enactment of the Affordable Care Act two years ago, polls have consistently shown that a slight plurality of Americans have opposed the measure.
But public opinion now seems to be shifting in President Obama's favor, with a slim plurality supporting the landmark healthcare measure.
The Kaiser Health Tracking Poll, released a week after the Supreme Court ruling upholding the constitutionality of the Affordable Care Act (ACA), shows that 47 percent approve of the Supreme Court ruling, 43 percent oppose and 10 percent are uncertain.
Not surprisingly, as is the case with so many social issues, there is a deep political divide, with 83 percent of Democrats preferring to keep the law as is or expanding it and 79 percent of Republicans wanting to repeal it. Independents are divided, with 49 percent wanting to keep or expand the law and 41 percent favoring repeal.
A clear majority of Americans – 56 percent – are tired of the political bickering and want opponents to "Stop their efforts to block the law and move on to other national problems."
An even larger 82 percent of Democrats share that sentiment.
However, if Republicans have their way, that is unlikely to happen soon. According to the poll, 69 percent of opponents want to "continue trying to block the law from being implemented." Among independents, 51 percent favor moving on to other issues, and 41 percent are for continuing the fight.
Because the Affordable Care Act was modeled after the health plan created by Mitt Romney when he was governor of Massachusetts, Romney is in an untenable position as he tries to draw a nonexistent distinction between what he did as governor and what Obama is supporting as president.
That political contortion, delivered in the midst of blistering attacks on what Romney characterizes as "Obamacare," has led to major flip-flopping in the camp of the Republican standard bearer who is trying to shed that label.
Central to the debate is Chief Justice John Roberts' majority opinion that ACA is constitutional under Congress' powers of taxation. A key provision of the health law is the individual mandate, a requirement that those who can afford it must buy insurance or face a financial consequence.
Obama has argued that because a person has the option of purchasing health insurance – a choice one does not enjoy when it comes to taxes – the punishment for failing to comply should be more accurately described as a penalty, not a tax.
Romney's problem is that he made the identical argument as governor. For political reasons, however, Romney does not want to repeat that argument as Republicans try to use the ruling as proof that the president's signature legislation is a massive tax hike on Americans.
On the CBS News broadcast "Face the Nation," House Speaker John Boehner said, "It's now a tax, since the court says it's a tax." That is directly at odds with what Romney said as governor.
Eric Fehrnstrom, a senior advisor to Romney, said in an interview on MSNBC: "The governor believes that what we put in place in Massachusetts was a penalty and he disagrees with the court's ruling that the mandate was a tax."
But "the governor" promptly threw Fehrnstrom under the bus.
"While I agreed with the dissent [that a health mandate is not a tax], that's overtaken by the fact that the majority of the court said it's a tax and therefore it is a tax," Romney said in an interview with CBS News, contradicting himself and his senior campaign aide.
Politics aside, past polls showing most Americans opposed to the Affordable Care Act may have been misleading. Although the public expressed opposition to the law, when the actual provisions of ACA are described, there is widespread support – even among Republicans.
A poll released last month by Reuters/Ipsos found:
• Eighty-six percent of Republicans favor "banning insurance companies from cancelling policies because a person becomes ill."
• Eighty percent of Republicans favor "creating an insurance pool where small businesses and uninsured have access to insurance exchanges to take advantage of large group pricing benefits."
• Seventy-eight percent of Republicans support "banning insurance companies from denying coverage for pre-existing conditions."
• Fifty-seven percent of Republicans support "providing subsidies on a sliding scale to aid individuals and families who cannot afford health care insurance."
• Fifty-four present of Republicans favor "requiring companies with more than 50 employees to provide insurance for their employers."
• Fifty-two percent of Republicans favor "allowing children to stay on parents insurance until age 26."
These findings prove that the Obama administration has done an extremely poor job conveying the benefits of the Affordable Care Act to the public.
If Romney wants to make this a campaign issue, Obama should gleefully borrow a page from Ronald Reagan when he told Congress in 1985 that he would veto any bill that would raise taxes.
To those considering testing his resolve, the actor-turned-president, borrowing a line from Harry Callahan, played by Clint Eastwood in the film "Suddden Impact," "Go ahead, make my day."
Last Updated on Thursday, 19 July 2012 11:24
Hits: 1077
Category: Prime Politics Written by Minehaha Forman
William Gardner has a big decision to make. He just sold his old truck wants to invest the money: Should he buy an Alpine goat to add to his herd, or a brand new tiller to plow his farm on a vacant lot across the street?
Detroiters hustle hard. It's tough out here. Just ask Gardner; he'll tell you so. But the East side farmer/factory worker has a vision and it involves growing his own food and living off of the land. But that all takes times, money and the skill to hustle you homegrown wares.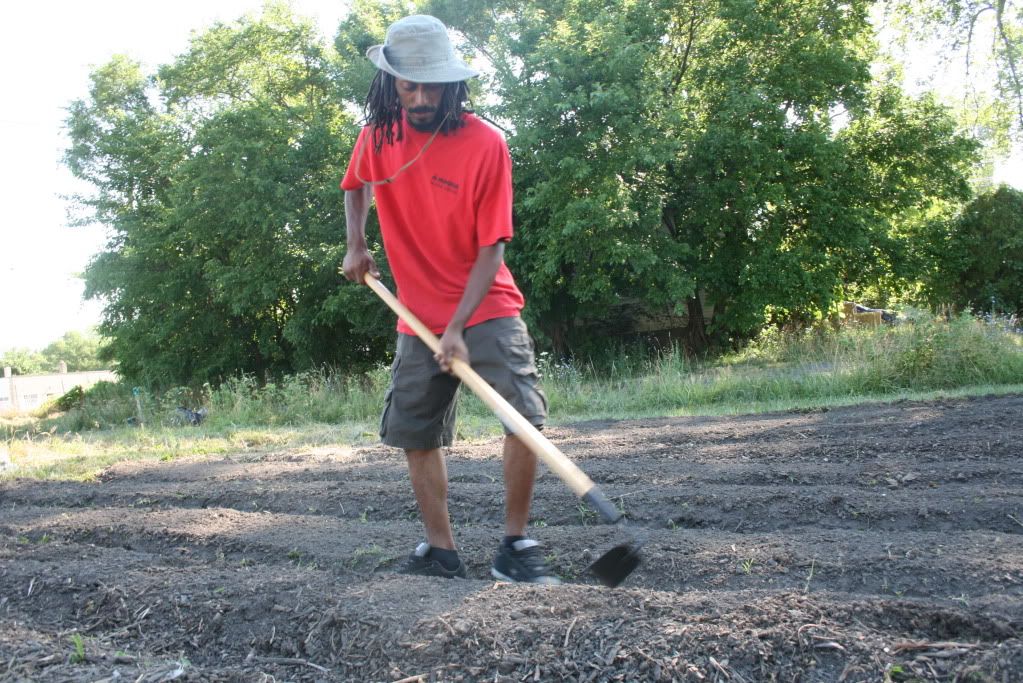 "You can make a decent living off of urban farming," Gardner says. "Last year I was pulling in two to three hundred a week and that was just from selling at Eastern Market. It was like part-time work. Some days I'd be out here six hours a day working hard other days I wouldn't do anything."
But don't go plowing into you back yard or neighboring vacant lot thinking you'll hit the big bucks. For small city farmers, money is a necessity but not the motive.
"You have to love it," Gardner says. "It's more than a hobby, it's a lifestyle. It teaches you discipline and patience," he said.
Last year Gardner said he woke up before the sun on Saturday mornings and was in his garden with a flashlight harvesting vegetables so he could pitch them as the freshest: "harvested two hours ago."
Still, farming a city lot with vegetables for sale is illegal in Detroit. So is having any type of livestock.
But a boost to city farmers did come last month when Mayor Dave Bing declared urban agriculture a viable means of revitalizing the economy.
It is unclear whether Bing was referring to the big business type of ventures that have been proposed in the city, or grassroots efforts like Gardner's plot.
In Detroit urban agriculture circles, there is a dichotomy between the big business venture farming and the backyard growers, as reported in The Huffington Post recently.
But it takes money to make money; any hustler knows that. And Gardner just sold his car to invest the money in his farm. He also works long night shifts at Magna Seating, a world-class seat manufacturing facility for the Big Three. The factory job allows him to save up to hire neighborhood kids to work on his farm.
"I want to teach the kids a different way to hustle," Gardner says, noting that most kids won't get involved in his garden unless there's cash involved.
And he's willing to pay them, but part of his lesson through the work is that it's not all about the money; it's all about food. "I want to teach them how we can grow good food right here in the 'hood and make money doing it. Without food we're finished; finito," Gardner said.
Some people just don't have a choice but to follow their passion.
"I have to do this. It's my calling," Gardner says. "But it takes money. I need kick start money to do the things I want."
Gardner is committed to his mission and works a hectic schedule to save up. He works his factory night shift at Magna Seating from 4pm to 3am six days a week and spends most of his days in the garden.
What about weekends? "Weekends are pretty much non-existent around here," says his girlfriend Jennifer as she waters the garden beds. But she' not complaining. She is a massage therapist and the two plan to merge their two passions into a holistic living business.
Together, they plan to build a living off of the land and their talents.
It's not just veggies that come from the farm. The two raise goats, chickens and herbs. Gardner says the goat milk can go into making soaps, the herbs they grow can be made into organic massage oils and the chickens will be used as food and educational opportunities for people to learn how to process meat.
"You can make money but you have to be original," Gardner says.
Gardner said he is thankful to have a supportive partner and rich natural resources close at hand. "I'm fortunate I have land and opportunities to change and do something better for the neighborhood," he said. "It's just me out here digging all these rows, luckily I got my girl to water."
To Gardner it's more than work. "I look at it like art. It takes time and also inspiration," he said. "Two weeks ago this was a like jungle. But I felt the urge to garden and said "let me get out here and work my magic."
Gardner loves what he does outside, but he also loves his PS3 and YouTube. "I'm not out here like the Amish with no shoes and sh*t." He says. "I might work for a few hours and if I get bored I'll go inside and watch a video."
For Gardner, it's not about the money, even though he knows he has to support his family.
"I know Detroit needs this. I wake up and think, "let me get out here and get in the ground."
The East-side land Gardner works was an old military compound in the 50s, and since then it has seen nothing but weeds, long-time residents of the area say.
"The soil here is great. All I had to do is give it a little love," said Gardner.
Until he saves up for a farm tool collection, tools are scarce around the farm. "I use anything I can get my hands on," Gardner says. "Some days I'm out here with a scythe."
Last Updated on Tuesday, 17 July 2012 20:35
Hits: 1511
Category: Prime Politics Written by Minehaha Forman
Every year Detroit residents grow tons of produce within city limits. There are so many farms and large-scale gardens in the city that it's easy to forget the elephant in the room: it's illegal.
City zoning laws widely forbid the primary use of a land parcel for farming and also nix any sales of produce grown in the city. Despite this, many consider Detroit to be the global epicenter of urban agricultural activity.
That's why the agreement announced this week between the City of Detroit and Michigan State University (MSU) to build a multimillion-dollar urban agriculture research facility within city limits is a huge and controversial step for urban agriculture in Detroit.
Mayor Dave Bing signed an agreement with MSU Wednesday to commit to further planning of the research facility, which will have a global focus. In a statement, Bing fully endorsed the project, and in doing so, other agricultural efforts in the city.
"We want to demonstrate that innovation based on metropolitan food production can create new business and jobs, return idle land to productivity and grow a more environmentally sustainable and economically vital city," Bing said.
The MSU research center would be called MetroFoodPlus Innovation Center @ Detroit, and aims to explore ways in which urban centers across the globe can grow food, generate energy and create sustainable water systems.
With the global population projected to hit 9 billion in 2050, the food needs are expected to soar. And an estimated 70 percent of the world's population lives in metropolitan areas.
"The systems needed to meet these challenges do not now exist," the MSU project proposal claims.
The plans include transforming abandoned buildings into multi-leveled indoor farms and utilizing up to 10 acres of vacant land to research sustainable farming techniques in an urban environment.
In the agreement Bing signed Wednesday, the city makes no concrete promises and funding for the project has not fully been attained. But MSU is set to invest $800,000 a year for three years to continue planning the project.
It's not the first time a large agricultural project has been proposed in the city. Hantz Farms, a project fueled by corporate investors, hit some bumps in its venture when it came to city zoning and adjacent vacant land blocks.
And even with the mayor on board, questions remain as to how the project would abide zoning and land use ordinances. One Detroit city planner believes there may be a place for the project within existing code.
"There's a special development district called technology and research that the project would likely come under," said Kathryn Underwood, city planner with the Detroit Planning Commission.
Still, Underwood says it is premature to say exactly how the project would fit.
"It's too much of a conceptual phase to figure out exactly what they will be doing," she said. "They signed an agreement to explore doing this. There will be a number of stakeholder meetings to put meat to the idea."
Underwood is one of the community stakeholders selected to further the discussion of how to implement the project. She said it's crucial not to forget the community with large-scale ventures such as this.
"When talking about food, energy and water, we need social innovation at the planning stage," Underwood said.
The first stakeholder meetings for MetroFoodPlus will be held in July and will not be open to the general public.
Last Updated on Friday, 29 June 2012 10:39
Hits: 2270
Category: Prime Politics Written by Minehaha Forman
Detroiters need jobs. That's a fact. And an Ohio-based fish farming company named Aqua Nourish needs a new place to raise fish. That's another fact.
Enter Recovery Park, a non-profit geared to help revitalize Detroit through innovative job creation projects.
A match: Gary Wozniac, President and CEO of Recovery Park, is the matchmaker.
Wozniac is currently brokering a deal with Aqua Nourish, a for-profit company, to operate a fish farm in Detroit under the brand name of Recovery Park.
Wozniak compared this business model to a fast-food franchise. "If you want to sell McDonald's you have to sell under the McDonald's umbrella," he said. The only difference between a McDonald's franchise and a Recovery Park one is the non-profit aspect. Aqua Nourish would be selling Tilapia and making money under the Recovery Park umbrella.
In exchange, the tilapia farm Wozniac had envisioned as a job maker in struggling Detroit communities suddenly became a fiscal possibility: Aqua Nourish will pay for everything from the building to, most importantly, the workforce.
The plan is to raise five million pounds of tilapia every year and provide tons of live, fresh food to local communities while creating jobs for people in need.
There are still some kinks to be worked out. And if all goes according to plan, time is short: "If Oct. 1st were the day we inked everything, nine months from that you could be buying Detroit Tilapia," Wozniac said.
The Waste Issue:
Five million pounds of fish means millions of living things producing waste at an alarming rate: Wozniac projects that the fish will create more than a million pounds every month.
To solve that problem, Wozniac and his team are exploring a model to use the fish poo as an asset and turn it into energy. It would be a biodigestive system that would turn organic waste decomposition into steam that powers a turbine. This has the potential to power 25,00 homes, Wozniac estimates.
Still, the bio-digestion system is a complex project in itself that will take time and Wozniac says is part of the big picture.
"Getting the fish up and running is a huge project," he said. "Initially the waste just going to go down the drain. But we're not going to have five million pounds of fish right away."
Wozniak said that was no exact timeline for getting the fish waste out of the sewage system, but it is a high priority and all options are being explored, from aquaponics to composting opportunities and, direct fertilizer options. "Fish waste is a commodity. It's not like human waste," Wozniac said, adding that environmentally sound practices are crucial to Recovery Park and its endeavors.
The Collective Ownership Conundrum:
The aim of Recovery Park is not just to create hourly wage jobs but to be a business opportunity for workers to eventually collectively own businesses. After three years, employees at Recovery Park businesses can buy into be part owners for only $ 3,000.
"You do well by working a job, you do great by owning a job," Wozniac says.
But the tilapia farm, that Wozniac calls Recovery Park's signature project, makes collective ownership tricky, if not impossible due to the franchise setup. "We're working on that model," Wozniac said. "We haven't completely worked that out. It's too early."
Still, plans for the fish farm are zooming along. Three sites are being considered for the project, namely the currently abandoned Detroit Water and Sewage plant on the corner of Erskine and Orleans in Eastern Market.
The Bottom Line: Jobs
The bottom line for Wozniac and Recovery Park is creating jobs for people who need them most, and who in other circumstances would be out of work. Recovering addicts, people released from prison often can't find work or facing other hardships.
Now that the match has been made between Recovery Park and Aqua Nourish, a new kind of business model is being born. "We're breaking a lot of ground," Wozniac said. "We're trying to push a lot of envelopes on how business can be advanced."
Last Updated on Sunday, 08 July 2012 21:33
Hits: 2653
Category: Prime Politics Written by Lena Epstein Koretzky
Think about it. If you limit your political voice to 140 characters on Twitter or your networking to events with like people within your age group, you'll miss the boat shuttling some very big connections.
I recently returned from my first time attending the Detroit Regional Chamber's Mackinac Policy Conference — mingled with 1,500 people, representing all races, religions and political persuasions. Many attendees fell within the entrepreneurial class on which we're banking Michigan's success.
Gov. Rick Snyder told the group: "We're the comeback state in the country and we need to be telling people across the country and the world that."
The comeback has grown to involve young, energetic visionaries from all over Michigan, particularly Detroit. This is ground zero when it comes to reinventing our economy. William Clay Ford, executive chairman of Ford Motor Company, told conference attendees that he sees Michigan as the Silicon Valley for the world's mobility revolution.
I say get moving.
Some are of the opinion that if the annual policy conference could be moved to Detroit, such a move would make it more economically feasible for young entrepreneurs and business folks to attend.
However, if the conference stays on Mackinac, young people must figure out a way to participate. I took several young colleagues with me to Mackinac Island, requiring only two tanks of gas and a ferry ride to get there.
They slept on the floor. They hung out at the Pink Pony and Horns Gaslight Bar. They even invested money to golf with the conference's movers and shakers, after they were denied access to the porch of the Grand Hotel.
People in their twenties and thirties are kick-starting careers and paying off student loans. They ought to get a discount for conference attendance, much as golf clubs and private clubs offer breaks to young members. Moreover, these offerings must be publicized both before and during the event.
It's a known fact that young leaders bring innovation and fresh ideas to the table. When connected with those who are already well versed and connected in the region, emerging leaders possess power to effect measurable change.
Forty-five years ago, my grandfather, Stanley J. Winkelman, helped start New Detroit, Inc., for that same reason: to help bring about a racial dialogue and celebrate the urban experience. He taught me to speak up, to show up and keep moving forward.
The future of this region lies in cross-over appeal, people who work well with others — Republicans and Democrats of all races and backgrounds. If we want the "mobility revolution" to happen, it is because we participate, whether that is moving to a loft in Midtown, attending a free evening with the Model D Speaker Series, or enjoying a beer session at Zoos.
Ultimately we want the same thing, whether 25 or 75. We can network every day of the week and gain traction meeting others with creative ideas, with experience and resources to help us reach our dreams. Creativity starts by getting connected.
Alternately young people could stage an upscale tent city around Fort Mackinac and work to move networking beyond the conference at the 2013 Policy Conference. Fortunately, we have a whole year to plan ideas for affordable inclusion.
So if you don't have wheels, find a friend who does. This is an exciting time to be a Detroiter.
Island politics rock on. Let's bring more to the party.
Lena Epstein Koretzky, is a political observer and an advocate for young political leadership.
Last Updated on Thursday, 21 June 2012 20:06
Hits: 1754
Subcategories
Digital Daily Signup
Sign up now for the Michigan Chronicle Digital Daily newsletter!
RSS
Feed Entries