Category: Prime Politics Written by Minehaha Forman
It was a historic moment Thursday morning when The Michigan Black Chamber of Commerce (MBCC) and the National Association of Black Suppliers (NABS) announced the merger of the two organizations to become the biggest concentration of black entrepreneurial wealth in the nation.
The merger makes the MBCC one of the most powerful supporters of black businesses in the world, with a collective annual revenue of more than 3.6 billion dollars and employing 7,500 people nationwide.
Ken Harris, President and CEO of the MBCC, said the merger is an example of African Americans coming together to find solutions to tough economic circumstances.
"This is a proud day," Harris said. "In less than two years we formed the first statewide chamber of commerce. Some people thought that couldn't be done—that black people can't come together—but we did and we're here."
The MBCC now holds 21 of the 26 Michigan black companies listed in Black Enterprise magazine's top 100 and 23 of 25 top black businesses listed in Crain's Detroit magazine. The merger comes as a reward to the 16 businesses that "hung in there" with the NABS after the economic fallout of 2008, according to NABS President Leon Richardson. "We were becoming less relevant," Richardson said. "This is an example of what black businesses can do when we work together."
Rev. Jessie Jackson, political activist and founder of the Rainbow PUSH organization, said the merger marks a new level in the fight for racial equality in America. "This is the early morning of a new phase of our struggle," Jackson said. "Freedom without equality is freedom to starve. In the business world, we are not playing on an even playing field." Jackson said the merger marked the dawn of the fourth phase of the struggle for African Americans equality, the first being emancipation from slavery, the second being the end of Jim Crow laws, and the third being the right to vote.
"This is a very different dimension of our struggle," Jackson said. "I wish Dr. Martin Luther King were here today to see what the 1963 Detroit March has born." Michael Finney, President of the Michigan Economic Growth Corporation (MDEC) pledged to be a supportive arm for business providing needed resources to startups and growing companies through access to credit and talent. "I want to welcome black entrepreneurs to work with the MDEC," Finney said. "The state is a resource for businesses."
Barbara Whittaker, President of BW Limited, LLC, facilitated speakers at Thursday's press conference including Michael and Carlton Guthrie, owners of auto manufacturer Detroit Chassis, LLC, and Charles Beckham, Chairman of the Michigan Black Chamber of Commerce. The merger will not only boost black business owners, but Michigan's economic recovery and beyond, according to Harris.
"This isn't a local thing. This isn't a statewide thing," Harris told Michronicle.com. "This is a national movement. Black people are coming together."
Last Updated on Monday, 17 September 2012 10:52
Hits: 2089
Category: Prime Politics Written by Minehaha Forman
Vice President Joe Biden has become known for his fiery language on the campaign trail. In a visit to Detroit on Wednesday, the VP kept the fire going. Read More:
At a town hall rally in Detroit this week, Vice President Joe Biden outlined the "stark contrast" between Republican presidential candidate Mitt Romney and incumbent President Barack Obama.
In doing so, he threw a few sharp zingers at the GOP camp.
Biden said the two candidates have the most differences than any presidential race in his memory, namely on tax policy and healthcare reform.
Then he blasted Romney for accusing him of not knowing the difference between off shoring and outsourcing. Biden told the crowd of more than 300 at Renaissance High School that Romney has promised tax breaks to U.S. companies operating overseas.
Biden said:
"If two workers were talking and one says, 'My job has been outsourced' and the other says 'my job has been off-shored' … What's the difference? You don't have a job."
He didn't stop there. Biden went on to tout a crafty slogan for a sticker:
"I've got a bumper sticker for you: Osama Bind Laden is dead and General Motors is alive."
After listing off reasons why Romney is not the pick for middle class people, he said fate of the middle class hangs in the 2012 presidential decision.
He added to cheers from the crowd:
"Romney calls my friend Barack 'out of touch'…. Uhhh, [who has a] Swiss bank account?"
While he called Romney's VP pick, Rep. Paul Ryan, a "good, family man" he also was clear that their agenda was very different than Obama's. He said their budgeting would "kick 19 million Americans off of Medicaid."
He also said it would slice a half trillion dollars from the budget in tax cuts for 120,000 of the wealthiest families in the country.
He quoted a line he said his father liked to use: "Don't tell me what your values are. Show me your budget and I'll tell you what your values are."
The day before he came to Detroit, Biden got some criticism for his hotly aimed comments towards GOP legislators at a rally in Minnesota on Tuesday.
"Over the objections — where they sound like squealing pigs — over the objections of Romney and all of his allies, we passed some of the toughest Wall Street regulations in history," Biden said Tuesday, referring to the Dodd-Frank Wall Street reform legislation passed in 2010."
Back in 2008 when Obama tapped Biden for his running mate, pundits declared the Delaware senator Obama's "fight dog" based on his record of making bold statements.
As the campaign in the Midwest heats up, Romney and Ryan will visit Michigan today.
Last Updated on Monday, 27 August 2012 02:04
Hits: 2091
Category: Prime Politics Written by Minehaha Forman
With the 2012 primary election freshly behind us, Detroiters have plenty political races to look forward to. Even after November, voters will have more important decisions to make, like who should lead the city in through these economic straits?
State Rep. and former Detroit City Council candidate Lisa Howze believes she can steer the City of Detroit out of a financial crisis.
The 37-year-old native Detroiter and former certified public accountant (CPA) says she is the "missing piece" to Detroit's leadership plans to tackle issues using her financial expertise and her communication skills.
But Detroit is no ordinary city. It's one facing severe financial woes known around the world for their complexity and seriousness. Next year's mayoral race is sure to be hotly contested and the city, state, and nation's eyes will be focused on those candidates brave enough to take on the city's myriad problems.
Still, Howze says she's confident that she has a shot at bettering the outlook.
"My run for mayor is tied to wanting to see the city live," she said. "I want to be a voice of reason for the city."
For Howze, the hesitation of other candidates to throw their hats in the ring serves as an advantage. She said her strategy is to get a head start by campaigning early as her opponents will likely outspend her on the campaign front.
As of now, the race is wide open. Mayor Dave Bing said in an interview with The Michigan Chronicle recently that he has not considered a 2013 mayoral bid yet "at all".
And although some rumors hint that City Council President Charles Pugh might run, other rumors claim that he has realized that there is no money in politics and is planning to go back into media work when his term is up. Pugh has not confirmed or denied any of these.
Two other possible contenders are Wayne County Sheriff Benny Napoleon and Detroit Medical Center front-man Mike Duggan.
Whatever the case, Howze is the only candidate who has committed to the run thus far.
She ran unsuccessfully for City Council in 2009 before winning a seat in the state legislature representing Northwest Detroit in the state's 2nd house district. There she has been working on legislation to make sure Detroit gets all of its income tax, even from Detroit residents who work outside of the city.
Before her political career, Howze worked for 20 yeas as a CPA. She says she has a firm grasp on finances paired with the skills to relate to people. Her aim as mayor would be to convince union workers and leaders that changes need to be made.
"There's a problem when we can't compromise or answer the question 'Where to we go from here?' she said. "I will establish relationships with labor, not just unions but the workers as well. I'll go to the men and women and say, 'this is what we need to do'.
So far, that tactic hasn't worked for Bing (and he has tried multiple times), but Howze believes her ability to understand the problems and "break them down in laymen's terms" will help.
"You can't count on money you don't have," she said. "I think people know what it means to make sacrifices."
One of Howze's plans for Detroit is to maintain ownership of Belle Isle by charging an entry fee for the island.
"On any given day, thousands cross that bridge," she said. "We have not exercised stewardship of our assets. Then, when someone to come in and tries do something, we get all up in arms."
Her other plan to keep Belle Isle maintained is to designate areas of the island to neighborhoods so that people take ownership of those areas.
"We have to identity areas on the island from a marketing standpoint," she said. "We can identify a shed for Russell Woods, for example."
Howze also suggested corporate sponsorships of various sections of the island where companies would pay the city to use space for advertising opportunities and also naming sheds after sponsors.
But above all else, leadership is key, Howze said.
In Detroit, Howze believes the leadership skills of elected officials are lacking. While she is hesitant to be too critical of Mayor Bing, she believes he could do better.
" I haven't walked in his shoes," she said. "But it's not clear where we are going and what we should do. We can't defer decisions to the state. As a leader you have to say, 'This is what we need to do' versus, 'This is what the state wants us to do, we have no other choice.'"
Had she been voted to City Council in 2009, Howze said she would not have supported the consent agreement.
"Consent or emergency manager, what's the difference?" she asks. "With the Consent Agreement, elected officials still get to hold the positions but they don't have power. They think they do, but they don't."
Howze says her commitment to Detroit has been life-long and that she has been living and owning property in the city for the past 12 years. As for her potential opponents come 2013, she says she's ready to take them on, even the deep-pocketed candidates.
"You never know what the outcome is going to be. I'm committed to running as if these things have no affect," she said. "It's about being resourceful."
Last Updated on Friday, 10 August 2012 10:09
Hits: 3009
Category: Prime Politics Written by Minehaha Forman
Hansen Clarke says he has "no regrets" about his primary campaign. But he has some "grave concerns" after Election Day. Read more: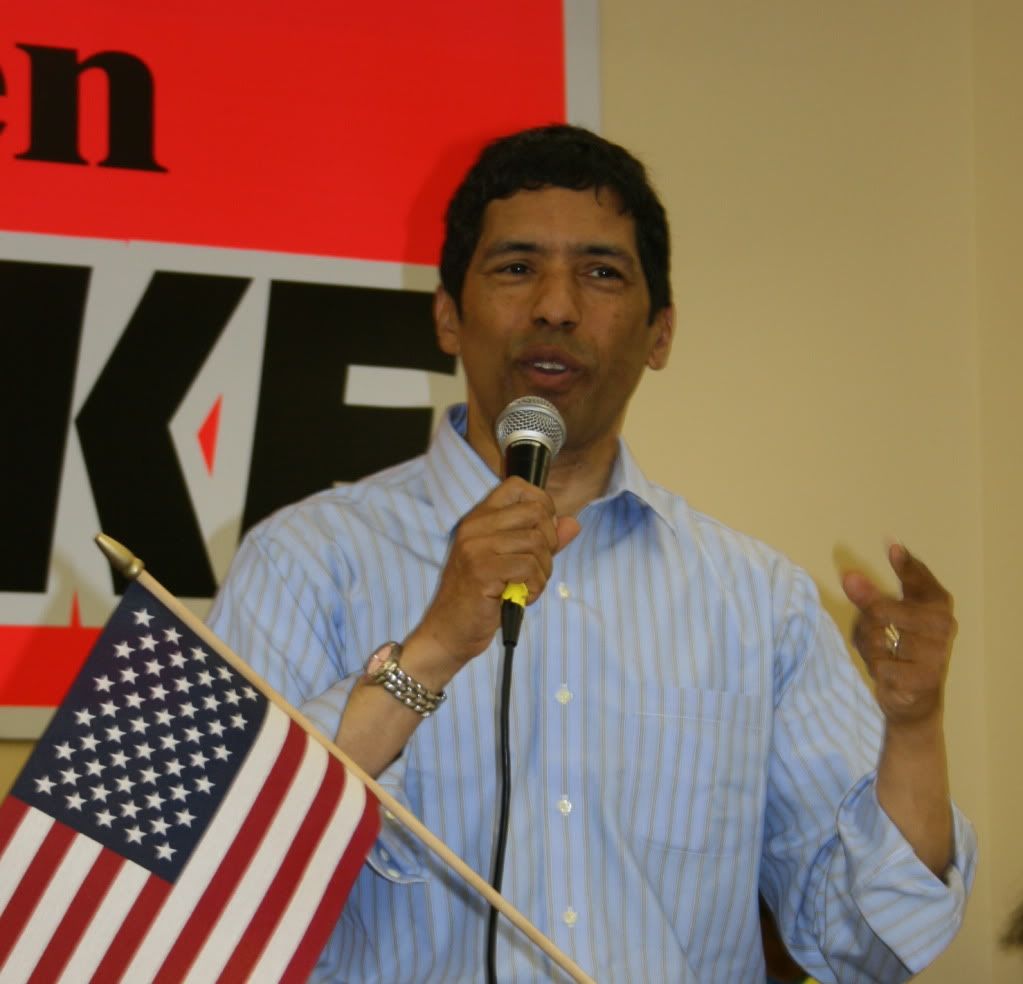 Congressman Hansen Clarke (D-13) may have lost the battle to represent the new 14th congressional district to colleague-turn-rival Congressman Gary Peters (D-9), but there's one thing he want make clear: He hasn't given up hope.
While Clarke has not publically announced his career plans after his term is up in January, he says he's not worried about finding a new job next year.
"I have several options available to me," Clarke told the Michigan Chronicle in an interview regarding his future plans. "That's why I can continue to devote my time to working on getting more grant dollars to bring jobs back to the region."
With his congressional seat taken, will Clarke run for Mayor of Detroit again? "People ask me about that all the time, I mean, constantly," Clarke said. "I get that question so often, sometimes I wonder if my opponent put out that rumor to discourage people from voting for me for Congress."
As of now Clarke says he has "no thoughts" about a mayoral run, and that his current focus is on moving his legislation through the House.
Moving forward after a slim margin defeat, Clarke says he wouldn't change a thing about his campaign efforts.
"I have no regrets about putting services over politics," Clarke said, noting that his job as a representative at times superseded his campaign agenda. "I worked to stop evictions up to the last day to the campaign," he said. But there is something that has Clark concerned: after the primary election, a number of voters called Clarke's campaign hotline with a peculiar complaint: that the congressman's name was not on the ballot.
"There were reports of some election irregularities in Oakland County," Clarke said. "That causes me grave concerns."
Clarke said he heard from more than one source that his name was not on ballots issued in his constituency. He said his campaign team believed these concerns to be legitimate.
"We sensed that there was something odd going on, but it was only when we heard about these possible irregularities that we grew concerned," Clarke said.
Trellis Mercer, a Clarke for Congress volunteer said he spoke to two people making these claims of ballot defects.
"I was working on the campaign hotline and I got a couple calls on Election Day," Mercer told The Chronicle. "They said that they went to vote for [Clarke] but his name wasn't on the ballot." Mercer said his colleagues working the hotline that day reported other callers with the same complaint. "It was about four calls altogether," Mercer said.
Despite his concerns, Clarke says he will not launch an investigation into the reports.
"I've moved on now," Clarke said. "I but I want to make sure that all candidates have a fair chance."
While Clarke's supporters anxiously await his announcement of future plans, the Congressman has a busy schedule ahead of him.
He is working up support for his recently proposed bill that would make it easier for ex-offenders to find employment. The bill, HR6220 or, Ban The Box legislation, would make employers wait until they offered an applicant a job before they could run a criminal background check on that applicant (with some exceptions).
"We've had several states adopt this sort of legislation. Now it's important to us to have this be national policy," Clarke said. "A lot of times a person won't have a chance to be interviewed because of a background check."
Ban the Box legislation has passed in four states including Minnesota, Massachusetts, New Mexico, Connecticut and Hawaii. This law is also in place in the cities of New York City and Philadelphia.But whatever the future holds for Clarke, he says he will not stop his mission to inspire.
"I want to provide people with the hope that they can make a difference," he said.
Clarke may or may not run for mayor of Detroit, but if he follows his own advice, he'll run for something. "I remember how bad things looked for me when I was 23. There were opportunities for me but I don't see them because I lost hope," he said. "Don't give up."
Last Updated on Friday, 17 August 2012 07:56
Hits: 4784
Category: Prime Politics Written by Minehaha Forman
It was a tale of two parties last night in the 14th congressional district race. Top contenders, Congressman Gary Peters and Congressman Hanson Clarke both threw "victory" parties, but there could only be one winner, and it was clearly Gary Peters.
Even before the results came in, it was obvious that Peters was better at one thing, at least: racking up the campaign funds.
While dozens of Clarke's people were sitting in the basement at the Burton Theatre eating pizza off of paper plates, hundreds of Peters supporters were partying at the Anthenium Hotel with a full cash bar, a variety of warm finger food with event staff bussing tables.
The stark difference between election night parties was a solid demonstration of how deeply Peters had outraised Clarke. While the two democrats are colleagues in congress, they were forced to battle each other after gerrymandering put them in the same congressional district.
The mood at Clarke's party was not as festive. A number of impatient journalists paced about the place waiting for Clarke's arrival along with campaign workers tired from a long campaign day and dozens of longtime Clarke supporters.
But one campaign volunteer said he still had hope. "I think it's going to end well for us," said John, 26, of Detroit. "There was no presence of Peters people at the precincts I was located at on the West side."
Others there were longtime supporters of Clarke. "I live in Detroit and I prefer someone who lives in the city," said Soh Suzuki of Detroit. "I've known him since 2004. He is a rare public servant who's actually grounded in the community."
One woman said she preferred Clarke because she has been following his career since he ran for mayor years ago. "He's humble and down to earth. He supports the people. I don't know much about the Peters guy," said Betty Hall of Detroit.
There was chatter of Peter's more upscale party but one voter said he didn't care for the fancy fare. "I don't care if we have paper plates and cookies, we've got a pool table in the men's bathroom," Tomas Foller or Detroit said with a laugh.
Over at the Peter's camp at the Anthenium Hotel, the atmosphere was upbeat and nearly 300 people packed the 8th floor banquet hall.
Peters' supporters seemed triumphant before the election was called.
"Gary can close. We need advocates for the urban agenda and people of color, but the ability to close is more important," said KB Stallworth, managing director of the Black Caucus Foundation of Michigan. "Clarke is an advocate for policy that will never become a reality and it might sound good to people but it's not gonna help anyone."
Many people at Peter's party just came to support their current 9th district congressman and did not live in the new 14th. "I came tonight because Gary gets it. He knows the area and he's down to earth," said Sunil Sabharwal of Rochester. "He's a level-minded politician and he came from a financial background."
Hana Malaj, of Bloomfield Hills said she supports Peters "all the way" even though he no longer serves her congressional district. "He's an honest man. He supported the Albanians in Montenegro and he supported the autoworkers with the bailout," She said. "Without that money we wouldn't have Detroit right now. What has Clarke done?"
Peters' support of women is what got Brenda Carter, Board Secretary of the Pontiac School District to vote for him. "I don't know Hansen's track record but Peter's is pro female. Gary will stand up for women. We're gonna send him back to D.C."
The Associated Press called the election before midnight at which point Peters had the lead with 47 percent of the vote, Clarke followed in second with 35 percent with 309 of 349 precincts reporting.
Last Updated on Wednesday, 08 August 2012 21:11
Hits: 1650
Digital Daily Signup
Sign up now for the Michigan Chronicle Digital Daily newsletter!
RSS
Feed Entries