Category: Prime Politics Written by Phil Power
There's little doubt that our universities are among Michigan's most valuable and important assets. But real alarm about public higher education is spreading throughout the country — and threatening profound consequences for our state and it colleges.
Take the case of Teresa Sullivan, a former provost at the University of Michigan and now president of the University of Virginia. On June 10, with no advance warning, she was forced to resign by the university's board, which said she wasn't making changes fast enough. The campus erupted in anger, and under pressure from the governor, Sullivan was quickly reinstated.
But the pattern has been repeated this year across the country: Richard Lariviere, president of the University of Oregon: fired. Carolyn Martin, chancellor of the University of Wisconsin-Madison: resigned to go to Amherst, a small private college. Michael Hogan, University of Illinois president: resigned after a faculty revolt. Bill Powers, president of the University of Texas: in big-time conflict with his board over tuition increases.
Underlying these events are a series of structural problems affecting public universities. Once among America's proudest achievements, they now face a set of unprecedented threats:
• Declining public support. According to higher education's respected Grapevine Survey, overall state appropriations to universities have deteriorated by $6 billion, 7.6 percent, over the past decade, with more cuts likely coming. Over the last decade, successive Michigan legislatures have cut $536 million from higher education support, according to the Senate Fiscal Agency; that amounts to a 29.3 percent drop, the most of any budget category. This year's state budget increased support for higher education by three percent overall, the first in years. Twenty years ago at the U of M, public support provided 75 percent of costs; tuition and fees, only 25 percent. Today, you may be shocked to learn it's exactly the reverse.
• With state appropriations dropping, universities have increased tuition and fees to maintain quality. According to the National Report Card on Higher Education, tuition nationwide has increased by 375 percent since the early 198os; the inflation-measuring Consumer Price Index by only 95 percent. The result? An explosion of student debt, now approaching $900 billion nationally. In Michigan alone, student debt now has to be in the tens of billions.
• By increasing tuitions and making education less accessible, universities are aggravating students, their families and politicians. Lawmakers are also meddling; in Michigan, the legislature this year bizarrely attached various restrictions to higher education appropriations.
• The basic business model of many residential universities is suddenly at risk, thanks to new technology. Coursera, a start-up nonprofit joint venture between the U of M, Princeton, Pennsylvania and Stanford, is offering for free on-line courses taught by world-famous professors, "education for everyone." Initial response was overwhelming; more than 100,000 students worldwide have signed up.
But the new delivery platform raises a host of questions. If students can get classes taught on-line for free, why should they pay expensive tuitions? Why should professors, already under criticism for low productivity, teach classes face-to-face when lower cost alternatives are available? How much will a certificate from an on-line class cost, compared with traditional tuition -- and how much will it be worth as a credential?
One of the biggest stress points is the relationship between governance (exercised at universities by their boards, which set overall policy and hire and fire presidents) and leadership (exercised by presidents, who need to manage the rate of change their institutions can tolerate.)
The dispute at the University of Virginia between President Sullivan and the rector (chairwoman of the board) Helen Dragas was exactly about this. Dragas said "the world is simply moving too fast" for the University to maintain its position "under a model of incremental marginal change." However, Sullivan argues that universities are not like businesses, which can be managed forcefully from the top down. Instead, colleges require careful consultations with various constituencies, including faculty, students, and alumni.
Pressure is building statewide, best seen this year in the legislature. At hearings in May on state support for higher education, lawmakers criticized universities for arrogance, unwillingness to provide information, rigidity and whining.
Reportedly, some higher education officials are not welcome in the office of House Speaker Jase Bolger (R-Marshall). Worse, recent talks with a number of university board members revealed that most have no idea of just how unpopular their institutions are in Lansing.
This is a big issue that can only get bigger.
Last Updated on Monday, 23 July 2012 00:00
Hits: 1706
Category: Prime Politics Written by Teresa Wiltz
A generation gap in several states between older whites and younger Latinos and African-Americans has race relations experts concerned that age differences in the population are influencing spending and public policy in areas such as education, transportation, immigration and infrastructure.
As the United States rapidly advances toward having a majority-minority population, whites continue to grow older, while --whites are increasingly younger. Evidence is mounting that what has been considered a racial divide in the country is also crystallizing into a generational divide.
Newly released U.S. Census data demonstrate a rapidly widening racial age gap. The median age for White Americans is 41 but is 32 for Blacks, 31.6 for Asians and 27 for Latinos. Across the country, 80 percent of senior citizens are white, while nearly half of the nation's youth are of color. Such significant age disparities, some experts on race relations say, may be having far-reaching implications on resources invested in programs and areas benefiting younger generations.
Data show that states with a larger gap between median ages of whites and people of color tend to make fewer investments in social programs that once benefited older generations that were predominantly white, according to a new research project by PERE in conjunction with PolicyLink, a national research and advocacy organization based in Oakland, Calif.
In Arizona, the median age for Whites is 43 compared with 25 for Latinos, who comprise 31 percent of the state's population. On per-pupil spending for education, census data show that Arizona ranks 49th among the states and the District of Columbia. In terms of spending on transportation, the state is in the bottom quarter of all states, according to Dominique Apollon, research director at the Applied Research Center, which has offices in New York, Chicago and Oakland.
To illustrate her point, Blackwell cites California and Mississippi. Through slavery and restrictive Jim Crow laws, she says, Mississippi consistently underinvested in the Black community. Today, Blackwell says, it consistently ranks on or near in the bottom in terms of education spending and has the nation's infant mortality rate. Forty is the median age for whites in Mississippi, 29 for Blacks and 25 for Latinos, according to the Pew Hispanic Center.
In California, public policy priorities have changed as the white population has aged. In the 1950s, when White families arrived from the Midwest in search of jobs, California built the nation's best educational system. There were generous investments in the state's infrastructure and programs to help families become homeowners. The state became a poster child for the benefits of public sector spending.
Today, California has a considerable age gap between White and nonwhite residents. The median age for Whites is 43, for Blacks 34 and for Latinos 27, according to the Pew Hispanic Center. Furthermore, Blackwell says children of color comprise 70 percent of the state's 18-and-under population while 60 percent of its over-65 population is white.
Beset with budget issues, California now hovers in the lower rungs of per-child spending on education, ranking 43rd nationally. It also ranks in the bottom quarter of all states in transportation funding, according to the Applied Research Center.
Questions have been raised about whether a relationship exists between racial age gaps and public sector spending. "I'm a little skeptical" about whether it is a national trend, Apollon says. Some state spending levels, he says, may be related to conservative philosophies toward government spending.
According to demographer William H. Frey, a senior fellow at the Brookings Institution in Washington, generation-gap states like Arizona tend to have "lightning rod issues" such as immigration and undocumented immigrants. Last year, Arizona Gov. Jan Brewer (R) signed into law the nation's strictest immigration legislation, which made failure to carry immigration documents a crime.
The law also gave police wide latitude in detaining anyone they suspected of being an illegal immigrant. A federal judge later imposed an injunction on many of the law's provisions. The state also banned Chicano studies programs in its public schools.
Frey says antipathy toward immigrants is a generational trend, noting the hostility toward Italian and Polish immigrants 100 years ago. Immigration slowed between the 1930s and 1970s, and not until the 1990s did Latin American immigration begin surging. Rapidly changing demographics unnerve many people, he says, adding that baby boomers had not witnessed the immigration wave of the early 1900s.
"What bothers me is politicians use this as a wedge issue," Frey says, "rather than explaining this (wave of immigration) is part of our history."
Meanwhile, other people see the disinclination to invest in younger generations as a matter of economics and self-interest. "I personally think it's class that's the issue, not ethnicity," says Joel Kotkin, author of "The Next Hundred Million: America in 2050."
Last Updated on Thursday, 19 July 2012 11:57
Hits: 1362
Category: Prime Politics Written by George Curry
Since the enactment of the Affordable Care Act two years ago, polls have consistently shown that a slight plurality of Americans have opposed the measure.
But public opinion now seems to be shifting in President Obama's favor, with a slim plurality supporting the landmark healthcare measure.
The Kaiser Health Tracking Poll, released a week after the Supreme Court ruling upholding the constitutionality of the Affordable Care Act (ACA), shows that 47 percent approve of the Supreme Court ruling, 43 percent oppose and 10 percent are uncertain.
Not surprisingly, as is the case with so many social issues, there is a deep political divide, with 83 percent of Democrats preferring to keep the law as is or expanding it and 79 percent of Republicans wanting to repeal it. Independents are divided, with 49 percent wanting to keep or expand the law and 41 percent favoring repeal.
A clear majority of Americans – 56 percent – are tired of the political bickering and want opponents to "Stop their efforts to block the law and move on to other national problems."
An even larger 82 percent of Democrats share that sentiment.
However, if Republicans have their way, that is unlikely to happen soon. According to the poll, 69 percent of opponents want to "continue trying to block the law from being implemented." Among independents, 51 percent favor moving on to other issues, and 41 percent are for continuing the fight.
Because the Affordable Care Act was modeled after the health plan created by Mitt Romney when he was governor of Massachusetts, Romney is in an untenable position as he tries to draw a nonexistent distinction between what he did as governor and what Obama is supporting as president.
That political contortion, delivered in the midst of blistering attacks on what Romney characterizes as "Obamacare," has led to major flip-flopping in the camp of the Republican standard bearer who is trying to shed that label.
Central to the debate is Chief Justice John Roberts' majority opinion that ACA is constitutional under Congress' powers of taxation. A key provision of the health law is the individual mandate, a requirement that those who can afford it must buy insurance or face a financial consequence.
Obama has argued that because a person has the option of purchasing health insurance – a choice one does not enjoy when it comes to taxes – the punishment for failing to comply should be more accurately described as a penalty, not a tax.
Romney's problem is that he made the identical argument as governor. For political reasons, however, Romney does not want to repeat that argument as Republicans try to use the ruling as proof that the president's signature legislation is a massive tax hike on Americans.
On the CBS News broadcast "Face the Nation," House Speaker John Boehner said, "It's now a tax, since the court says it's a tax." That is directly at odds with what Romney said as governor.
Eric Fehrnstrom, a senior advisor to Romney, said in an interview on MSNBC: "The governor believes that what we put in place in Massachusetts was a penalty and he disagrees with the court's ruling that the mandate was a tax."
But "the governor" promptly threw Fehrnstrom under the bus.
"While I agreed with the dissent [that a health mandate is not a tax], that's overtaken by the fact that the majority of the court said it's a tax and therefore it is a tax," Romney said in an interview with CBS News, contradicting himself and his senior campaign aide.
Politics aside, past polls showing most Americans opposed to the Affordable Care Act may have been misleading. Although the public expressed opposition to the law, when the actual provisions of ACA are described, there is widespread support – even among Republicans.
A poll released last month by Reuters/Ipsos found:
• Eighty-six percent of Republicans favor "banning insurance companies from cancelling policies because a person becomes ill."
• Eighty percent of Republicans favor "creating an insurance pool where small businesses and uninsured have access to insurance exchanges to take advantage of large group pricing benefits."
• Seventy-eight percent of Republicans support "banning insurance companies from denying coverage for pre-existing conditions."
• Fifty-seven percent of Republicans support "providing subsidies on a sliding scale to aid individuals and families who cannot afford health care insurance."
• Fifty-four present of Republicans favor "requiring companies with more than 50 employees to provide insurance for their employers."
• Fifty-two percent of Republicans favor "allowing children to stay on parents insurance until age 26."
These findings prove that the Obama administration has done an extremely poor job conveying the benefits of the Affordable Care Act to the public.
If Romney wants to make this a campaign issue, Obama should gleefully borrow a page from Ronald Reagan when he told Congress in 1985 that he would veto any bill that would raise taxes.
To those considering testing his resolve, the actor-turned-president, borrowing a line from Harry Callahan, played by Clint Eastwood in the film "Suddden Impact," "Go ahead, make my day."
Last Updated on Thursday, 19 July 2012 11:24
Hits: 1258
Category: Prime Politics Written by Minehaha Forman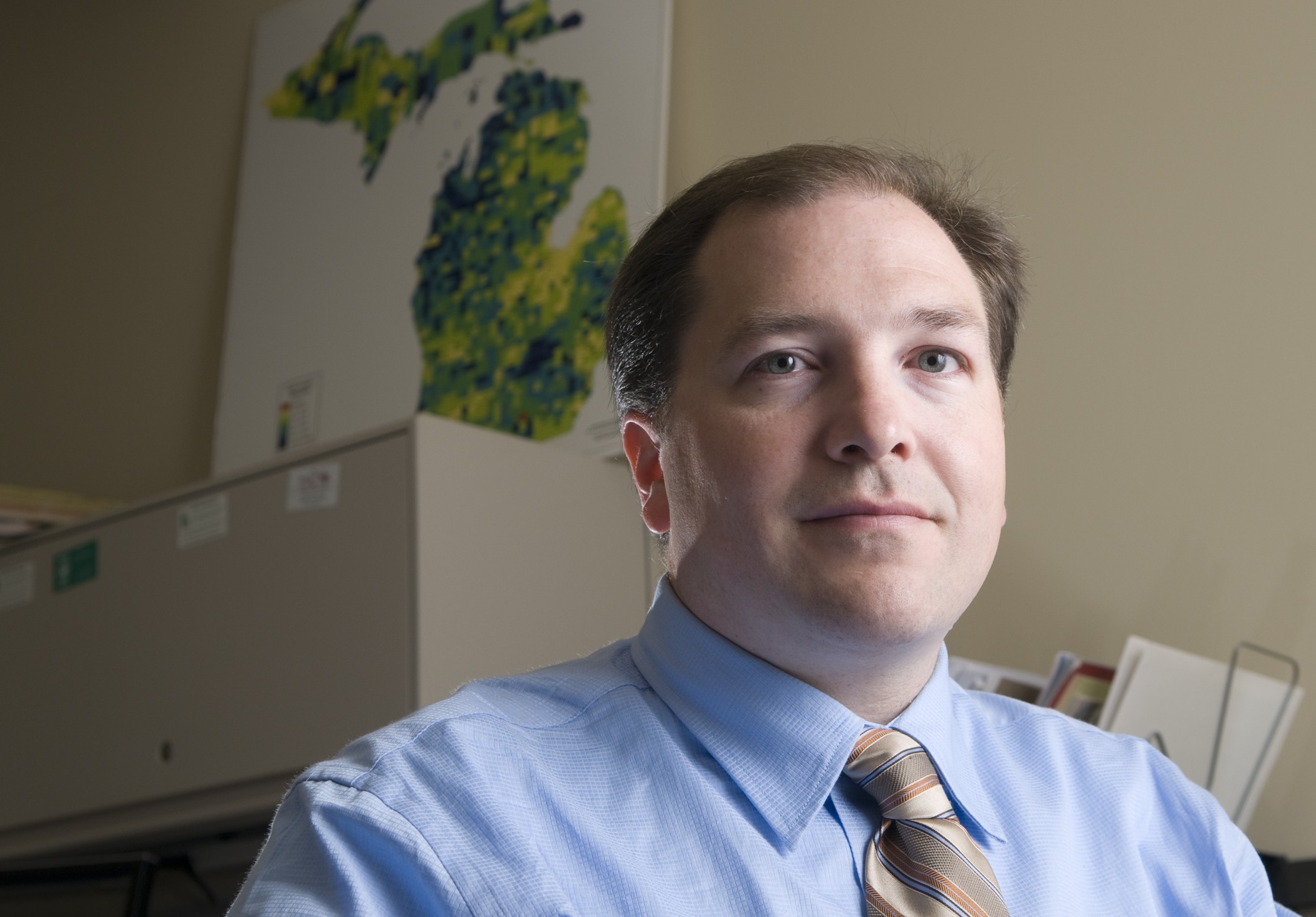 No city ever tripped and fell into bankruptcy; especially not any city in Michigan over the past year.
One municipal finance expert described city bankruptcy like an expensive club with spilling lines and an exclusive guest list.
According to Eric Scorsone, extension specialist in State and Local Government at Michigan State University, municipal bankruptcy is something a city has to file for, fight for, and prove. It is expensive, time taking, and choc-full of lawsuits—certainly, no picnic—but it has its perks, too: Like not having to pay bondholders, get sued for mandating wage cuts, or be forced to sell any city assets.
Still, contrary to what Detroit City Council members and Mayor Dave Bing have often implied, bankruptcy is not currently an option for Detroit.
"Detroit can't get into bankruptcy. Detroit is not eligible," said Scorsone. "You have to have an emergency manager first. In Michigan, that's the only route to bankruptcy under Public Act 4."
"I've heard that talk from the City Council," Scorsone said. "It's just not accurate. Unless they have an Emergency Manager, they are not going to get into bankruptcy."
He added that it's not clear what could happen if PA4 is repealed.
In a way, being getting and emergency manager is a form of bankruptcy, Scorsone said. So why are some officials pushing an EM over filing for broke? One reason is the price ticket.
"Bankruptcy costs a lot of money, ironically," Scorsone said, noting that the city of Vallejo, California spent over $10 million on bankruptcy lawsuits in 2008. "If you can get the same outcome at a cheaper price, you do that."
If a city can't afford it, taxpayers may have to fork over the difference. "If a city owes creditors money, the creditors can go to a judge and argue to put a millage, say, five mils on the ballot. The theory is that you give the city breathing room to get organized."
But the key difference between bankruptcy the consent agreement (or EM) is that under the consent agreement, the state has more power over city affairs.
"A bankruptcy judge is really almost more of an arbitrator or an administrator than anything else," Scorsone said. "An EM is kind of in the driver's seat."
Still, Scorsone maintains that bankruptcy has plenty of drawbacks.
"When you file, the first thing that happens is the creditors are going to sue to say you are not eligible. This can take a long time and it's very expensive," he said. "You have to prove that you can't pay bills. The judge would have to agree to this."
Municipal bankruptcy is starkly different from business going bankrupt. "Creditors can force a corporation into bankruptcy but they cannot force a city into bankruptcy," Scorsone said. Instead of forcing a city to file for bankruptcy, they do the opposite. "Creditors going to make all these arguments that the city's not insolvent."
Aside from being cheaper than bankruptcy, the consent agreement could have another silver lining. Because a bankruptcy judge takes a more hands-off approach, he or she is not going to fiddle with any structures of city government. that may have landed the it in a financial bind in the first place.
"A bankruptcy judge is not gong to fix try to the city's economy," Scorsone said. "Bankruptcy is temporary. It's not a fix all by any means. It's a fix of current problem. There are cities that have gone in and out of bankruptcy a number of times."
Why is the state pushing so hard to avoid bankruptcy? There's a lot at stake, and not just for Detroit: when it comes to regional governments, every thing's connected. If the state's largest city, Detroit, files for bankruptcy, the whole of Michigan will suffer a ripple effect in the form of steeper lending rates and the overall economy would wobble at a time when recovery is paramount.
What the Financial Advisory Board is doing now with union contracts is something that would be done under bankruptcy, too. Under bankruptcy law, it could not be disputed. But the new PA4 law has not been thoroughly litigated.
"The collective bargaining laws that apply have been essentially suspended in the City of Detroit," Scorsone said of the consent agreement. "To be quite frank this is clearly going to be legally challenged."
He said he was not sure about the outcome of these lawsuits because rulings in similar cases have gone both ways due to a contract clause in the U.S. constitution. "Contracts are broken all the time and the Supreme Court has interpreted that very differently."
Some contracts can be broken by declaring a fiscal emergency: that's the catch. Despite urgent deadlines from the mayor and state officials warning of "payless paydays" have come and gone with no fallout. So it's not certain if the city is quite yet in a fiscal emergency. Scorsone says there is no clarity on the city's financial problems but to say the city is out of cash is "probably not an unfair statement."
"A bankruptcy judge cannot force the City of Detroit to sell Belle Isle," Scorsone said. "That's just not accurate."
Another twist to the bankruptcy option is the logistics: There's no judge in this circuit that has ever dealt with a municipal bankruptcy.
So the whole affair could turn into a bigger mess under a judge without municipal bankruptcy experience.
If the city files for bankruptcy and gets it, the city can't its debt wiped out like a person or business can. In fact, it has to pay back everything owed.
"It's unlikely that bond holders or banks get zero," Scorsone said. "You can liquidate a corporation but you can't liquidate a city."
Last Updated on Friday, 20 July 2012 16:44
Hits: 2286
Category: Prime Politics Written by Minehaha Forman
William Gardner has a big decision to make. He just sold his old truck wants to invest the money: Should he buy an Alpine goat to add to his herd, or a brand new tiller to plow his farm on a vacant lot across the street?
Detroiters hustle hard. It's tough out here. Just ask Gardner; he'll tell you so. But the East side farmer/factory worker has a vision and it involves growing his own food and living off of the land. But that all takes times, money and the skill to hustle you homegrown wares.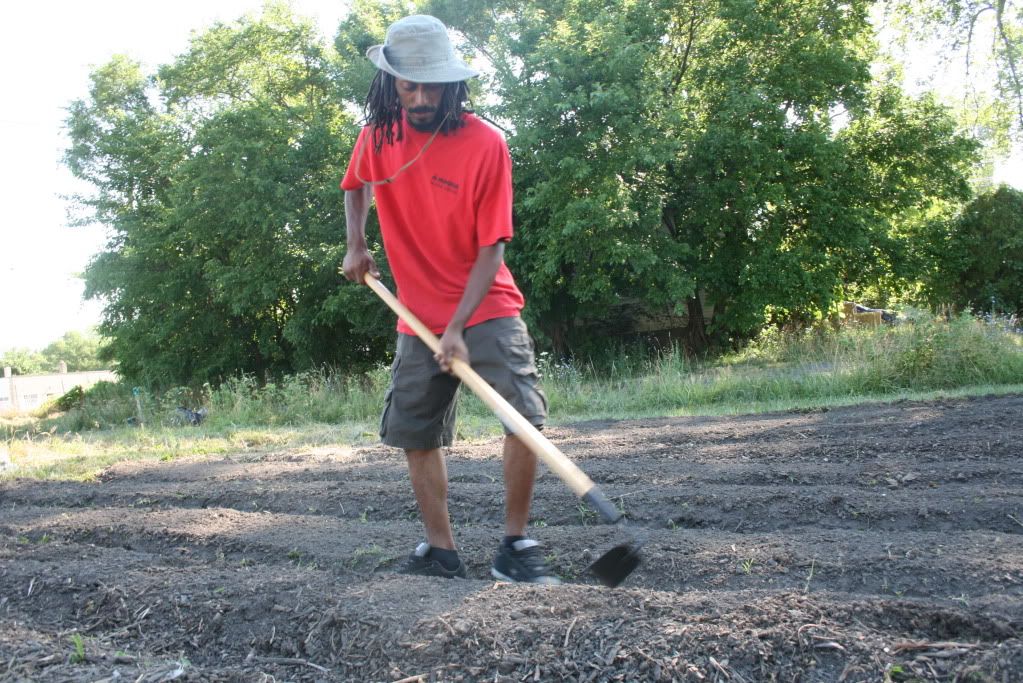 "You can make a decent living off of urban farming," Gardner says. "Last year I was pulling in two to three hundred a week and that was just from selling at Eastern Market. It was like part-time work. Some days I'd be out here six hours a day working hard other days I wouldn't do anything."
But don't go plowing into you back yard or neighboring vacant lot thinking you'll hit the big bucks. For small city farmers, money is a necessity but not the motive.
"You have to love it," Gardner says. "It's more than a hobby, it's a lifestyle. It teaches you discipline and patience," he said.
Last year Gardner said he woke up before the sun on Saturday mornings and was in his garden with a flashlight harvesting vegetables so he could pitch them as the freshest: "harvested two hours ago."
Still, farming a city lot with vegetables for sale is illegal in Detroit. So is having any type of livestock.
But a boost to city farmers did come last month when Mayor Dave Bing declared urban agriculture a viable means of revitalizing the economy.
It is unclear whether Bing was referring to the big business type of ventures that have been proposed in the city, or grassroots efforts like Gardner's plot.
In Detroit urban agriculture circles, there is a dichotomy between the big business venture farming and the backyard growers, as reported in The Huffington Post recently.
But it takes money to make money; any hustler knows that. And Gardner just sold his car to invest the money in his farm. He also works long night shifts at Magna Seating, a world-class seat manufacturing facility for the Big Three. The factory job allows him to save up to hire neighborhood kids to work on his farm.
"I want to teach the kids a different way to hustle," Gardner says, noting that most kids won't get involved in his garden unless there's cash involved.
And he's willing to pay them, but part of his lesson through the work is that it's not all about the money; it's all about food. "I want to teach them how we can grow good food right here in the 'hood and make money doing it. Without food we're finished; finito," Gardner said.
Some people just don't have a choice but to follow their passion.
"I have to do this. It's my calling," Gardner says. "But it takes money. I need kick start money to do the things I want."
Gardner is committed to his mission and works a hectic schedule to save up. He works his factory night shift at Magna Seating from 4pm to 3am six days a week and spends most of his days in the garden.
What about weekends? "Weekends are pretty much non-existent around here," says his girlfriend Jennifer as she waters the garden beds. But she' not complaining. She is a massage therapist and the two plan to merge their two passions into a holistic living business.
Together, they plan to build a living off of the land and their talents.
It's not just veggies that come from the farm. The two raise goats, chickens and herbs. Gardner says the goat milk can go into making soaps, the herbs they grow can be made into organic massage oils and the chickens will be used as food and educational opportunities for people to learn how to process meat.
"You can make money but you have to be original," Gardner says.
Gardner said he is thankful to have a supportive partner and rich natural resources close at hand. "I'm fortunate I have land and opportunities to change and do something better for the neighborhood," he said. "It's just me out here digging all these rows, luckily I got my girl to water."
To Gardner it's more than work. "I look at it like art. It takes time and also inspiration," he said. "Two weeks ago this was a like jungle. But I felt the urge to garden and said "let me get out here and work my magic."
Gardner loves what he does outside, but he also loves his PS3 and YouTube. "I'm not out here like the Amish with no shoes and sh*t." He says. "I might work for a few hours and if I get bored I'll go inside and watch a video."
For Gardner, it's not about the money, even though he knows he has to support his family.
"I know Detroit needs this. I wake up and think, "let me get out here and get in the ground."
The East-side land Gardner works was an old military compound in the 50s, and since then it has seen nothing but weeds, long-time residents of the area say.
"The soil here is great. All I had to do is give it a little love," said Gardner.
Until he saves up for a farm tool collection, tools are scarce around the farm. "I use anything I can get my hands on," Gardner says. "Some days I'm out here with a scythe."
Last Updated on Tuesday, 17 July 2012 20:35
Hits: 1852
Digital Daily Signup
Sign up now for the Michigan Chronicle Digital Daily newsletter!
RSS
Feed Entries