Category: Prime Politics Written by Minehaha Forman
Detroiters need jobs. That's a fact. And an Ohio-based fish farming company named Aqua Nourish needs a new place to raise fish. That's another fact.
Enter Recovery Park, a non-profit geared to help revitalize Detroit through innovative job creation projects.
A match: Gary Wozniac, President and CEO of Recovery Park, is the matchmaker.
Wozniac is currently brokering a deal with Aqua Nourish, a for-profit company, to operate a fish farm in Detroit under the brand name of Recovery Park.
Wozniak compared this business model to a fast-food franchise. "If you want to sell McDonald's you have to sell under the McDonald's umbrella," he said. The only difference between a McDonald's franchise and a Recovery Park one is the non-profit aspect. Aqua Nourish would be selling Tilapia and making money under the Recovery Park umbrella.
In exchange, the tilapia farm Wozniac had envisioned as a job maker in struggling Detroit communities suddenly became a fiscal possibility: Aqua Nourish will pay for everything from the building to, most importantly, the workforce.
The plan is to raise five million pounds of tilapia every year and provide tons of live, fresh food to local communities while creating jobs for people in need.
There are still some kinks to be worked out. And if all goes according to plan, time is short: "If Oct. 1st were the day we inked everything, nine months from that you could be buying Detroit Tilapia," Wozniac said.
The Waste Issue:
Five million pounds of fish means millions of living things producing waste at an alarming rate: Wozniac projects that the fish will create more than a million pounds every month.
To solve that problem, Wozniac and his team are exploring a model to use the fish poo as an asset and turn it into energy. It would be a biodigestive system that would turn organic waste decomposition into steam that powers a turbine. This has the potential to power 25,00 homes, Wozniac estimates.
Still, the bio-digestion system is a complex project in itself that will take time and Wozniac says is part of the big picture.
"Getting the fish up and running is a huge project," he said. "Initially the waste just going to go down the drain. But we're not going to have five million pounds of fish right away."
Wozniak said that was no exact timeline for getting the fish waste out of the sewage system, but it is a high priority and all options are being explored, from aquaponics to composting opportunities and, direct fertilizer options. "Fish waste is a commodity. It's not like human waste," Wozniac said, adding that environmentally sound practices are crucial to Recovery Park and its endeavors.
The Collective Ownership Conundrum:
The aim of Recovery Park is not just to create hourly wage jobs but to be a business opportunity for workers to eventually collectively own businesses. After three years, employees at Recovery Park businesses can buy into be part owners for only $ 3,000.
"You do well by working a job, you do great by owning a job," Wozniac says.
But the tilapia farm, that Wozniac calls Recovery Park's signature project, makes collective ownership tricky, if not impossible due to the franchise setup. "We're working on that model," Wozniac said. "We haven't completely worked that out. It's too early."
Still, plans for the fish farm are zooming along. Three sites are being considered for the project, namely the currently abandoned Detroit Water and Sewage plant on the corner of Erskine and Orleans in Eastern Market.
The Bottom Line: Jobs
The bottom line for Wozniac and Recovery Park is creating jobs for people who need them most, and who in other circumstances would be out of work. Recovering addicts, people released from prison often can't find work or facing other hardships.
Now that the match has been made between Recovery Park and Aqua Nourish, a new kind of business model is being born. "We're breaking a lot of ground," Wozniac said. "We're trying to push a lot of envelopes on how business can be advanced."
Last Updated on Sunday, 08 July 2012 21:33
Hits: 3783
Category: Prime Politics Written by Minehaha Forman
Every year Detroit residents grow tons of produce within city limits. There are so many farms and large-scale gardens in the city that it's easy to forget the elephant in the room: it's illegal.
City zoning laws widely forbid the primary use of a land parcel for farming and also nix any sales of produce grown in the city. Despite this, many consider Detroit to be the global epicenter of urban agricultural activity.
That's why the agreement announced this week between the City of Detroit and Michigan State University (MSU) to build a multimillion-dollar urban agriculture research facility within city limits is a huge and controversial step for urban agriculture in Detroit.
Mayor Dave Bing signed an agreement with MSU Wednesday to commit to further planning of the research facility, which will have a global focus. In a statement, Bing fully endorsed the project, and in doing so, other agricultural efforts in the city.
"We want to demonstrate that innovation based on metropolitan food production can create new business and jobs, return idle land to productivity and grow a more environmentally sustainable and economically vital city," Bing said.
The MSU research center would be called MetroFoodPlus Innovation Center @ Detroit, and aims to explore ways in which urban centers across the globe can grow food, generate energy and create sustainable water systems.
With the global population projected to hit 9 billion in 2050, the food needs are expected to soar. And an estimated 70 percent of the world's population lives in metropolitan areas.
"The systems needed to meet these challenges do not now exist," the MSU project proposal claims.
The plans include transforming abandoned buildings into multi-leveled indoor farms and utilizing up to 10 acres of vacant land to research sustainable farming techniques in an urban environment.
In the agreement Bing signed Wednesday, the city makes no concrete promises and funding for the project has not fully been attained. But MSU is set to invest $800,000 a year for three years to continue planning the project.
It's not the first time a large agricultural project has been proposed in the city. Hantz Farms, a project fueled by corporate investors, hit some bumps in its venture when it came to city zoning and adjacent vacant land blocks.
And even with the mayor on board, questions remain as to how the project would abide zoning and land use ordinances. One Detroit city planner believes there may be a place for the project within existing code.
"There's a special development district called technology and research that the project would likely come under," said Kathryn Underwood, city planner with the Detroit Planning Commission.
Still, Underwood says it is premature to say exactly how the project would fit.
"It's too much of a conceptual phase to figure out exactly what they will be doing," she said. "They signed an agreement to explore doing this. There will be a number of stakeholder meetings to put meat to the idea."
Underwood is one of the community stakeholders selected to further the discussion of how to implement the project. She said it's crucial not to forget the community with large-scale ventures such as this.
"When talking about food, energy and water, we need social innovation at the planning stage," Underwood said.
The first stakeholder meetings for MetroFoodPlus will be held in July and will not be open to the general public.
Last Updated on Friday, 29 June 2012 10:39
Hits: 2803
Category: Prime Politics Written by Minehaha Forman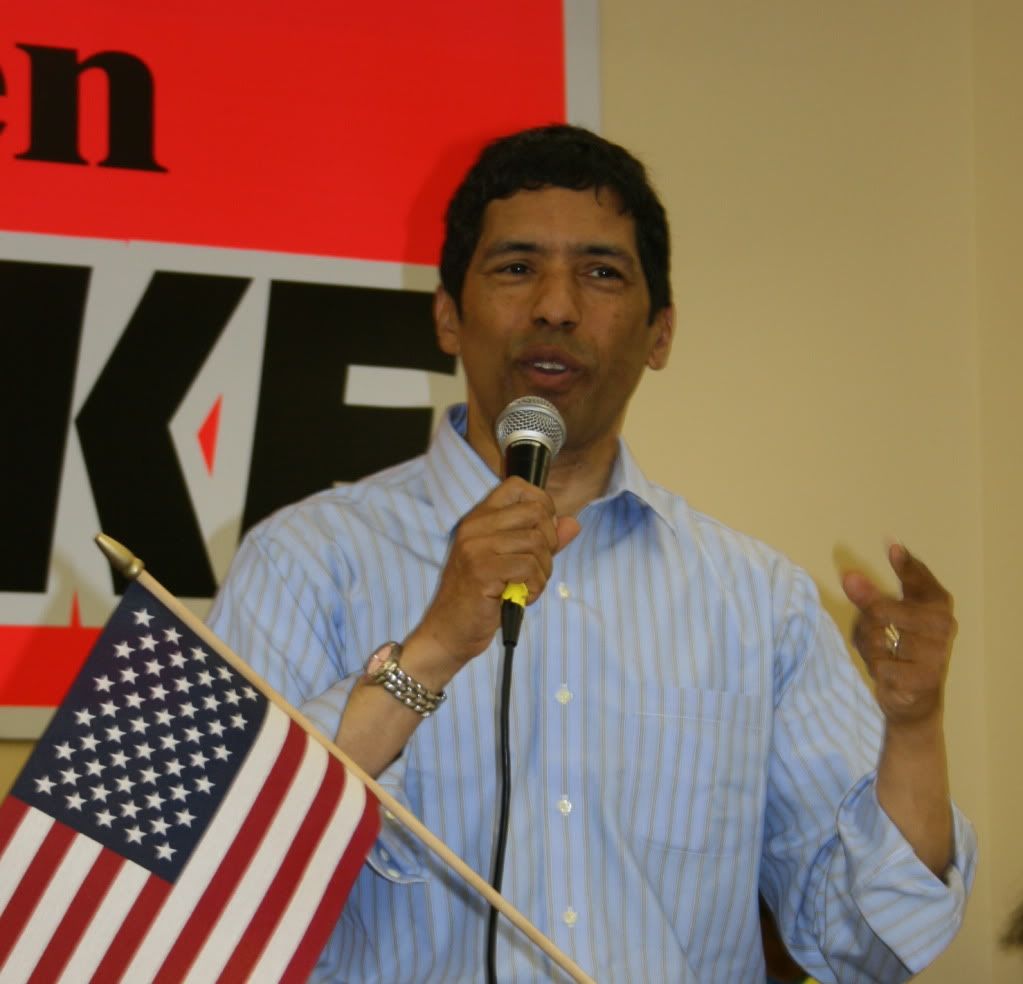 In an exclusive interview with The Michigan Chronicle, U.S. Congressman Hansen Clarke shares his plan to get $10 Billion in funding Detroit but says the city also needs financial reform for sustainable growth
It's no secret that many Detroiters, despite the city's grim financial situation, are against the state intervening on the city's operations in any form, whether through an Emergency Financial Manager or a nine-member financial advisory board. But few of these Detroiters are offering alternative solutions to an unavoidable problem.
U.S. Congressman Hansen Clarke (D-MI13) has some ideas for a fix. In involves creative funding along with some fundamental shifts in voter involvement. For some time now Clarke has been looking to the feds instead of the state for a hand helping Detroit climb out of the fiscal hole it sits in today.
"It's doesn't matter if the consent agreement is legal because it's not effective,' He said regarding the legal showdown between Mayor Bing and the city's head lawyer, Krystal Crittendon. "What the city needs is growth. You can't cut costs and lay off people in times like these. We need streetlights, police officers, schools open, and money to train people to get jobs," he added.
In March Clarke introduced the Detroit Growth and Stability Act, and explained in a Detroit Free Press Op-Ed how the bill would secure $500 million in federal funding to Detroit.
That bill didn't get very far, but he said it built momentum around another bill he introduced in September, one that sets to make $10 billion in federal tax revenue available to the city to use over the next five years.
"It's significant," Clarke said about the bill, H.R. 2920. "This could do more than fix the financial crisis it would grow the city.
Clarke is still forging H.R. 2920 in the House (formerly called the Detroit Jobs Trust Fund). Once in effect, it would funnel all federal taxes from Detroit businesses and pool them into a separate fund that would be overseen by the U.S. Department of Treasury or an agency authorized by that department. The collected re-assigned tax dollars would ultimately be available in the city's budget.
According to Clarke's research, Detroit businesses pay approximately $2 billion in federal taxes every year. For global businesses like GM, it would only take taxes paid by operations within the city. The bill proposes that these taxes be re-routed from the feds to Detroit for five years adding to a total of $10 billion. And that's a low estimate, Clarke says.
But it won't happen overnight. "It will take time," Clarke said. "We could be working on this for the next few months."
The bill is set to make the case that Detroit can make it without help from the state, but it's a matter of waiting. Clarke said avoiding any state intervention is paramount, calling Public Act 4 "unacceptable".
Still, if all goes according to Clarke's plan and the bill passes the House and Senate and is signed into law by the President, what happens five years from then when it expires and suddenly $2 billion in aid disappears from the city budget? Will things spiral back to the way they are now?
Clarke is betting the power of the people to start holding their elected officials more accountable will spur reform through elections before then. But he believes that operations can't keep on the way they are in the city.
"The city has to change the way it's handling its money," he said. "We do need reform. We need financial controls and more efficiency."
Clarke said he discovered in a recent conversation with a U.S. energy official that Detroit wasn't proactive in procuring grants that could keep more streetlights on. "The U.S. Department of Energy told me the city didn't apply for several energy grants available to them," he said. "I can make funds available but I can't apply for the city."
How do we ensure financial reform? There needs to be some deeper changes to the political system, Clarke says. No one can force it. He's a believer in old-fashioned democracy.
"Ultimately, the only way to reform is if people demand it. It's up to the people," he said. "When the public demands reform, [elected officials] will have to make those changes to stay elected."
Last Updated on Sunday, 08 July 2012 21:35
Hits: 4519
Category: Prime Politics Written by Lena Epstein Koretzky
Think about it. If you limit your political voice to 140 characters on Twitter or your networking to events with like people within your age group, you'll miss the boat shuttling some very big connections.
I recently returned from my first time attending the Detroit Regional Chamber's Mackinac Policy Conference — mingled with 1,500 people, representing all races, religions and political persuasions. Many attendees fell within the entrepreneurial class on which we're banking Michigan's success.
Gov. Rick Snyder told the group: "We're the comeback state in the country and we need to be telling people across the country and the world that."
The comeback has grown to involve young, energetic visionaries from all over Michigan, particularly Detroit. This is ground zero when it comes to reinventing our economy. William Clay Ford, executive chairman of Ford Motor Company, told conference attendees that he sees Michigan as the Silicon Valley for the world's mobility revolution.
I say get moving.
Some are of the opinion that if the annual policy conference could be moved to Detroit, such a move would make it more economically feasible for young entrepreneurs and business folks to attend.
However, if the conference stays on Mackinac, young people must figure out a way to participate. I took several young colleagues with me to Mackinac Island, requiring only two tanks of gas and a ferry ride to get there.
They slept on the floor. They hung out at the Pink Pony and Horns Gaslight Bar. They even invested money to golf with the conference's movers and shakers, after they were denied access to the porch of the Grand Hotel.
People in their twenties and thirties are kick-starting careers and paying off student loans. They ought to get a discount for conference attendance, much as golf clubs and private clubs offer breaks to young members. Moreover, these offerings must be publicized both before and during the event.
It's a known fact that young leaders bring innovation and fresh ideas to the table. When connected with those who are already well versed and connected in the region, emerging leaders possess power to effect measurable change.
Forty-five years ago, my grandfather, Stanley J. Winkelman, helped start New Detroit, Inc., for that same reason: to help bring about a racial dialogue and celebrate the urban experience. He taught me to speak up, to show up and keep moving forward.
The future of this region lies in cross-over appeal, people who work well with others — Republicans and Democrats of all races and backgrounds. If we want the "mobility revolution" to happen, it is because we participate, whether that is moving to a loft in Midtown, attending a free evening with the Model D Speaker Series, or enjoying a beer session at Zoos.
Ultimately we want the same thing, whether 25 or 75. We can network every day of the week and gain traction meeting others with creative ideas, with experience and resources to help us reach our dreams. Creativity starts by getting connected.
Alternately young people could stage an upscale tent city around Fort Mackinac and work to move networking beyond the conference at the 2013 Policy Conference. Fortunately, we have a whole year to plan ideas for affordable inclusion.
So if you don't have wheels, find a friend who does. This is an exciting time to be a Detroiter.
Island politics rock on. Let's bring more to the party.
Lena Epstein Koretzky, is a political observer and an advocate for young political leadership.
Last Updated on Thursday, 21 June 2012 20:06
Hits: 2095
Category: Prime Politics Written by Bill Johnson
The Detroit Consent Agreement, approved by Mayor Dave Bing, the City Council and Gov. Rick Snyder, was necessary and sensible for all the right reasons. Not the least of which is that it envisioned that the city would divest itself of all economic functions and place them under the umbrella of the Detroit Economic Growth Corporation (DEGC), a quasi-public organization that partners with the government and businesses to attract new companies and investments to the city.
However, in and irresponsible, manic-like fashion, city officials are not just trying to scuttle the agreement they also want to renege on the covenant that would take the city out the economic development business. This government is without peer is being developmentally challenged.
Per the Consent Agreement, all parties were in accord with the following provision:
Consolidate the planning and economic development functions for the city within the Detroit Economic Growth Corporation to avoid duplication, enable the development of unified strategy and execution, and simplify the process for new economic development within the city.
This unification, of course, makes sense now — and is something the city should have done years ago.
Under the mayor's office, for example, is a Planning & Development Department that doesn't do much planning or development. It essentially works with grants that deal with AIDS, the homeless, seniors, Community Development Block Grants (CDBG) and Neighborhood Stabilization Program (NSP).
This agency, though, is best known its dysfunction. Detroit is at risk of losing a more than $200-million Neighborhood Stabilization Program (NSP) grant that the city can't or won't spend to rescue distressed neighborhoods. It's not the first time. The city apparently lacks the mechanisms to take down abandoned structures and spend millions of dollars it received in HUD block grants
The City Council's Planning Commission is equally inept. It primarily does Site Plan review, mediates zoning issues and whatever pleases a legislative body more prone to intervention in development deals based more on patronage than economic reality.
Combining these scattered resources would go a long way toward helping a certifiable schizophrenic administration trim bureaucracies, shed outmoded functions, take politics out of economic development decision-making and hand them to professionals in one fell swoop.
The DEGC might outsource these responsibilities, and save the city hundreds of thousands in employee health and pension legacy costs. Already under the DEGC are related government agencies like the Downtown Development Authority (DDA), Detroit Brownfield Redevelopment Authority (DBRA) and the Economic Development Corporation.
With or without a mutually agreed upon pact, this merger is a paragon of sanity. Conversely, it is the height of arrogance — or ignorance — for Mayor Bing to think he can effectively drive major business attraction decisions or tackle the difficult issue of competitiveness from his office. Neither can the council from their chamber. One look out of any City Hall window reveals the city's impotence on that score.
The business of Detroit government should be reducing regulatory burdens and impediments to development. This group of elected official has proved incapable of providing efficient, effective essential services. If  focused only on the basics, they might make progress in creating a hospitable, welcoming environment in which job creation can take root and the city can prosper.
To summarize recent events surrounding a deteriorating issue that hastens the city toward bankruptcy: The city corporation counsel filed suit — arguably with the mayor and council's blessing — claiming the agreement is void because the state owes Detroit a few thousand in unpaid water bills and a millions in state revenue-sharing funds. The state subsequently threatened to withhold revenue sharing unless the suit is dropped and the city takes the brakes off reforms connected to the agreement.
Meanwhile, Detroit Medical Center chief Michael Duggan added to mounting speculation he is interested in replacing Mayor Bing. Duggan's has a reputation for intelligently getting things done. His emergence begs the question: "What would Mike do?"
Last Updated on Thursday, 14 June 2012 19:05
Hits: 3081
Digital Daily Signup
Sign up now for the Michigan Chronicle Digital Daily newsletter!
RSS
Feed Entries