Category: RTM News Reel Written by Charlene Crowell, NNPA Columnist
The old saying, "The check is in the mail," is often a ruse not worth heeding. But beginning April 12, checks will begin going into the mail for 4.2 million mortgage borrowers who were in the foreclosure process in 2009 or 2010 and who likely experienced robo-signing or other deficiencies by their mortgage servicer.
Initially, the Office of the Comptroller of the Currency (OCC) and the Federal Reserve required servicers to hire consultants to do detailed reviews of borrower case files and determine specific harms that borrowers received to qualify for monetary rewards. This process ultimately became unwieldy, slow and expensive without producing timely benefits to borrowers.
Earlier this year, the OCC and the Federal Reserve negotiated a settlement with 13 mortgage servicers. They agreed to pay a total of $3.6 billion in cash payments ranging from $300 to $125,000 to all affected borrowers. More than 90 percent of the payments due borrowers are expected to be paid by the end of April. Remaining borrowers are expected to be paid no later than mid-July.
Borrower payments will be based upon the stage of foreclosure and in some cases, gravity of servicer errors. The largest payments will go to borrowers with completed and wrongful foreclosures. The vast majority of checks payable to borrowers will be for less than $1,000.
The spring 2013 payments will include all but two of the servicers – Goldman Sachs and Morgan Stanley – agreeing to the settlement. A second and separate announcement in the near future will address payments for the two holdouts
In the meantime, for the other 11 servicers, a payment schedule includes eligible borrowers in any stage of foreclosure in 2009 or 2010 with one of the following servicers, affiliates or subsidiaries: Aurora, Bank of America, Citibank, HSBC, JPMorgan Chase, MetLife Bank, PNC, Sovereign, SunTrust, U.S. Bank and Wells Fargo.
The largest payment of $125,000 is reserved for one of two types of completed foreclosures: military families covered by the Servicemembers Civil Rights Act (SCRA) and loans that servicers foreclosed when borrowers were not in default.
In cases where borrowers were completely foreclosed despite fulfilling all requirements during a trial loan modification plan, or if a servicer failed to convert borrowers to a permanent modification after successfully completing the trial period, a $25,000 payment will be issued.
According to the schedule, additional payments will be made to borrowers experiencing one of the following errors:
Modification request denied;
Modification request received; but no underwriting decision reached
Interest rates charged in excess of SCRA limits;
Foreclosures begun while borrowers were protected by federal bankruptcy laws;
Servicer failure to engage borrowers in loan modification or other loss mitigation.
Eligible borrowers were recently notified of their eligibility for payments under the settlement. Any borrower who believes he/she may be covered by the agreement should call toll free at 1-888-952-9105 to verify their inclusion and also update their contact information.
Payment acceptance does not remove any borrower's right to private legal actions. The agreement explicitly denies servicers permission to ask borrowers to sign a waiver of any legal claims in exchange for payment.
Any borrower needing foreclosure prevention assistance is encouraged to contact the Homeowner's HOPE Hotline at 888-995-HOPE (4673), or visit www.makinghomeaffordable.gov.
Charlene Crowell is a communications manager with the Center for Responsible Lending. She can be reached at: This email address is being protected from spambots. You need JavaScript enabled to view it. .
Last Updated on Tuesday, 16 April 2013 14:58
Hits: 762
Category: RTM News Reel Written by News One
On Monday, April 15, digital media company Interactive One, which is the parent company of NewsOne, announced a partnership with businessman and hip-hop icon Russell Simmons, founder of GlobalGrind[1] and NARRATIVE: The Culture Lab.
Interactive One Studios will oversee the management of both GlobalGrind, the self-described "hip-pop" website, and NARRATIVE, "a digital marketing, entertainment and technology company," by increasing the respective sites' traffic, engagement, content, and revenue.
Of the latest additions, Interactive One President Tom Newman says, "GlobalGrind.com has been one of the most important urban crossover content platforms in the space. Joining their brand, content, and offline presence together with the core digital competencies we've developed is incredibly exciting."
While Interactive One CEO Alfred C. Liggins III added, "True to his legacy, Russell has built an online platform loved by both audiences and advertisers alike. I am honored to partner with him in this next p
...
Last Updated on Tuesday, 16 April 2013 15:19
Hits: 832
Category: RTM News Reel Written by Josh Levs, CNN
(CNN) -- Two large explosions rocked an area near the finish line of the Boston Marathon on Monday, injuring at least six people and spewing wreckage in its wake.
Smoke billowed into the air at Copley Square, turning a site of celebration into a mess of destruction.
Crowds had gathered in the area to watch the runners.
At least four people were being treated at Massachusetts General Hospital.
It was not immediately clear what caused the blasts. Authorities rushed to assist the injured and close off the scene.
Out of an abundance of caution, the Lenox Hotel was evacuated, the Boston Globe reported, as authorities looked into possible security concerns.
Video from the moment of one of the blasts showed some people who appeared to be knocked over and then got up, but the video did not clearly show spectators who may have been closer to the site of the blast.
Mike Baingon, who works at the Atlantic Fish Company, said an explosion took place in front of the restaurant and that he was right by the front door at the time.
The explosions occurred at about 2:45 p.m., more than two hours after the first of the race's nearly 27,000 runners had crossed the finish line, CNN Producer Matt Frucci reported.
The race was halted after the explosions as was subway service into the area.
Troops from the Massachusetts National Guard were assisting police as well.
In New York City, authorities stepped up security as well "until more about the explosion is learned," Deputy Police Commissioner Paul Browne said.
Last Updated on Tuesday, 16 April 2013 07:54
Hits: 4151
Category: RTM News Reel Written by Melissa Gray, CNN
(CNN) -- The Florida police sergeant fired for possessing shooting targets resembling Trayvon Martin defended himself Sunday and said the targets were meant to be used as training aids for "no-shoot" situations.
Sgt. Ron King was fired from his job as a firearms instructor for the Port Canaveral Police Department on Friday after an internal review determined he possessed the paper targets and offered them to fellow officers for use during a firearms training session earlier this month.
"When informed of the basic facts, (I) found the entire situation unacceptable," John Walsh, the interim chief executive of the Canaveral Port Authority, told reporters Saturday. "It is not the type of behavior that I want a police officer to have on both a personal and professional level. I find his conduct intolerable and I demanded that the chief immediately start procedures to terminate this employee."
The paper targets show a faceless black hooded sweatshirt with a bull's-eye on the chest. In one hand is a can of iced tea and in the pocket is a pack of Skittles candy, the same items Martin was carrying when he was shot and killed last year in a case that has drawn national attention.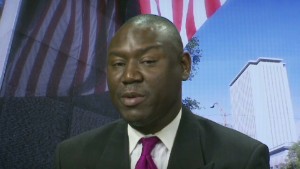 Zimmerman's brother slammed for tweets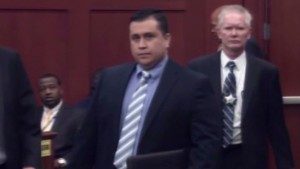 Zimmerman's mother blames justice system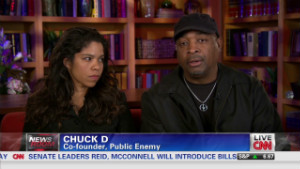 One year since Trayvon Martin's death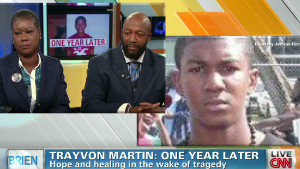 Martin's dad: Death seems like yesterday
King, in a video statement posted online, said he bought the targets because the two items -- the Skittles and iced tea -- were not threatening, which meant the target could be used to help train officers when not to shoot a suspect.
King did not say where he bought the targets, but similar ones caused a controversy when they were first sold online a year ago.
"While others have used it as a novelty, I view it as a tool for scenario-based firearms training," King said. Using "real-life situations" as training scenarios is not uncommon for firearms instructors, he said, and they help teach police how to respond to incidents in the future.
"The only stupid act I performed was to believe that some of my coworkers would be mature enough and care enough to use a bad situation as a learning tool," King said, referring to the Martin case.
Port Canaveral is just an hour away from Sanford, where the 17-year-old Martin was killed in February 2012 as he walked home at night from a convenience store.
George Zimmerman, a neighborhood watch captain, is awaiting trial on a second-degree murder charge in Martin's death. He says he shot Martin in self-defense.
King, who was hired in January 2011, disputed some of the details Walsh gave to reporters, including that he offered the targets to other officers to shoot. He said he showed them to only one, a fellow sergeant, to find out whether he thought they could be useful training aids.
King said he offered one of the targets to the sergeant after the sergeant said his son would "get a kick" out of them. Instead of taking it, he said, the sergeant took a picture and then used the image to file a complaint about King.
"To the Martin family, I would like to apologize again for those law enforcement officials that chose to use your son's death as an element for their personal and political gains," King said. "I assure you that the use of these targets that are in question is to prevent a tragedy from taking place."
On Saturday, Martin family attorney Ben Crump condemned the use of the targets as "absolutely reprehensible."
"Such a deliberate and depraved indifference to this grieving family is unacceptable," Crump said in a statement.
Last Updated on Monday, 15 April 2013 16:58
Hits: 592
Category: RTM News Reel Written by News One
c, and Vanzant, prompting Vanzant to release an open letter to the rapper over the weekend, saying she still supports and loves the artist and encourages him to find his way back to a "clean life."
After her show premiered on Saturday night, with a seemingly drugged DMX abandoning his son and cursing out Vanzant, the spiritual teacher released a video of herself repledging her support to the rapper:
Beloved,

I know we haven't spoken since our time together in Yonkers. And what I'm hearing is that they are just waiting for the call. They are waiting for the day they get the call. And you know what I mean.

But I'm not waiting for that call. I'm calling on you, and I'm not going to give up on you. I will n
...
Last Updated on Monday, 15 April 2013 14:54
Hits: 459
Digital Daily Signup
Sign up now for the Michigan Chronicle Digital Daily newsletter!
RSS
Feed Entries