Category: RTM News Reel Written by News One
NewsOne honors GAME CHANGERS: Everyday heroes whose actions make life better for the people around them. SEE ALL OUR GAME CHANGERS HERE.[1]
Place of Residence: Philadelphia
Why He's a Game Changer: Jones was in prison serving a 15-year sentence when he fought for and won custody of his son. When he got out of prison, he started Frontline Dads because he knew how important it was for men to take responsibility for their children.
"Many times men will say it's too late to be a Father to their children. Well, it's never too late. No matter what, every child, every human being wants to be connected to where they came from," Jones told The Examiner.
Frontline Dads helps men develop communication skills to better guide their children. The group is also targeting young kids who are on the verge of getting in trouble. The goal is to keep those young people from becoming involved with the criminal justice system.
And ...
Last Updated on Wednesday, 06 March 2013 16:26
Hits: 662
Category: RTM News Reel Written by Ruth Manuel-Logan, newsone
First Lady Michelle Obama (pictured), who is in the third year of her Let's Move! exercise initiative, revealed during her very first "Let's Move!" Google Plus fireside hangout on Monday that she does not want her daughters to be "weight-obsessed." The chat, which was attended by more than 3,500 viewers, was moderated by "Live with Kelly & Michael" talk show co-host Kelly Ripa. Mrs. Obama fielded questions from select participants, who submitted health and weight loss stories on Google Plus and YouTube and a third grade class from Brewer, Maine, reports iVillage.
Mrs. Obama joined Google Plus to discuss the importance of exercise particularly among young people, and as a bonus, attendees of the chat received a glimpse inside her household to see how she manages to implement healthful living for daughters Malia, 14 (pictured right) and Sasha, 11 (pictured left).
In the Obama household, the First Lady decided to make healthier choices, starting with adding more exercise to their daily regimen and making smart dietary changes like drinking less juice and adding more fruits and vegetables.
When the First Lady was asked what advice she would offer young people struggling with weight, she responded that the topic is one that has been discussed in her home.
"You know, when I talk to my kids…we were going through some of these similar challenges," Mrs. Obama said, addressing a young man who said he had once weighed 400 pounds as a 19-year-old. "Obviously, when my kids were little, they weren't faced with the huge challenges you were faced with. But I never talked about weight in the household. We just started making changes and we made changes in a way that didn't…make them feel badly about themselves, said the First Lady.
Mrs. Obama contends that the oneness of weight and portion control should be placed on the adult in a young child's life. "Truly kids that age can't control what they eat," she said. "So as the Mom, I took it upon myself to make sure that we just surrounded them with foods that were healthy and that they could eat whenever they wanted to."
What was stressed overall during the chat by Mrs. Obama was that someone's overall wellness lifestyle dictates health in the long run and that obsessing on the numbers on a scale is not what's important, rather being active and eating right are the crucial factors.
"I have two young daughters. We never talk about weight," she said. "I make it a point… I don't want our children to be weight-obsessed I want them to be focused on, 'What do I have to do in this body?' Because every body is different. Every person's body is different."
She mentioned that her girls get plenty of exercise by doing such things as playing sports and walking their dog, Bo, every night after dinner. She also admitted to turning on the radio and busting a few moves with her girls for a good 30 to 40 minutes until they work up a good sweat, "They laugh at me; they have a good time, but at the same time they're moving," she said.
Last Updated on Wednesday, 06 March 2013 09:01
Hits: 830
Category: RTM News Reel Written by Roz Edward, National Content Director
When Debbie Bruister buys a gallon of milk at her local Kroger supermarket, she pays $3.69, up 70 centsfrom what she paid last year.
Getting to the store costs more, too. Gas in Corinth, Miss., her hometown, costs $3.51 a gallon now, compared to less than three bucks in 2012. That really hurts, considering her husband's 112-mile daily round-trip commute to his job as a pharmacist.
Bruister, a mother of four, received a $1,160 raise this school year at her job as an eighth-grade computer teacher. The extra cash -- about $97 a month, before taxes and other deductions -- isn't enough for her and her husband to keep up with their rising costs, especially after
the elimination of the payroll tax break
. Its loss shrunk their paychecks by more than $270 a month.
"If you look at how much prices are going up, you get in the hole really quick," Bruister said. "It's a constant squeeze."
In the wake of the Great Recession, millions of middle-class people are being pinched by stagnating incomes and the increased cost of living. America's median household income has dropped by more than $4,000 since 2000, after adjusting for inflation, and the typical trappings of middle-class life are slipping out of financial reach for many families.
Families with young kids are struggling to afford childcare and save for the ever-climbing costs of college. Those nearing retirement are scrambling to sock away funds so they don't have to work forever. A weak labor market means that employed Americans aren't getting the pay raises they need to keep up -- especially with big-ticket items such as health care eating away at their paychecks.
Economists say it boils down to two core problems: jobs and wages. The traditional "middle-class job" is disappearing.
Mid-wage occupations such as office managers and truck drivers accounted for 60% of the job losses during the recession, but only 22% of the gains during the recovery, according to a National Employment Law Project analysis of Labor Department data. Low-wage positions, on the other hand, soared 58%.
Uncertainty and insecurity are weighing down the middle class, even those who haven't had a break in employment. More than 40% of those surveyed in a recent Rutgers University study said they were "very concerned" about job security.
They're also not very optimistic about the near future. Fewer than one-third believe that economic conditions will improve next year, and an equal number think they will get worse, according to the Rutgers survey, conducted by the university's Heldrich Center for Workforce Development. Only 19% believe that job, career and employment opportunities will be better for the next generation.
The survey's title sums it up: "Diminished Lives and Futures: A Portrait of America in the Great-Recession Era."
Dan Heiden of Eagan, Minn., embodies that life. Before 2007, the union supermarket worker owned an apartment and socked away funds in the bank and in a retirement account.
Then the store cut his hours.
"The economy tanked," said Heiden, who now works no more than 30 hours a week. "They aren't hiring full-time any more because they can pay less."
Last Updated on Wednesday, 06 March 2013 10:17
Hits: 880
Category: RTM News Reel Written by Roz Edward, National Content Director
Venezuelan President Hugo Chavez dies
updated 11:39 PM EST, Tue March 5, 2013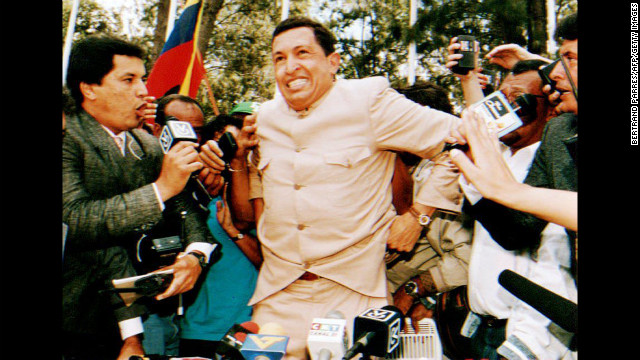 Army Lt. Col. Hugo Chavez, who led a 1992 attempted coup, speaks to reporters on March 26, 1994, after he was freed from jail. Chavez was freed after charges were dropped against him for leading the first of two attempted coups against the government of former President Carlos Andres Perez, who was later removed from office.
Hugo Chavez, Venezuela's vocal leader
STORY HIGHLIGHTS
Official: Maduro will temporarily assume the presidency until elections are held
A state funeral for Chavez will be held Friday, Venezuela's foreign minister says
Venezuela's defense minister says troops are deploying to ensure safety
"We must unite now more than ever," Venezuela's vice president says
c
Tearing up as he announced Chavez's death after a long battle with cancer, Maduro called on Venezuelans to remain respectful.
"We must unite now more than ever," Maduro said.
Henrique Capriles Radonski, a former presidential candidate and opposition leader, said Venezuelans should come together.
"This is not the time for difference," he said. "It is the time for unity. It is the time for peace."
Supporters of Chavez poured into a Caracas square soon after news of his death spread. Some wept openly. Others waved flags and held up pictures of the late president.
There were no reports of major violence, but there was palpable tension in the streets, as some Venezuelans heading home from work tried to steer clear of Chavez's fervent supporters.
Venezuela's military is in a "process of deploying ... to ensure the safety of all Venezuelans" and to support the country's constitution in the wake of Chavez's death, said Adm. Diego Molero, Venezuela's defense minister.
iReport: Share your thoughts on the death of the Venezuelan president
Venezuela prepares for funeral, elections
Venezuela's government has declared seven days of national mourning, Jaua said. At Venezuelan embassies around the world Tuesday, flags were flying at half mast.
Chavez's remains will be taken to a military academy in Caracas on Wednesday, Jaua said. There he will lie in state for three days. His state funeral will be held there on Friday morning, Jaua said.
The announcement of Chavez's death came hours after Maduro met with the country's top political and military leaders about Chavez's worsening health condition and suggested someone may have deliberately infected Chavez with cancer.
Chavez first announced his cancer diagnosis in June 2011, but the government never revealed details about his prognosis or specified what kind of cancer he had
Shortly before his last trip to Cuba for cancer surgery in December, Chavez tapped Maduro as the man he wanted to replace him.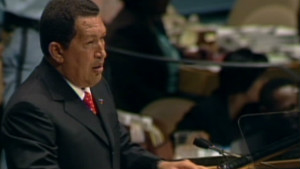 2006: Chavez calls Bush 'the devil'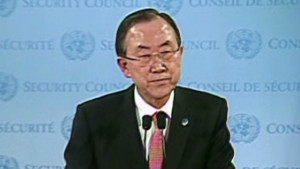 Ban Ki-moon reacts to Chavez's death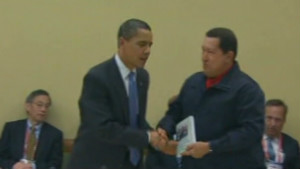 The relationship between Chavez and U.S.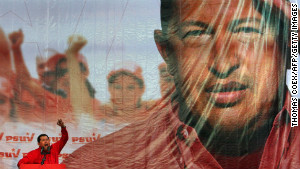 Hugo Chavez's legacy
"He is one of the young leaders with the greatest ability to continue, if I cannot," Chavez said.
Chavez leaves a revolutionary legacy
Maduro made no mention of running for election in his public comments Tuesday, but he is widely expected to be the United Socialist Party of Venezuela's candidate for the job.
During Chavez's absence from the political stage over the past three months, Maduro has been front and center. He has spoken at political rallies around the country and delivered updates about Chavez on national television, drawing growing support from Chavez loyalists.
Opposition critics have said he was campaigning for office -- a claim the government has denied. Even as Jaua said Tuesday that Maduro would temporarily assume the presidency, some critics questioned whether that was constitutional, since Chavez missed his inauguration and was never officially sworn in.
Opposition politicians haven't said who will represent them in the election. But as speculation mounted over Chavez's health in recent weeks, many had turned to Capriles, who lost to Chavez in October's presidential contest.
On Tuesday, Capriles called for a national dialogue including all Venezuelans, not just Chavez's supporters.
"Today there are thousands, maybe millions, of Venezuelans who are asking themselves what will happen, who feel anxiety, and including those who feel afraid," Capriles said.
Chavez supporters, critics react
Word of Chavez's death drew swift expressions of sorrow and solidarity from regional allies.
Ecuador and Cuba both announced three days of national mourning to honor Chavez.
"The national government expresses its solidarity in light of this irreparable loss that puts the Venezuelan people and all the region in mourning and at the same time sends its heartfelt condolences to the family of the late champion of Latin America," Ecuador's foreign ministry said in a statement.
Bolivian President Evo Morales' voice cracked as he spoke to reporters, describing Chavez as someone "who gave all his life for the liberation of the Venezuelan people ... of all the anti-imperialists and anti-capitalists of the world."
But longtime critics of the controversial president offered a different take.
"Hugo Chavez was a tyrant who forced the people of Venezuela to live in fear. His death dents the alliance of anti-U.S. leftist leaders in South America. Good riddance to this dictator," said U.S. Rep. Ed Royce, chairman of the House Committee on Foreign Affairs. "Venezuela once had a strong democratic tradition and was close to the United States. Chavez's death sets the stage for fresh elections. While not guaranteed, closer U.S. relations with (this) key country in our Hemisphere are now possible."
Venezuela-U.S. relations surge into spotlight
Just hours before the announcement of Chavez's death, relations between the two countries appeared to be souring, as Venezuelan officials said they were expelling two U.S. Embassy officials and accused them of plotting to destabilize the country.
The U.S. officials, both air attaches at the U.S. Embassy in Caracas, are accused of having meetings with members of the Venezuelan military and encouraging them to pursue "destabilizing projects," Venezuelan Foreign Minister Elias Jaua said.
"We will not allow any foreign interference in our country," Jaua said. "Do not think that the situation of pain over the health of President Chavez will translate into weakness."
State Department spokesman Patrick Ventrell denied the accusations.
Opinion: Chavez used force of personality to win votes, influence leaders
"Notwithstanding the significant differences between our governments, we continue to believe it important to seek a functional and more productive relationship with Venezuela based on issues of mutual interest," he said. "This fallacious assertion of inappropriate U.S. action leads us to conclude that, unfortunately, the current Venezuelan government is not interested an improved relationship."
After announcing the expulsion of one attache, Maduro -- addressing the media in a lengthy statement -- asserted that someday there will be "scientific proof" that Chavez was somehow infected by outsiders.
"An assertion that the United States was somehow involved in causing President Chavez's illness is absurd, and we definitively reject it," Ventrell said.
It isn't the first time that a Venezuelan government official has implied that a plot could be behind Chavez's cancer.
Chavez made the assertion himself in 2011, saying at a military event in Caracas that he wondered whether the United States could be infecting Latin American leaders with the illness.
Last Updated on Wednesday, 06 March 2013 00:04
Hits: 627
Category: RTM News Reel Written by News One
Though Michelle Williams took the high road when responding to Keyshia Cole's mean girl tweets following the "surprise" Destiny's Child reunion during Beyonce's electricity snatching Super Bowl performance, Kelly Rowland didn't hold back her amusement that little Miss Keyshia tried to come at the throne.
In an interview with Rolling Stone to promote her 4th solo album, Talk a Good Game, Rowland's statement can pretty much be summed up in two words:
Keyshia who?
You reunited with Destiny's Child at the Super Bowl. Keyshia Cole received some blowback for criticizing Michelle Williams' performance on Twitter. Do you have any thoughts on her comments?

It didn't even make it on my radar until other people brought it up. It didn't even matter. We had a wonderful performance, and that's all I cared about. I was with my sisters and the three of us matter to each other, and that's all that counts. We matter to a lot more people, with all due respect, than her. So, I really don't care wha
...
Digital Daily Signup
Sign up now for the Michigan Chronicle Digital Daily newsletter!
RSS
Feed Entries