Category: RTM News Reel Written by Roz Edward, National Content Director
For the past four decades, federal officials and civil rights lawyers have wielded a potent legal weapon in the fight against housing discrimination. Even when they couldn't prove that practices of landlords, lenders or governments were racially motivated, they could win cases by showing minorities had suffered disproportionate harm.
The Obama administration has used the principle of "disparate impact" to reach record settlements with banks accused of discriminatory lending and to confront localities whose housing policies limited opportunities for black and Latino renters. A senior official recently said that the U.S. Department of Housing and Urban Development is pursuing more than two dozen cases based on the theory.
Those cases, and others brought by civil rights groups and other agencies, could soon be halted in their tracks. For the second time in two years, the Supreme Court is poised to review a case that challenges whether the concept of "disparate impact" can be used to enforce the 1968 Fair Housing Act.
Officials from the U.S. Department of Justice and HUD, the agency charged with enforcing the housing law, have repeatedly declined ProPublica's interview requests. But Sara Pratt, HUD's chief of enforcement, bluntly told attendees at a recent conference on housing issues that the disparate impact standard is essential for deterring housing bias because the days of "pants-down discrimination" have ended.
"Landlords, housing professionals, zoning and planning boards, have learned to stop talking about it," Pratt declared. "What they haven't learned is to stop doing it."
Over the past year, Obama administration officials have become increasingly concerned that the high court is preparing to strike down the use of the disparate impact standard in housing cases. In an attempt to dissuade the justices from intervening, the Obama administration is preparing to release a long-stalled federal rule this month that enshrines "disparate impact" in the regulations for enforcing the federal housing law.
The move comes as the Supreme Court, led by its conservative majority, appears set to curtail affirmative action and the Voting Rights Act, two other tent poles of the civil rights movement.
Disparate Impact, A Lynchpin of Enforcement
The principle of disparate impact is not directly mentioned in the landmark Fair Housing Act but has been accepted over a period of 40 years by a series of federal judges who have ruled on housing cases.
Housing advocates have been urging HUD to adopt the regulation for years. Because the Supreme Court has long deferred to an agency's regulations when interpreting the law, Alan Jenkins, executive director of the nonprofit The Opportunity Agenda in New York City, said it "could be the deciding factor, not only in what disparate impact means, but whether it exists after going before the Supreme Court."
In 2011, federal officials persuaded the city of St. Paul, Minn., to withdraw a case accepted for review by the Supreme Court that questioned whether the principle could be applied in housing cases. "We were afraid we might lose disparate impact in the Supreme Court because there wasn't a regulation," said Pratt, who also led fair housing enforcement during the Clinton administration.
If the court strikes down disparate impact, it would largely limit civil rights lawsuits against landlords, homeowners or governments to those rare cases in which it could be proven that governments or businesses had an explicit intent to discriminate.
"If the court overturns disparate impact," said Florence Roisman, a fair housing scholar at the Indiana University School of Law. "It is going to gut the statute."
Release of the regulation sometime this month will set a tone for President Obama's second term and several scholars said it would be among the most important civil rights regulations to come out of HUD in at least a decade. But its release may be too late to influence the high court's ruling.
Key Battles in Countrywide, Katrina Cases
Even without the regulation, the Obama administration has aggressively pursued disparate impact cases.
Under President Obama, the Justice Department created a unit to focus on discriminatory behavior in the banking industry and has used disparate impact to win massive settlements.
In one such case, the Justice Department found that Countrywide — a now-defunct mortgage company purchased by Bank of America — charged black and Latino borrowers higher rates and fees than white applicants with similar credit histories. It also discovered that black and Latino borrowers who qualified for prime loans were more than twice as likely to be steered to subprime loans as similar white borrowers.
Countrywide issued no official policy telling loan officers to discriminate. But it did give them discretion to steer well-qualified buyers into less favorable loans. In what Assistant Attorney General Thomas Perez called "discrimination with a smile," that authority was used largely on loan applications from African Americans and Latinos. Bank of America could not produce a legitimate business practice to explain the discriminatory results, a defense against an action brought under the disparate impact standard. The bank settled with the Justice Department for $335 million in 2011 — a record in a residential lending case. It did not acknowledge wrongdoing.
In another major case, a private fair housing group and later the federal government used the disparate impact standard to challenge policies adopted by St. Bernard's Parish, La., after Hurricane Katrina.
As residents of largely black New Orleans sought to find housing in St. Bernard's, a predominantly white enclave just across the border, the parish passed a law that prohibited homeowners from renting to anyone who was not a "blood relative" unless they received a permit from local authorities.
Since 93 percent of the homeowners in the parish were white, the government argued that the laws aimed at restricting rental housing would have disproportionately prevented people of color from moving in.
"Do you think St. Bernard's parish was really trying to keep black people out?" Pratt asked at the housing issues conference. As heads began to nod, she asked, "Does anyone have any evidence?"
The administration, which has seen the fight over disparate impact building for several years, promised early in Obama's first term that it would issue a regulation.
Advocates cheered. Then they waited. And waited.
Mondale Warns Against Supreme Court Decision
By 2011, a case that had been winding its way through the lower courts landed at the Supreme Court.
A group of landlords had sued St. Paul claiming that its stepped up property code enforcement violated the Fair Housing Act because it reduced the availability of low-income rental units and had a disparate impact on black residents.
Since the landlords were essentially arguing that the anti-discrimination laws gave them a right to not maintain apartments in black areas, the city of St. Paul fought the suit.
The U.S. Court of Appeals for the Eighth Circuit ruled the landlords had made a valid disparate impact claim, prompting St. Paul to appeal, arguing that the Fair Housing Act required proof of discriminatory intent and not simply discriminatory results.
A week after the Supreme Court agreed to hear the case in November 2011, HUD finally released a proposed regulation, which set a single standard for proving violations of the Fair Housing Act. The proposed rule codifies within federal regulations the ban on practices that have discriminatory effects unless they can be shown to serve a legitimate purpose for business or government.
Although all 11 appellate courts that have ruled on the issue have held that the Fair Housing Act allows disparate impact claims, the Justice Department and housing advocates feared the conservative majority on the Supreme Court would not agree.
Minnesota native son former Vice President Walter Mondale, who helped write the 1968 law, urged St. Paul's mayor to withdraw the case. According to news accounts, Mondale called disparate impact the only means of effectively enforcing laws against housing discrimination and asked the city not to risk a "Supreme Court decision that ruins the act."
The Justice Department agreed not to intervene in two unrelated lawsuits against the city, a move now under investigation by congressional Republicans who say the administration offered the concession to persuade St. Paul to drop the disparate impact suit.
St. Paul acquiesced, and in February 2012 the parties took the rare step of withdrawing the case from the Supreme Court's docket.
The Fight From Big Business
Meanwhile, lobbyists for the influential banking, lending, and insurance industries launched a broad campaign against the draft rule.
Robert Detlefsen, vice president of public policy for the National Association of Mutual Insurance Companies, said his organization, which represents home insurers, opposes the regulation because it would place an unfair burden on companies to prove that policies that harm one group more than another are not discriminatory.
Businesses should not be penalized "because of a statistical disparity," Detlefsen said. "As long as it could be shown that there was no intent to discriminate racially or ethnically, there should be no controversy."
The American Bankers Association, the National Multi Housing Council and the Mortgage Bankers Association either declined or did not respond to interview requests from ProPublica.
The business community's pushback seemed to work.
"The proposal was on the table last year at this time. As you got into July and August, the White House just let it be known that 'We just can't do it in this political season,'" said Robert Schwemm, a constitutional law and civil rights scholar at the University of Kentucky Law School. "Just to rattle off the groups that have decided to oppose it is to list some of the most powerful groups in Washington, even with a Democratic administration.
"The Obama administration delayed, delayed, delayed."
Pratt acknowledged as much during her presentation. "The industry doesn't like it. They are scared of it," she said. "Disparate impact is incredibly controversial politically. It is not controversial legally."
With Obama fighting his final re-election battles in October, the Supreme Court signaled that it might take up the issue again. The Court asked the U.S. Solicitor General to submit the government's stance on disparate impact in a case involving the New Jersey township of Mount Holly. It has not yet decided to hear the case.
An Eleventh-Hour Effort
At issue is the town's efforts to redevelop a predominantly black area it considered blighted. The town bought and destroyed most of the homes in the neighborhood but has not built the new housing. Former and current residents sued, saying the town's actions had a disparate impact on African Americans.
After a court ruled the plaintiffs had a valid disparate impact claim, Mount Holly appealed to the Supreme Court, arguing as St. Paul had that Congress did not write disparate impact into the fair housing statute and therefore did not intend to allow it to be used as a legal standard.
Mount Holly's appeal did not shake the regulation loose — to the dismay of some observers. "It is enormously important that HUD promulgate this statute," said Roisman. "Frankly, I think it is unconscionable that HUD hasn't done it in the last four years — they should have done it long before that." Most scholars interviewed for this story believe that Justices John Roberts, Clarence Thomas and Samuel Alito would strike down disparate impact, but are less sure about the stances of Justices Antonin Scalia and Anthony Kennedy. One of them would have to join the Court's liberal block if disparate impact were to survive.
Scalia indicated in a previous case involving employment that he was open to an argument that disparate impact in any arena violated the equal protection clause of the Constitution. However, Scalia, who was an administrative law scholar before becoming a constitutional law scholar, has also said he believes in deference to agency regulations.
But several legal scholars pointed out that the Court's track record under Chief Justice Roberts provides little certainty that it will follow that precedent.
john a. powell, a civil rights scholar at the University of California, Berkeley Law School, said the Supreme Court would not normally take a case such as this one where the lower courts are unanimous in their interpretation of the law. But powell, who spells his name without capital letters, said this court has shown an eagerness to dismantle civil rights protections even when case law is well established — one reason for concern that HUD's new regulations may not stand.
"If [the Supreme Court] is going to ignore the circuits and decades of precedents from the federal courts, I don't know that it is going to be turned around by the regulation of an agency," powell said. "It is not waiting on controversy in the lower courts, which is the normal case. If it strikes down disparate impact that would be a huge change, but the Court is rewriting issues around civil rights and race."
The administration's 11th-hour release of the regulation may have served mostly to rally the opposition. Detlefsen said his group did not file briefs opposing disparate impact in the St. Paul case, but likely will if the Court takes up the Mount Holly case. "The regulation has gotten the attention of a lot of people in the insurance industry," he said. "Absolutely."
Civil rights advocates are watching, too.
"The search for racists is for the most part a fool's errand. There is no way in a court of law to prove or know what is in someone's hearts or minds," Damon Hewitt, an attorney at the NAACP Legal Defense and Education Fund, said at the housing conference. "The preoccupation with disregarding racially disparate impact means people are willing to accept racial disparities and then say there is nothing the law should do about it."
Keep up with our investigations by following us on Facebook and Twitter, or read more about the Fair Housing Act, and how the government betrayed a landmark civil rights law.

Last Updated on Monday, 11 February 2013 16:36
Hits: 2063
Category: RTM News Reel Written by Hada Messia, CNN
Rome (CNN) -- The spiritual leader of 1.2 billion Catholics, Pope Benedict XVI, surprised the world Monday by saying he will resign at the end of the month "because of advanced age."
It's the first time a pope has resigned in nearly 600 years.
"Strength of mind and body are necessary, strength which in the last few months has deteriorated in me to the extent that I have had to recognize my incapacity to adequately fulfill the ministry entrusted to me," the pope said, according to the Vatican.
After Benedict's resignation becomes effective on February 28, cardinals will meet to choose a new leader for the church.
Pope explains why he's resigning Pope Benedict to resign 2005: Pope Benedict XVI gives first Mass 2005: Pope Benedict XVI gives first Mass
"Before Easter, we will have the new pope," the Rev. Federico Lombardi, a Vatican spokesman, said at a news conference.
The decision was not impulsive, he said.
"It's not a decision he has just improvised," Lombardi said. "It's a decision he has pondered over."
After his resignation, Benedict, 85, will probably retire to a monastery and devote himself to a life of reflection and prayer, he said.
Archbishop Vincent Nichols, the president of the Catholic Bishops' Conference of England and Wales, said the decision "shocked and surprised everyone."
"Yet, on reflection, I am sure that many will recognise it to be a decision of great courage and characteristic clarity of mind and action," he said.
Benedict -- born Joseph Ratzinger -- will not be involved in choosing a new pope or in guiding the church after his resignation, Lombardi said.
Benedict was elected pope in 2005 after the death of Pope John Paul II, the third-longest-serving leader of the Catholic Church.
He has served during a time in which the church is declining in his native Europe but expanding in Africa and Latin America.
His papacy also has been marked with a series of scandals and controversies, including hundreds of new allegations of sexual abuse by priests.
Ratzinger was born on April 16, 1927, in Marktl Am Inn, Bavaria, a heavily Catholic region of Germany.
He spent his adolescent years in Traunstein, near the Austrian border, during the Nazi regime of Adolf Hitler.
Ratzinger wrote in his memoirs that school officials enrolled him in the Hitler Youth movement against his will when in 1941, when he was 14.
He said he was allowed to leave the organization because he was studying for the priesthood, but was drafted into the army in 1943. He served with an anti-aircraft unit until he deserted in the waning days of WW II.
After the war, he resumed his theological studies and was ordained in 1951. He received his doctorate in theology two years later and taught dogma and theology at German universities for several years.
In 1962, he served as a consultant during the pivotal Vatican II council to Cardinal Frings, a reformer who was the archbishop of Cologne, Germany.
As a young priest, Ratzinger was on the progressive side of theological debates, but began to shift right after the student revolutions of 1968, CNN Vatican analyst John Allen Jr. said.
In his book "Cardinal Ratzinger: The Vatican's Enforcer of the Faith," Allen says Ratzinger is a shy and gentle person whose former students spoke of him as a well-prepared and caring professor.
Pope Paul VI named him archbishop of Munich in 1977 and promoted him to cardinal the next month. Ratzinger served as archbishop of Munich until 1981, when he was nominated by John Paul II to be the head of the Congregation for the Doctrine of the Faith, a position he held until his election as pope.
He became dean of the College of Cardinals in November 2002 and in that role called the cardinals to Rome for the conclave that elected him the 265th pope.
In his initial appearance as pope, he told the crowd in St. Peter's Square that he would serve as "a simple and humble worker in the vineyards of the Lord."
He is the sixth German to serve as pope and the first since the 11th century.
The last pope to resign was Gregory XII in 1415. He did so to end a civil war within the church in which more than one man claimed to be pope.
http://www.cnn.com/2013/02/11/world/europe/pope-benedict-resignation/index.html?hpt=hp_t1
Last Updated on Monday, 11 February 2013 12:06
Hits: 1209
Category: RTM News Reel Written by Roz Edward, National Content Director
Pictured, Cleopatra Cowley-Pendleton, center, mother of slain King College Prep high school teen Hadiya Pendleton, and her son, right, Nathaniel Pendleton Jr., enter the Calahan Funeral Home Friday for the visitation for Hadiya. The funeral for the 15-year-old who was killed Jan. 29 will be held Saturday morning at a South Side church.
A swarm of mourners filed in and out of the Calahan Funeral Home Friday for the visitation for Hadiya Pendleton. They began lining up outside the South Side funeral home hours before and didn't stop coming throughout the six-hour long event.
A who's who of Chicago notables attended the service, the first in a two-day final farewell to the teen.
Among the attendees were City Treasurer Stephanie Neely and Rev. Jesse Jackson.
Pendleton's classmates and other students who didn't attend her school were there also. The funeral will be held Saturday at Greater Harvest Baptist Church, located at 5141 S. State St., following the 9 a.m. wake.
The 15-year-old King College Prep high school volleyball player and majorette was shot Jan. 29 in a city park down the street from her school. She died shortly after the shooting at a local hospital.
Her death captured national attention, mostly because she had just returned from performing in President Barack Obama's second-term inauguration in Washington, D.C. weeks before the shooting, and because of the shootings' proximity to the president's local home. Vivian Gordan Harsh Park where Pendleton and another friend were shot is located about a mile from the first family's house in the Kenwood community on the South Side.
Thursday the White House announced that First Lady Michelle Obama would attend the funeral Saturday. U.S. Education Secretary Arne Duncan, a former Chicago Public Schools chief, and presidential Senior Advisor and Chicagoan Valerie Jarrett will attend Saturday's service as well.
The first lady's attendance means that security around the church will be tight and roads road closures are expected. A bevy of media will likely converge nearby the church but only a select pool of press will officially be allowed in the service.
The last publicly announced funeral Michelle Obama attended in Chicago was the 2010 service for Bishop Arthur M. Brazier of Apostolic Church of God. Her planned presence at Pendleton's service was a surprise to the Pendleton family, the father, Nathaniel Pendleton, told the Defender.
"I feel supported. When (Obama) gets finished with being the first lady, she's still a parent," he said.
Kimiko Pettis, Hadiya's maternal aunt, said Mrs. Obama's presence "means a lot to us."
"The fact that they have two daughters and Hadiya was probably similar to them in characteristics…it was definitely moving to them (the White House) in order for them to make the steps to have to have Mrs. Obama to come. We're not too far from their (Obama family) home and it's sort of hitting them at home," she said.
She called it "amazing" that Michelle Obama will be at the funeral.
Read more http://www.chicagodefender.com/index.php/news/city/15956-scores-turn-out-to-visitation-for-hadiya-pendleton
Last Updated on Saturday, 09 February 2013 19:16
Hits: 900
Category: RTM News Reel Written by Katherine Wojtecki and Greg Botelho, CNN
Chicago (CNN) -- A day after 15-year-old Hadiya Pendleton was laid to rest -- and 11 days after she was shot to death on the streets of Chicago -- police are questioning two people in relation to her slaying, a police spokeswoman said.
Chicago Mayor Rahm Emanuel called Hadiya's family on Sunday morning to tell them about the development in the investigation, said Chicago police spokeswoman Melissa Stratton.
No one has been arrested or charged yet in Hadiya's death, which occurred a week after she performed at President Barack Obama's second inauguration.
She was an honor student and band majorette at King College Prep School when a man shot her at a park in what her godfather, Damon Stuart, described as an "ideal community" on Chicago's South Side.
Police have told CNN affiliates that the teenager had no gang affiliation and likely was not the intended target.
Hadiya's performance at last month's inauguration and her death coming as the gun control debate brewed in Washington made her slaying a national story. She also was a standout student who urged friends to stay away from gangs.
The killing -- which occurred in the city's Hyde Park neighborhood near the Obamas' Chicago home -- drew the first couple's attention. First lady Michelle Obama attended Hadiya's funeral Saturday, and her husband wrote a note to Hadiya's family that was printed on the funeral program: "We know that no words from us can soothe the pain, but rest assured that we are praying for you, and that we will continue to work as hard as we can to end this senseless violence."
Her slaying -- the 42nd in the city this year -- also highlighted the problem of gun violence in Chicago. More than 500 people were fatally shot in 2012.
http://www.cnn.com/2013/02/10/justice/illinois-chicago-killing/index.html?hpt=hp_t4
Last Updated on Monday, 11 February 2013 11:46
Hits: 1021
Category: RTM News Reel Written by Roz Edward, National Content Director
(CNN) -- "Be sure that buttocks and female breasts are adequately covered." "Thong type costumes are problematic." "Avoid sheer see-through clothing."
Is this the new edict of a religiously conservative government that wants to make sure that men -- and especially women -- are covered up? Could it be the dress code for visiting the Vatican, the Wailing Wall, the Dome of the Rock or other holy sites?
Nope, these words are actually part of the wardrobe advisory e-mail that CBS sent to attendees of this Sunday's Grammy Awards. Yep, CBS, the network that brought you a promo during last week's Super Bowl for its show, "2 Broke Girls," featuring the show's young female stars writhing on a stripper pole, is now concerned about sending the wrong message.
The language that CBS used in explaining its clothing recommendations is actually hilarious -- it seems to have been written by a cross between an elderly lawyer and Goody Procter from "The Crucible."
Here are some of the highlights: Talent should, "avoid exposing bare fleshy under curves of the buttocks and buttock crack." What exactly is "fleshy under curves" and why does it sound so oddly hot? (And by frowning upon the showing of buttock cracks, does this mean that many of the union plumbers working at the Grammy venue may also have wardrobe problems?
CBS wants attendees to avoid outfits that could "expose female breast nipples." And the network also put its foot down on clothes that expose the "bare sides" of breasts, aka, the famed and increasingly popular "sideboob."
However, the most bizarrely worded wardrobe line is that talent must, "be sure that the genital region is adequately covered so that there is no visible 'puffy' bare skin exposure." What exactly is "puffy" bare skin? Is that code for some word I don't know about? And why did CBS put the word "puffy" in quotes? It sounds even dirtier that way.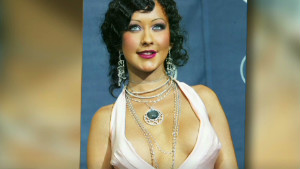 New Grammys dress code: No breasts
My big question is this: What caused CBS to be so concerned that this year it issued a written wardrobe advisory? CBS has aired the Grammys for more than 40 straight years, dating back to 1973. Obviously over that time we have seen some pretty risqué outfits.
Could it be because CBS wants to appease conservatives who freaked out over the outfit Beyonce wore while performing in the Super Bowl halftime show?
Right-wing radio host Laura Ingraham protested Beyonce's outfit with a sarcastic tweet: "Very family-friendly dancing S&M by Beyonce. What every girl shd aspire to. #waronwomen."
A writer at "The National Review" penned a column entitled, "Put a Dress on," demanding that Beyonce not wear a "black teddy" on stage but something less revealing. (Of course, if similar language was espoused from people in the Muslim world, these same conservatives would denounce it as Muslims attempting to oppress women, but it's somehow OK when they do it.)
The real reason is unclear. CBS declined to officially comment but sources there stated that a similar verbal wardrobe warning had been given in the past.
What is clear is that this wardrobe advisory is not gender neutral. Its very language tells women what they cannot wear. "Female breasts" must be adequately covered. "Female breast nipples" must not be exposed.
Even where there's no specific gender reference, we all understand that no one is concerned that Bruce Springsteen, who is nominated for a Grammy this year, will show up exposing the, "bare fleshy under curves" of his buttocks. No, CBS is more concerned with making sure that women are properly covered.
Beyond the apparent sexism of the wardrobe advisory, we also need to keep in mind that freedom of expression is not just words. Freedom of expression also includes expressing yourself through the clothes you wear, especially for the talented musical artists attending the Grammys.
These performers should be able to dress any way they choose, both men and women. A big part of the Grammys is enjoying the range of outfits worn, from the glamorous to the provocative to ones that make you wonder what was the bet the person lost that made them wear that outfit -- I'm looking at you Nicki Minaj, who last year dressed like a bright red version of "The Flying Nun" and was accompanied by a man dressed like the pope.
And of course, if someone wears an outfit that truly violates FCC regulations, then CBS should not allow that person on camera. That is not only CBS' right, it's CBS' obligation. But the CBS wardrobe advisory note goes too far -- it both hampers creativity and imposes restrictions that are sexist.
I hope that at Sunday's Grammys we see people dressed as creatively and provocatively as they choose. Part of me even hopes that Bruce Springsteen wears an outfit that exposes his "puffy" bare skin -- whatever that may be.
Last Updated on Monday, 11 February 2013 16:42
Hits: 2577
Digital Daily Signup
Sign up now for the Michigan Chronicle Digital Daily newsletter!
RSS
Feed Entries