Category: Sports Written by CNN, Bleacher Report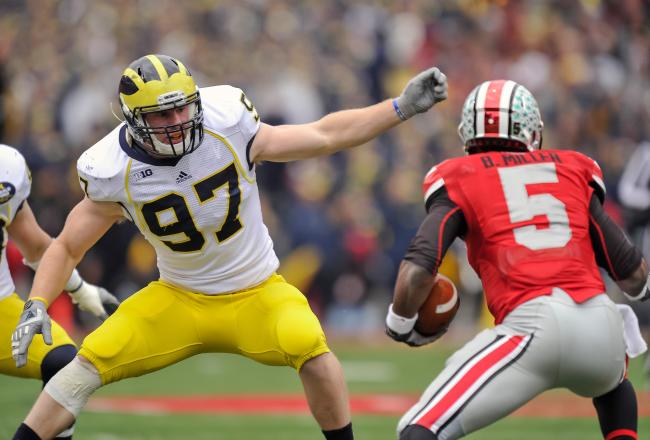 Jamie Sabau/Getty Images
Rivalry—it incites the passions of fans and motivates legions of past and current players. It is the foundation upon which sports, and particularly college sports, is founded upon.
Regardless of where your alma mater sits in the landscape of college football, there will always be one or two teams that are the natural rivals. These are the teams to hate, while also doling out an equal measure of respect for the other side.
That's exactly what makes rivalries such a unique condition of the psychology known as "fandom." The competition, the pageantry, and the bragging rights all come together to make a memorable moment (or two) every single year for all college football teams.
But there is one rivalry that stands above them all. That rivalry is Ohio State vs. Michigan.
Or, as we call it in B1G country, The Game.
There are a number of reasons for OSU and UM to be standing atop the world when it comes to college football rivalries. Here are just a few, to go with the stuffing and sweet potatoes on your Thanksgiving and rivalry weekend.
Geographic Proximity = Rivalry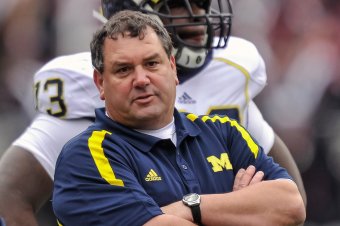 Jamie Sabau/Getty Images
The first and probably most important ingredient in starting a long-term rivalry is geographic proximity.
The closer two schools are to each other geographically, the more likely that recruits will be poached from each other and the more likely that the fan bases will overlap in key recruiting grounds.
Ohio State and Michigan share a border in a part of the country that remains somewhat significant for college football recruiting. While perhaps not the geographic closeness of in-state rivalries such as many others in the Big Ten (Indiana-Purdue, Illinois-Northwestern) or others down south (Alabama-Auburn, South Carolina-Clemson), a big state border provides plenty of crossover for fans and recruits.
The maxim "keep your friends close and your enemies closer" works well in the rivalry context. After all, how better to stab your rival in the back than to stay close enough to steal all the best talent in the region or state, at least when that talent can be convinced to come play at the rival school?
Some of the other major rivalries (Army-Navy, Notre Dame-USC) suffer from not having this geographic proximity.
In addition, Ohio State and Michigan are two of the largest universities in the U.S., which means the alumni bases of both schools span far and wide across this country and worldwide. Therefore, no matter which of these teams you root for, the rival fans are probably gathering just around the corner to cheer against your favorite team.
That makes The Game even more transcendent than some in-state rivalries where the schools are even more geographically close than Columbus is to Ann Arbor.
Series Competitiveness = Rivalry
Jamie Sabau/Getty Images
There are many factors that define what makes a rivalry, including important items such as geographical closeness and statewide bragging rights. However, most in-state rivalries like Michigan vs. Michigan State suffer from what is known as the "Big Brother Little Brother" mentality.
Where does this mentality come from? That answer is simple: it typically comes from a discrepancy in the series history. The reason "Little Brother" exists is because that team struggles to beat "Big Brother" on a consistent basis.
The wins for the smaller or less historic school are memorable, but the competitive disadvantage takes away from the magic of the rivalry. A well-balanced pair of rivals never knows exactly what the outcome will be, which makes the wins all the more sweet and the defeats all the more bitter.
Plus, the competitiveness also leads to the ability for upsets on a regular basis. If there's anything college football fans love, it is the upset.
Ohio State and Michigan currently stand at 58-45-6 in the series, with Michigan leading. Even discounting the one game from 2010 that OSU had to vacate, that is only a 14-game spread over 108 eligible games.
That is incredible competitive balance.
The statistic becomes even more impressive when considering the last 25 years, where the series is all tied up 12-12-1. Michigan also won the first 13 games of the series before Ohio State got up to speed with the historic Wolverine program, which means the series is tied 45-45-4 over the last 94 meetings.
It does not get more competitive than that.
Here are some of the other top rivalries in the Big Ten and nationally (currently being played), and how they stack up:
Alabama vs. Auburn: 42-34-1
Florida vs. Florida State: 34-21-2
Clemson vs. South Carolina: 65-41-4
Oregon vs. Oregon State: 64-46-10
USC vs. UCLA: 46-29-7
Oklahoma vs. Oklahoma State: 83-17-7
Texas vs. Oklahoma: 60-43-5
Michigan vs. Michigan State: 68-33-5
Minnesota vs. Wisconsin: 58-57-8 (closest that could be found with this much history)
Alabama vs. Tennessee: 50-38-7
Notre Dame vs. USC: 45-35-5
Virginia Tech vs. Virginia: 52-37-5
Mississippi vs. Mississippi State: 61-43-6
Purdue vs. Indiana: 72-37-6
Many of these top-tier rivalries also have relatively even spreads, but perhaps not to the same extent as OSU and Michigan, especially when considering recent history as well as series totals.
One interesting takeaway from the list above is that in-state rivalries are not generally as competitive as other rivalries, which may be caused by each state really being able to only support one football program at a top level over decades.
Nonetheless, the competitiveness makes for a rivalry, and there is plenty of competitive balance in The Game.
Program History = Rivalry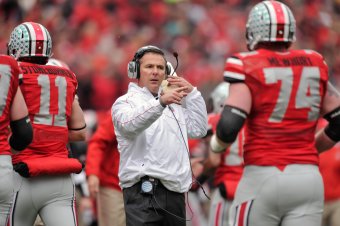 Jamie Sabau/Getty Images
Only a select handful of college football programs can boast 800 wins or more in the long history of the sport. When those top teams come together for regular games, it establishes the long-term rivalries and storylines that make college football great.
However, there are not a ton of rivalries among these top programs. In all, 11 football teams have 800 wins historically: Michigan, Yale, Texas, Notre Dame, Nebraska, Ohio State, Oklahoma, Harvard, Alabama, Penn and Tennessee.
Discounting the Ivy League teams, that leaves only eight programs to consider for these top historical rivalries. Out of those remaining teams, here is the list of rivalries with a significant amount of games:
Michigan vs. Ohio State: 109 meetings
Michigan vs. Notre Dame: 41 meetings (but inactive after 2013)
Texas vs. Oklahoma: 108 meetings
Nebraska vs. Oklahoma: 86 meetings (inactive since 2010)
Alabama vs. Tennessee: 95 meetings
That's it. A whopping five rivalries among these top eight football programs, and two of these have recently gone on leave thanks to conference realignment. That means those rivalries will simmer down and lose some meaning until picked up again regularly.
So outside of the Red River Rivalry and the "Third Saturday in October" rivalry in the SEC, there is no other rivalry that comes close to The Game for number of meetings between historically dominant programs. It means something when Texas and Oklahoma hit the field together, just like when Michigan and Ohio State step on the same field this weekend.
The Game is beginning to separate itself from the pack of rivalries, including the Iron Bowl.
Crazy Men and Traditions = Rivalry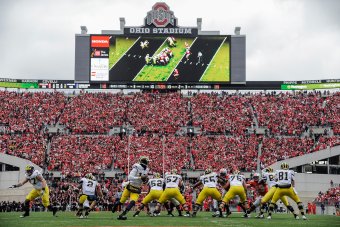 Jamie Sabau/Getty Images
It takes a real special brand of rivalry to bring out the best and worst of the human condition. Some rivalries make typically rational and sane men act in crazy ways. Ohio State and Michigan playing football applies just that type of crazy.
One of the most storied coaches in college football, Woody Hayes, refused to refer to Michigan by name, preferring the moniker "That School Up North." Brady Hoke has now accepted this same challenge and never refers to OSU as "Ohio State," instead using the moniker "Ohio."
The governor of the state of Ohio, John Kasich, decided to ban use of the letter "M" this week in Ohio. This is just pure ridiculousness; all based on a football rivalry!
Ohio State students jump into a freezing cold lake full of duck poop every year during Michigan week. There are competitive blood drives between the schools on the week of the rivalry. Michigan students make a pilgrimage to a local cemetery to lay flowers at the grave sites of three great former Michigan coaches.
There are also more bouts of crazy in the history of this rivalry. When Ohio State and Michigan tied in 1973 and a secret vote of athletic directors decided who would go to the Rose Bowl that season (OSU), the controversy and bad blood boiled over and remains to this day.
Plus, this rivalry started with bad blood based on a short-lived war between these states called the Toledo War. Not many rivalries have a level of crazy built in from an actual civil war!
Kansas and Missouri is one of the few others, but it is not active now that Missouri is in the SEC.
While rivalry traditions and crazy events could be pulled up for every big game (the poisoning of the trees in Alabama-Auburn is another recent top moment of crazy), Ohio State and Michigan could certainly compete with the best in this field.
Big Stakes = Rivalry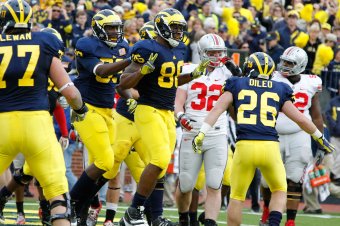 Gregory Shamus/Getty Images
Another way that rivalries start up is when two great or dominant teams battle one another for national titles or conference championships on a regular basis.
Just take one look at the budding rivalry between Wisconsin and Ohio State to understand this phenomenon. A better example is the more well-established rivalry between LSU and Alabama, which has had huge stakes the past few seasons.
Ohio State and Michigan routinely play for these large stakes. At least one of the two teams is typically competing for a conference championship, if not a national championship.
The highlight of this was in 2006, when the teams were ranked No. 1 and No. 2 nationally and both were undefeated heading into The Game. That day, Ohio State won a chance to play for a BCS Championship as well as the Big Ten title and bragging rights.
Those are stakes that draw the entire country's attention.
Between the teams, there are 18 national titles and 76 Big Ten championships. No other team in the conference has more than 15 Big Ten titles, which means generally one or both of these programs has the hardware on the line in this season finale.
2013 is yet another example of this, as Ohio State is heading into a Big Ten Championship game and is trying to avoid having a season spoiled by Michigan. One only has to ask the Buckeye teams of 1993, 1995 and 1996 how it feels to have a dream season ruined in The Game.
Of course, all eyes are on the Iron Bowl this year as Auburn and Alabama meet with both teams playing for a SEC title and both teams ranked in the top 5 for the first time ever.
Those are the types of high stakes that make rivalries grand, but the Iron Bowl cannot boast the amount of meetings with those high stakes on the line that The Game can.
Thus, while every rivalry is one to enjoy and savor each college football season, Michigan and Ohio State stand above the rest.
Brawling = Rivalry
Michigan and Ohio State are good at brawling. Here's just a few examples, including a link to the 2013 edition of The Brawl (which led to three ejections).
Last Updated on Sunday, 01 December 2013 19:19
Hits: 275
Category: Sports Written by Nick Hopson
The recent Prince Fielder trade has created much more financial flexibility for the Tigers this offseason. It also filled the whole at second base that came from the free agent departure of Omar Infante. The Tigers offseason is far from over as they will likely make another big free agent signing. They first have to decide what they are doing with their current players.
Tigers' prospect Nick Castellanos is in an interesting situation. He was moved from his natural position of third base recently to accommodate the organization. He is now able to play the outfield. The Tigers have the option of moving Cabrera back to first base and Castellanos back to third. This also depends on whether the Tigers consider Castellanos as an everyday player this season.
Andy Dirks seems like the odd man out when it comes to the Tigers outfielders. They will likely pursue someone that can play left field for them. With the departure of Fielder the Tigers are in need of another left handed bat. Possible options include Shin-Soo Choo, Carlos Beltran and Curtin Granderson.
Carlos Beltran is coming off a productive year at the age of 36. He hit .296 with 24 homeruns and 84 RBIs with the Cardinals. His signing would be similar to Tori Hunter's last year. Beltran rejected a qualifying offer from the Cardinal for $14.1 million. It is rumored that he wants a three or four year deal. This feels like a bad move after the Tigers just got out of a bad contract with Prince Fielder.
Choo is probably one of the more expensive options. The former Reds outfielder batted .285 with 21 homeruns and 58 RBIs last season. He is a lifetime .288 hitter. Choo is someone who knows how to get on base. However, he is a leadoff hitter so the Tigers would have to decide to move him or Kinsler down in the order.
Many Tiger fans would love to see the return of Curtis Granderson. On the other hand, many would not. Granderson was a fan favorite here in Detroit and his return would be similar to Chauncey Billups' return to the Pistons. The main problem with Granderson is his inability to hit against left handed pitching. Over the years his power numbers have increased but his average has decreased to around .230.
The important thing this offseason is to trust in Tigers' General Manager Dave Dombrowski. Everyone is trying to predict what his next move will be but in reality it could be something that no one saw coming. Looking forward, one thing is for certain. Dombrowski will make the team better.
Last Updated on Monday, 25 November 2013 08:18
Hits: 304
Category: Sports Written by Nick Hopson
It was a rough start for the Lions Sunday as they quickly fell behind the Steelers 14-0. Ben Roethlisberger threw two touchdowns to Antonio Brown in the first quarter. Brown did most of his damage in the first quarter and ended the game with 7 catches for 147 yards. Roethlisberger ended his day with four touchdowns and 367 yards passing.
The Lions responded to the 14-0 first quarter with 27 points in the second quarter. This was good enough for a 27-20 halftime lead. Calvin Johnson had 6 catches for 179 yards going into halftime. The Lions looked like they could do anything they wanted in the pass game. Joique Bell was also very effective in the quarter.
---

The 27 in the second would be all the Lions would score for the game. After the second quarter, the Lions offense stalled. The one glimmer of hope came when they had the ball inside the Steelers ten yard line. Instead of kicking a field goal to go up 7, they went for it on fourth down. The attempt was a fake field goal run by punter Sam Martin. Martin was hit and fumbled short of the first down.
Many people are questioning the fake field goal call. The rational person takes the field goal. But the Lions wanted to try to put the game away. Jim Schwartz was going for the win. If the Lions had gotten that first down it would have been a whole different game.
It is easy to blame this call for the loss but the truth is there were many more faults in the Lions second half play. The faked field goal attempt put the Steelers back at their own three yard line. The Lions defense should have been able to hold them in that field position. You cannot let a team drive 97 yards for a score.
The Lions also failed to get the ball to Calvin Johnson in the second half. He had all of his catches in the first half. When the Lions finally threw to him in the fourth, it was in desperation and the pass was picked off. It is also important to note that before the interception, Jeremy Ross dropped an easy first down. Drops defiantly hurt the Lions in the second half.
The Lions struggled with their running game when Joique Bell left with an injury. Reggie Bush was ineffective all game due to the poor field conditions. The wet and muddy field took away Bush's ability to cut. This seemed to make the Lions offense one dimensional. The Lions defiantly suffered without their usual rushing attack.
The Lions remain in first place but are now tied with the Bears. Fortunately, the Lions have the tiebreaker after beating the Bears twice. The Packers are one game back. The Lions come back home Sunday for a 1pm game against Tampa Bay.
Last Updated on Monday, 18 November 2013 14:53
Hits: 412
Category: Sports Written by New Pittsburgh Courier
(CNN) — "It could have been the secret to my success or the secret to my demise," a wistful Serena Williams says of her 2013 season.
The irresistible force in women's tennis is talking about her record-breaking year, one in which she vowed to play more than she ever had done previously.
It was a decision that paid huge dividends.
Not only did her
...
Category: Sports Written by Marshawn Lynch
Detroit Lions wide receiver Calvin Johnson (81) makes a catch for a touchdown as Pittsburgh Steelers cornerback Cortez Allen (28) defends during the second quarter of an NFL football game on Sunday, Nov. 17, 2013, in Pittsburgh.Ben Roethlisberger and the Pittsburgh Steelers gave their critics and the Detroit Lions a vivid reminder on Sunday.
The window might be closing on the Steelers and their enigmatic quarterback. It's not shut. Not yet.
Roethlisberger passed for 367 yards and four touchdowns, including two in the final 5 minutes as the Steelers rallied to beat the Lions 37-27.
Antonio Brown caught seven passes for 147 yards and two scores and Pittsburgh's defense rebounded from a horrific second quarter to shut out Detroit in the second half. The Steelers (4-6) have won two straight and kept the Lions (6-4) winless in Pittsburgh for 58 years and counting.
Matthew Stafford threw for 362 yards with two touchdowns and an interception to become the Lions' all-time leading passer. Calvin Johnson hauled in six passes for 179 yards and both scores, but Detroit's two stars disappeared over the final 30 minutes.
Stafford completed just three of 16 passes in the second half, with none of the completions going to Johnson.
Still, the Lions entered the fourth quarter with the lead thanks to a 27-point deluge in the second quarter. Detroit had a chance to push the advantage to a touchdown but rather than have David Akers attempt a short field goal, the Lions opted to run a fake. Holder Sam Martin, however, fumbled while fighting for the necessary 5 yards and the Steelers recovered.
Pittsburgh responded with a 16-play, 97-yard drive that included a fourth-down conversion and ended with Roethlisberger flipping a pass to Will Johnson for a 1-yard score to put the Steelers in front 30-27.
Stafford tried to hit Johnson in triple-coverage, but Pittsburgh's Will Allen picked it off and returned it to the Detroit 34. Five plays later, Roethlisberger floated the ball to a wide-open Jerricho Cotchery for a 20-yard touchdown and the comeback was complete.
Detroit's collapse was hard to imagine during an explosive first half as Johnson and Stafford did whatever they wanted.
Steelers cornerback Ike Taylor said last week he couldn't wait for the chance to go "mano-a-mano" with the NFL's best receiver. Like nearly every player who has lined up across the line of scrimmage from Johnson over last three years, the matchup looked like a mismatch.
At least, for a while.
Taylor landed a blow early, knocking down the first pass Stafford threw Johnson's way. The 11-year veteran and his befuddled teammates couldn't get a hand on the second. Or the third. Or pretty much anything else the Lions and their superstar wide receiver felt like doing.
The Lions spotted the Steelers a 14-0 first-quarter lead as Roethlisberger hit Brown for touchdowns of 34 and 47 yards, an avalanche of points for Pittsburgh's sputtering offense but barely a blip for one of the league's most explosive offenses.
Detroit needed to hold the ball for 6:37 to set a franchise record for points in a quarter. Johnson, as he tends to be, was right in the middle of it. He started the onslaught with an impossibly easy 79-yard touchdown, taking a heave from Stafford at the Pittsburgh 40 and then practically jogging into the end zone to make it 14-10.
Johnson was at it again the next time the Lions had the ball, beating the coverage to the inside for a 19-yard score to tie the game at 17.
Taylor became so frustrated that at one point he was flagged for holding and pass interference on Johnson on consecutive plays late in the first half, though the penalties served their purpose. Rather than get a last-second touchdown to go up by 10 at the break, the Lions were forced to kick a field goal and settle for a 27-20 lead.
All of that momentum, however, vanished as quickly as it appeared.
Rather than adding to a resume that includes a road win at Chicago and a thrilling comeback against Dallas, the Lions continued a flabbergasting pattern of erratic play while the Steelers stoked — for another week at least — whatever flicking postseason hopes they have of getting back to .500 and perhaps beyond.
Read more http://www.huffingtonpost.com/2013/11/17/lions-fake-field-goal-fumble-steelers-rally_n_4293021.html?utm_hp_ref=detroit&ir=Detroit
Last Updated on Monday, 18 November 2013 07:23
Hits: 517
Digital Daily Signup
Sign up now for the Michigan Chronicle Digital Daily newsletter!
RSS
Feed Entries