Category: Sports Written by James I. Pressley
Baggy shorts, bald heads and black socks – the final remaining images of the last Michigan men's basketball team to make it to the NCAA National Championship game.
Hard to believe it was 20 years ago when a group of Wolverine sophomores, "the Fab Five," reached their second consecutive NCAA championship game, only to lose to North Carolina 77–71. The title game will be forever etched in basketball history for Chris Webber's infamous "timeout," a play resulting in a technical foul since Michigan had no timeouts remaining, leaving the Tar Heels of North Carolina to ice the game on the free throw line.
The "Fab Five," a nickname given to the 1991 Michigan recruiting class, consisted of shooting guard Jimmy King, small forwards Ray Jackson and Jalen Rose and power forwards Juwan Howard and Chris Webber, many of whom considered the greatest class ever recruited.
As freshmen, the Fab Five changed the game of college basketball forever with their on and off the court antics, demeanor, style of play and boldness as underclassmen. The five reached the big dance as freshmen in 1992 losing to Duke 71–51, then again the next year to UNC.
The Fab Five never won a championship, but another young Michigan team has risen from the depths of disappointment hoping to reclaim what once should have been theirs two decades ago on Monday night in the Georgia Dome.
"The biggest challenge with Michigan: They were a top-10 team all year, and their freshman center was just learning," Syracuse coach Jim Boeheim told ESPN before their 61-56 loss to the Wolverines in the National Semifinal Saturday night. "Now he's there and at an unbelievable level. So that's a big difference with their team."
"They have, arguably, the best point guard in the country in Trey Burke, and then for their center (Mitch McGary) to be playing on this level makes them very, very difficult because they've gone from a top-10 team to a top-four team in the last two or three weeks -- and a very difficult offensive team to play against," Boeheim added.
Current Michigan sophomore guard Trey Burke was only 16 months old the last time Michigan was in the NCAA final. Burke, who attended middle school in Atlanta, was named a first-team AP All-American, Michigan's first since Chris Webber in 1993.
"It's surreal, it's a dream come true," said Burke. "We understand we have unfinished business. This was one of our goals, to get to Atlanta and compete for a national championship. Now that we're here, we just have to take full advantage of it, just be focused."
Michigan was the youngest team entering the NCAA Tournament of 68 teams, with a rotation of six freshmen, one sophomore, but arguably had the nation's best backcourt in Burke and Tim Hardaway Jr., with a trio of three freshmen, Nik Stauskas, McGary and Glenn Robinson III rounding the starting lineup.
Michigan Head Coach John Beilein, who may be one of the greatest coaches in the nation without a national title, is cherishing the moment.
"We're so proud. I am so proud. But the university I know is so proud of these young men," said Beilein. "I'm really proud of them. It's certainly a great moment for them and our university. I know everybody at Ann Arbor, the Michigan brand all over the world is very happy."
The young Wolverines now face basketball powerhouse and the number one tournament seed over all, the Louisville Cardinals, (34-5) who fought of an upset bid from this year's Cinderella team, the Wichita State Shockers, 72-68.
"Playing for the title is what we've been working for all season long, this team made a lot of sacrifices to get to this point," said Hardaway Jr., son of former NBA All-Star Tim Hardaway. "We're just going to try to do a great job of containing Louisville and make sure we play Michigan basketball."
Monday night's championship final will be an up-tempo game with Louisville pressing where Syracuse's 2-3 full court defense failed against Michigan. The Wolverines will look to continue the success of the pick and roll offense, but the game will be a battle between guards Burke and Peyton Siva of Louisville.
"Last year when we played Kentucky, we played 'em tough; it was a tied game at one point," said Siva. "We couldn't get over that hump. This year we've made our run and we stuck with it. For me it's been a great run, long journey, a lot of ups and downs. I wouldn't trade it for the world."
"Every day I treat it like it was my last game," Siva added. "Monday, it definitely is. It would be great to go out on a win. I know my team and I will be ready tomorrow. We just got to go out there and play our hardest."
Michigan has tried several times over the past twenty years to return to the ship that the Fab Five once sailed on. Former head coaches Brian Ellerbe and Tommy Amaker could not do it, so now all eyes are on Beilein.
This young group of Wolverines may actually be more talented than the Fab Five. The 1993 Wolverines were a regional No. 1 seed entering the tournament, beating a No.16 seed, a No. 9 seed, a No. 12 seed, a No. 7 seed and then No. 1 seeded Kentucky in the Final Four en-route to the championship.
Beilein's team entered this year's tournament seeded fourth. They defeated a No. 13 seed, a No. 5, a No. 1, a No. 3, and most recently four seed Syracuse on Saturday night. The Fab Five are already in the record books, but Monday, Beilein and his team will look forward towards a feat that the legendary group before him could never do, win it all.
Last Updated on Monday, 08 April 2013 16:48
Hits: 589
Category: Sports Written by CNN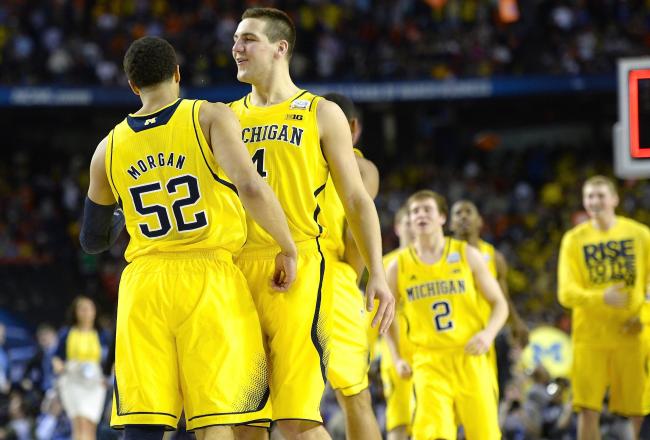 Michigan withstood a late rally by Syracuse to defeat the Orange in the Final Four on Saturday at the Georgia Dome, 61-56.
Syracuse had built a 14-9 lead with 12:44 remaining in the first half, but a three-point play by Jon Horford less than two minutes later put the Wolverines back on top, 15-14. The Orange took the lead again off of a Trevor Cooney three-pointer with 10:14 remaining in the first half, but Michigan went on a 21-8 run from there to close the half with a 36-25 lead.
Although Michigan's Mitch McGary and Glenn Robinson III led the Wolverines with just six points apiece at the half, Syracuse's Michael Carter-Williams, Brandon Triche and James Southerland combined to shoot 3-of-14 from the floor in the first 20 minutes of action. Michigan built a double-digit lead at the half despite star point guard Trey Burke scoring just three points on 1-of-5 shooting.
McGary's rebounding and passing ability was also big for the Wolverines. He notched seven rebounds and four assists in the first half alone. He also added two emphatic blocks.
Less than five minutes into the second half, Syracuse had to call a timeout after McGary's dunk off a feed from Burke. The Wolverines led with 15:08 remaining, 43-32.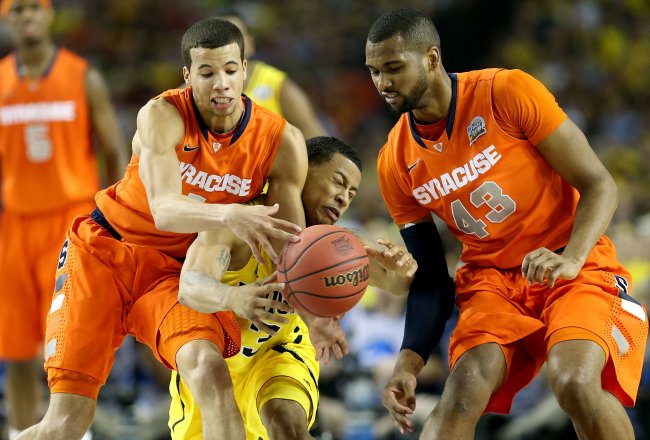 Streeter Lecka/Getty Images
The Orange began to inch back into the game after the timeout, though, going on a 10-2 run to trail 45-41 with 11:08 remaining. Leading scorer C.J. Fair, who was one of the few Syracuse players who shot a decent percentage, had 18 points on 7-of-14 shooting at that point.
After Tim Hardaway Jr. responded with a three-pointer, the Orange went on a 4-0 run before Michigan took a timeout with 7:41 remaining, clinging on to a 48-45 lead.
But the Wolverines roared right back, scoring five unanswered points, punctuated by a mid-range jumper by McGary at the center of Syracuse's zone. Syracuse called a timeout with 3:46 remaining, trailing 53-45.
It was only inevitable that the Orange would bounce back once again, going on a 4-0 run to cut the deficit to four points with 1:58 remaining.
But the Wolverines were ultimately able to hold on down the stretch, surviving a nail-biter against Jim Boeheim's squad despite missing four of their last six free throws.
Interestingly enough, Michigan was able to beat Syracuse at its own game, notching 13 offensive rebounds on Saturday night (including five by McGary).
McGary

proved to be a difference-maker for the Wolverines, posting 10 points, 12 rebounds, six assists and two blocks.
Fair finished with 22 points on 9-of-20 shooting for the Orange. Carter-Williams had a rough outing, scoring two points and managing just two assists to five turnovers.
Michigan emerged victorious despite Burke scoring just seven points in the game
Last Updated on Sunday, 07 April 2013 18:16
Hits: 430
Category: Sports Written by By Josh Martin (NBA Lead Writer
It was only fitting that on a night when the Los Angeles Lakers honored Shaquille O'Neal by retiring his No. 34 jersey to the rafters at Staples Center, the team reflected, in some small way, an ethos that made the turn of the 21st century such a success for the Purple and Gold.
That is, Kobe Bryant dishing the ball to his big men.
OK, so maybe racking up 11 assists (as part of a 23-11-11 triple-double, no less) wasn't exactly customary for the Black Mamba back in the day—nor is it so now.
But if the Lakers are going to parlay a massive 101-81 win over the Dallas Mavericks into something more than a late-season smackdown of an old rival, they could certainly use more of Kobe the Point Guard.
At first glance, that may seem like a silly request to make of Bryant.
With all the scoring Kobe does/feels he has to do for this squad, you'd think the guy already has enough on his plate with which to concern himself. And considering that Bryant shares a backcourt with Steve Nash, shouldn't he let another Hall of Famer handle the bulk of the passing and dribbling duties?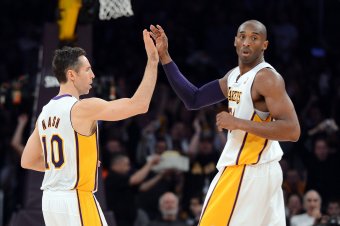 Harry How/Getty Images
Certainly not with Nash sidelined by a hamstring injury. That setback is just the latest in a long line that has derailed his inaugural season since pulling a pseudo-Benedict Arnold on the Phoenix Suns.
Nash missed 24 games between November and December after fracturing a bone in his left leg and often struggled to find any sort of rhythm or flow to his game even after returning—which isn't all that surprising when you consider that:
A) Nash is 39 years old,
B) He's adjusting to a new city and a new franchise after spending the previous eight years in Phoenix, and
C) Not since his first stint with the Suns had Steve been in a situation wherein he wasn't always his team's primary ball-handler.
That's a lot for a routine-oriented guy like Nash to deal with, especially in the wake of his most devastating injury in over a decade. He won't likely be anything close to his old self until next season, after he's had a full summer to work himself back into proper playing shape and adjust his expectations to better fit his role with the Lakers.
Even then, it wouldn't exactly behoove the Lakers to have Kobe relinquish the reins of the offense, at least not entirely. For better or worse, he's the player around whom L.A.'s basketball universe will revolve until he decides to hang 'em up.
Who should play the point for the Lakers for the rest of the season?
And, as Shaq can surely attest, Kobe knows a thing or two about playing with great big men—even more so than Nash.
Beyond the obvious personal friction between the Big Diesel and his No. 8-wearing sidekick, the partnership between O'Neal and Bryant proved plenty productive, to say the least. You could say that those Lakers teams "underachieved," considering they sported two of the game's three best players for the better part of a decade.
But three titles in four trips to the NBA Finals ain't bad, I s'pose.
It's that acumen for involving world-class giants that was most brilliantly on display from Kobe against the Mavs. Whether he was dishing off to Dwight Howard inside, setting up Pau Gasol in the post or dumping the ball into the Spaniard as a conduit to Dwight, Bryant did some of his best work integrating the Lakers' two All-Star centers into what appeared to be a more cohesive tandem.
Not that Nash is a slouch in this regard by any means. Steve just so happens to be one of the game's foremost proprietors of the pick-and-roll, and Howard and Gasol just so happen to be two of the better "roll men" around.
But, again, Nash isn't healthy and hasn't been all season. Bryant isn't exactly fit either, though he's certainly more than fit enough to handle the Lakers offense all by himself, thank you very much. In fact, the win against Dallas moved L.A. to 13-6 in games in which Kobe tallies eight or more assists—as opposed to 26-30 when he doesn't.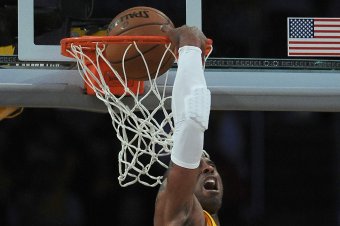 Jayne Kamin-Oncea-USA TODAY Spor
It's a lot to ask of Kobe, he of the bone-spurred foot and the sprained ankle and the 34-year-old body that's logged more than 53,000 minutes over the course of 1,454 games across 17 seasons.
But, for seven more regular-season games and (hopefully) at least a handful more in the playoffs, it might be manageable.
Beyond that, it's what the Lakers will need to salvage a lost season.
More than even the most nostalgic of jersey retirements could.
Last Updated on Wednesday, 03 April 2013 15:34
Hits: 603
Category: Sports Written by Roz Edward
Anybody feeling the Fab Five right about now, as we approach the Final Four of the 2103 NCAA championship games. That legendary University of Michigan team comprised of Jalen Rose, Chris Webber, Juwan Howard, Ray Jackson and Jimmy King represent Michigan's last hope since 1993 for winning it all. Now 20 years later, all of the memories are resurfacing, and with them a tide of emotions.
"That excitement, really just being nostalgic. When I thought about it, it made me more excited than I have been in a long time," says Jimmy King.
This weekend in Atlanta, a new pack of Wolverines will make the school's first Final Four appearance since 1993, when they face Syracuse, and the hope is that they will never know the tragedy and scandal that befell their predecessors.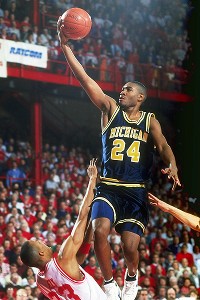 Todd Rosenberg /Getty ImagesJimmy King averaged 10 points in 30 minutes a game during the two seasons the full Fab Five was at Michigan.
Although that phenomenal group of players forever changed the way college basketball would be played, bringing an unprecedented level of finesse and boldness with their style of play, they also brought shame to the game and caused nearly irreparable damage to Michigan's athletic program with layer upon layer of scandal.
Chris Webber is remembered most prominently for the beginning of the end of that glorious era, because of his infamous connection to now deceased Michigan booster Ed Martin. According to a federal indictment, Martin lent Webber hundreds of thousands of dollars while he was at U of M.
Michigan inevitably faced sanctions, forfeited victories, removed both of the Fab Five's Final Four banners from the arena's rafters, and did all it could to erase the Fab Five from the school's history and the fans' memories.
Webber who received a 10-year ban from partcipating in Michigan basketball is still officially precluded from participating in Michigan sports events until May of 2013. However Webber, who lives in Atlanta, is free to attend the Final Four as a fan.
Whatever the outcome of the game, although we predict a victory for Michigan, there is no doubt that Webber, Rose, King, Howard and Jackson will at some point be remembered for the winners they once were.
True Michigan fans will never forget.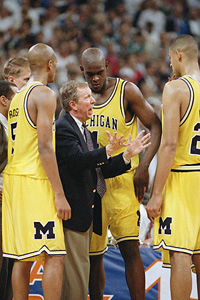 Last Updated on Saturday, 06 April 2013 11:45
Hits: 785
Category: Sports Written by Roz Edward, National Content Director
Watch as Louisville's Kevin Ware is dealt that devastating blow when he breaks his leg Sunday, March 31, in the Duke v. Louisville game.
---
For a close look (if you can stand it) see below
Last Updated on Monday, 01 April 2013 16:59
Hits: 530
Subcategories
Digital Daily Signup
Sign up now for the Michigan Chronicle Digital Daily newsletter!
RSS
Feed Entries